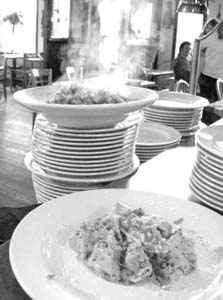 Steamy Sicilian: A menu of stunning pastas and memorable sauces distinguishes La Bruschetta.

Photograph by Stephen Laufer





Spaghetti West

The latest revival of a Felton landmark is romancing even the crustiest critics

By Christina Waters

THE SEARCH FOR intensely flavorful pomodoro sauce is over. At La Bruschetta, a warm culinary roadhouse in Felton, Italian food with a Sicilian accent is served nightly. The tomato has rarely received any finer treatment. Sicily, you'll recall, not only occupies a superb location off the coast of the Italian mainland, but it has been occupied, conquered and adored by a variety of cultures, including Greek, Arab and even Norman. Hence you'll find pine nuts, almonds and raisins punctuating the lively foods of Sicily. And such red sauce!

Two evenings at La Bruschetta were distinguished by bold flavors, rather than focused service. Always friendly, the staff appears innocent of managerial direction. Happily, there's a nice wine list of Italian vintages--including a Regaleali "Tasca d'Almerita" 1998 ($6.50) from Sicily, and a big Chianti Classico "1141" 1997 ($8) from Baron Ricasoli--and a menu of stunning pastas, grilled organic vegetables and memorable Sicilian sauces.

It was a pleasure to see the old Felton Guild filled with local patrons and spaghetti-Western décor. There's lots of Italian being spoken in the open kitchen and plenty of retro charm supplied by the original carved-nude door handle and myriad hanging ferns. One evening, our dinner in the rambling open-beamed dining room started with antipasti vegetale of grilled porcini, zucchini and eggplant ($8.95), plus a caprese salad ($6.95), both stupendous in size and lavish with olive oil, vinegar and delicious organic vegetables.

A basket of foccacia helped keep us company until the entrees arrived. A filetto al basilico ($19.95) was stellar. The filet itself was delicious, juicy and done exactly as requested. The traditional basil sauce neither enhanced, nor detracted, although a side portion of unwarm mashed potatoes and carrots made no sense at all. My house specialty pasta, nicchi ($16.95), arrived with the finest pomodoro sauce I can recall. Coating every inch of the house-made pyramidal raviolis--stuffed with a distinctive blend of pork, sun-dried tomatoes, pine nuts and rosemary--the sauce seemed radiant with the very essence of Tomato.

On another evening, a sibling entree of agnolotti alla ragusana ($15.95) similarly blew us away. Tossed in an intense arrabiata-style sauce, the pillows of pasta were saturated with sun-dried as well as fresh tomato flavor. The round puffs of pasta were filled with sausage and almonds. The lusty effect was of a roll in the hay with Anna Magnani.

Also on our second visit, an entree of veal scallopine ($16.95) followed a shared plate of luscious involtini alla trapase ($6.95) in which a slice of eggplant had been stuffed with tomatoes and cheese and then baked with a voluptuously intense tomato sauce topping. The veal was authentically topped with fresh parsley. It was all but buried under an assault by mushroom and perfectly prepared, if underwhelming in flavor compared with the robust red sauces.

This evening, the accompanying vegetables of carrots, broccoli, zucchini and artichokes were hot from the sauté pan. Excellent mashed potatoes filled in any remaining empty niches of the enormous plate. Overall, we were smitten by the memorable agnolotti pasta entree--truly a destination dish. The communion of almonds, pork and tomatoes is unusually satisfying.

For dessert on both occasions we succumbed to a slice of pastel spumone ($5), that brilliant Italian concept in frozen cream starring pistachio and cherry in cool, creamy simplicity. The pretty ice cream sat in the middle of a tangle of caramel squiggles, dotted with rosettes of chocolate-flavored whipped ricotta. Pistachio ice cream and chocolate ricotta--a haunting combination. Add La Bruschetta to your list.
---
La Bruschetta
Address: 5447 Hwy 9, Felton
Phone: 831.335.3337
Hours: Open daily for breakfast, lunch and dinner
Price: Moderate
Ambience: ** Sicily meets the Aquarian Age, complete with charming Sicilian appointments and gobs of hanging plants
Service: * An area that needs work in terms of focus, though staffers are unfailingly friendly
Cuisine: ** 1/2 Some splendidly full-bodied Sicilian attitudes, made more wonderful by organic ingredients
Overall: La Bruschetta seems to have found its following--now Felton has a destination Italian dining room with delicious attitude
---
[ Santa Cruz | Metroactive Central | Archives ]