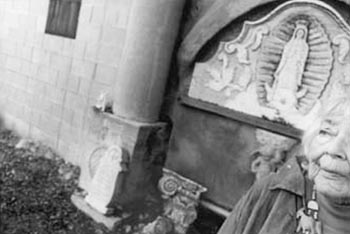 Mary Holmes, 1910-2002
Beloved art historian leaves behind indelible impression on local culture
By Stephen Kessler
'I THINK THERE HAS TO BE A NEW interpretation of the meaning of life," Mary Holmes said to me in 1981.
She was being interviewed for the premier issue of the Santa Cruz Express and we were talking about the arts and the role of artists in times of despair and confusion, at the first millennium and at the one that was fast approaching.
"There has to be something which will tell people that life has meaning and will tell them what the meaning is," she continued. "And when that happens there'll just be an explosion of the arts, because the arts are dedicated to conveying meaning--I mean they're dedicated to telling people the significant, valuable things in the world."
Substitute her name for the arts in that sentence and you have the essence of Mary's contribution to the lives of those who heard her lectures, saw her paintings, or were lucky enough to be her friends. She was dedicated to telling people the valuable things in the world.
A legendary professor of art history at UCLA in the early 1960s when I first heard her name, she was among the band of visionary educators who started the experiment of UCSC in 1965. Though the University of California's corporate reality eventually caught up with and defeated that experiment, much-loved teachers like Holmes and her longtime colleague Page Smith had an indelible impact on their students.
Mary Holmes died last week at the age of 91, and her disappearance, like Smith's seven years ago, leaves a hole in local culture that won't be filled. Smith's daughter Anne Easley remembers Mary's lectures as "mesmerizing, funny, enchanting, informative, inspired, eloquent, insightful." A consummate storyteller and natural philosopher, she was able to communicate not only historical facts and esthetic observations and the contexts in which various cultures' art had been created, but also her tremendous enthusiasm and amazement and awe at what those artists and cultures had accomplished.
This ecumenical appreciation for a great range of cultural traditions may have originated in her early days as a teacher at the University of Iowa during the Second World War. She had to fill in for other professors who'd been drafted midsemester, so, as she told me, she "had to learn an awful lot of stuff" she might not have discovered otherwise, or at least so soon. Though she was already a painter at the time, she chose to teach art history rather than painting so as to keep the great works in front of her and thereby maintain "the standard" she aspired to as an artist.
Later she created the murals that can be seen at Cowell College, and she kept on painting right up to the final months of her life. "She went on a building rampage in the last 10 years," her friend and land mate Bruce Cantz told me, because she needed more places to put her paintings. She was also a collector of "found and maimed objects," and her home on a Santa Cruz hilltop had some of the fertile chaos of a salvage yard combined with Old McDonald's Farm, with dogs and cats and horses and chickens and--if you believed the warning sign on the perilously steep and treacherous driveway--unicorns.
Truth and Laughter
Known as Little Mary Sunshine when she was a child, all her life she had an almost supernatural aura of sublimity. While others dreaded the millennium, she looked forward to it for its Aquarian promise of "a change in the quality of compassion." Without trying to be funny, she consistently made people laugh because, she explained to a puzzled friend, "People delight in the truth, and they express delight by laughter."
Teaching returning veterans at Ohio State in the years after World War II, she admired what she called "the toughness of their minds" and cultivated that trait in her own thinking even as she radiated benevolence. Just minutes before I learned of her death I was thinking of the time she spoke to me about the way that studying history revealed how few contemporary crises were really anything new, and how this understanding had "a calming effect on the mind."
She could look at something--a work of art or a person or a piece of junk from the dump--and see its value, recognize its beauty, find some meaning in it and articulate that meaning. At the Penny University, a downtown open-door seminar she started with Page Smith and Paul Lee decades ago and which continues to meet weekly, she carried on that tradition of passionate inquiry and advocacy until she was physically unable to climb stairs.
A great painter who is also a great talker is an unusual combination. Mary's verbal and visual gifts seemed not only to complement but to stimulate each other and nourish a sense of mutual interrelation, so that talking about art and creating it were, for her, part of the same process, both of them equally spontaneous, equally crafty acts of praise.
"An act of imagination," she said, "a visible act of imagination, is the greatest affirmation of people, you know--where you see, really, that this mind and this gift could create this extraordinary thing." She could have been describing her own life, as when she added: "You have to have your eyes open, or your mind open or something, so that you can receive these things."
That openness of eyes and mind, or heart and spirit, the joyful generosity that wants nothing more than to spread revelation, were constant qualities of Mary Holmes. Her powerful example keeps resonating in the countless souls she touched.
---
A memorial service for Mary Holmes will be held Sunday, Feb. 3, 2pm at Calvary Episcopal Church, 532 Center St., Santa Cruz.
---
[ Santa Cruz | Metroactive Central | Archives ]