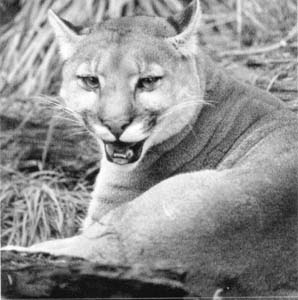 Lionhearted: The dedicated volunteers of Native Animal Rescue can handle most any critter--except mountain lions.

Nüz

Cat Calls

Who're you gonna call, if you see a mountain lion?

That simple question wasn't so simply answered when Metro Santa Cruz contributor Sarah Quelland spotted a mountain lion at the side of Highway 17 during her southbound evening commute last week.

"The cat was alive, and didn't look terribly injured, but I thought that was an odd place for a mountain lion to be just hanging out with all the traffic going by, so I thought it may have been bumped by a car and need some medical help," recalls Quelland, who saw the cat three miles north of Scotts Valley.

Concerned, she called Native Animal Rescue's Wildlife Rehabilitation Center, which directed her to call CHP, which she did.

When Nüz made follow-up calls the next day, the CHP confirmed that an officer was dispatched but did not find the beast--not entirely surprising given that by then 40 minutes had elapsed since Quelland's drive-by sighting.

More surprising, maybe, was the fact that Quelland was not advised to call the Department of Fish and Game's 24-hour dispatch line that night, even though mountain lions, as NAR volunteer Jane Welsh confirmed, are "special protected mammals," which means people should report any sightings of them, dead or alive.

According to DFG's website, an estimated 4,000 to 6,000 mountain lions live in California, but are seldom seen, being secret and solitary creatures--a profile that suggests Quelland's lion indeed may have been injured.

This theory was further confirmed when a man called NAR the day after Quelland's sighting and reported having hit a big cat on Highway 17 the night before. Unable to stop safely on the fast and winding road, the man said he thought the animal had probably died, but hadn't known what to do or who to call at the time.

"People should never attempt to capture a mountain lion," says DFG wildlife biologist Jeff Cann, who urges people to call the DFG about any lion sightings--and NARWRC's 24-hour line about all other injured wildlife, "since they are responsible for everything but mountain lions."
---
Call DFG's 24-hour dispatch center at 916.445.0045 with mountain lion sightings. For other injured wildlife, call NARWRC's 24-hour line at 462.0726.
---
Blazing Trails
Picnics are the last thing going down in Nisene Marks Forest these days. Instead, runners, hikers, cyclists and environmental groups are gearing up for what threatens to become a public pie-throwing event: California State Parks' presentation of its general plan alternative for the 10,000-acre forest.
Why the brouhaha? With State Parks calling for increased recreational use in the forest, including multiuse trails in a previously no-biking area, Sierra Club lawyers are threatening legal action as they brandish a historic deed that prohibits horse riding and vehicles in the park's upper reaches.
Sandy Henn of Citizens for the Preservation of Nisene Marks State Park has jogged and walked the forest trails for two decades--and is convinced that multiuse trails in the park's upper reaches would violate the wishes of the Marks family, which deeded the upper part of the forest to the state in 1963--"a time when mountain bikes weren't in anyone's dreams," she says.
Pointing out that, "unlike Wilder Ranch, which has lower, harder, rolling land, Nisene Marks Forest has steep-sided hills," Henn says cyclists have already carved illegal "thrill trails" in steep areas, which become "erosion-prone during winter rains, as grooved and rutted tire scars become small streams carrying sediment into creek beds and damaging steelhead habitat."
Meanwhile, Sierra Club activist Patricia Matejcek challenges claims that mountain bikes are not vehicles.
"Mountain bikers go off-road and downhill when it's wet and come screaming through creeks and puddles," she says. "Mountain biking isn't about getting to work. It's about getting wet, muddy and vertical. But this isn't a velodrome. And what's the definition of a vehicle? Something with an engine? Or with wheels?"
Meanwhile, Natasha Perry, husband Aaron Hunter and a group of concerned cyclists intend to form a task force within Mountain Bikers of Santa Cruz dedicated to Nisene Marks Forest issues, including allowing shared use access where environmentally feasible.
"We all consider ourselves to be environmentalists and believe that mountain biking is a legitimate, sustainable use of public land," Perry says. "Cyclists comprise a substantial number of regular users of the park. We believe the General Plan must be responsive to the needs of the cycling community."
Stressing that her group is as concerned as any other user group about the impact of bicycles on the landscape and is firmly committed to maintaining trails and redesigning erosion-prone trails, Perry says, "Numerous studies have concluded that the largest source of erosion is the creation of a trail itself. Mountain biking causes no more erosion than do hikers on properly constructed trails. The difference is in the way the different user groups cause erosion."
Noting that "mountain bikers have a demonstrable track record for helping to maintain trails all around the Bay Area," Perry believes that State Parks will benefit from the large group of local cyclists who are willing to devote their time to maintaining the park for everyone.
Thom Sutfin, manager of the Soquel Demonstration State Forest, has worked with cyclists to get them to re-engineer illegal trails to, as he puts it, "keep dirt out of the creeks." And while he agrees that "it's not pleasant when you're walking to have someone zoom round a corner on a bike doing 25 mph," he adds that "since public agencies don't have enough resources to enforce their own rules, the best way might be to educate people about trail etiquette."
Ralph Fairfield, chief ranger for Santa Cruz district State Parks, says that though the most contentious issue in the Nisene Marks Forest general plan is mountain bike use, "We're not making a decision on trails at this point, but on what facilities are reasonable and viable."
Jeff Hicks, president of Advocates for Nisene Marks Forest State Park, says it's "unfortunate" that the Sierra Club is threatening a legal suit.
Emphasizing that his group's mission is to preserve and protect park resources and represent the interests of all user groups, Hicks says, "We do extensive trail maintenance work and would like to work with environmental groups to plan and potentially fund a proper overall park trail-use plan that takes into account the appropriate needs of all user groups and is 100 percent environmentally safe, sound and sustainable."
But Sierra Club lawyers want State Parks to submit a general plan alternative "that does not allow bicycles above the steel bridge over Aptos Creek."
If State Parks doesn't comply, could the Marks deed revert to the Nature Conservancy, which has approval powers over use and development plans and is owner of the reversionary interests in the Nisene Marks Forest?
Bill Leahy of Nature Conservancy doubts it. Says Leahy, "We look forward to working with State Parks and encourage them to establish bike trails that do not interfere with the owner's intent."
---
The last public workshop before the Draft Environmental Impact Report (EIR) and Draft General Plan for the Forest of Nisene Marks State Park are released is Saturday(Feb. 2), 9:30am to noon, at Mar Vista Elementary School, Multipurpose Room, 6860 Soquel Dr., Aptos.
---
Key Question
Pulitzer Prize winner Alice Walker kicks butt--on paper and in person. As keynote speaker at the Dr. Martin Luther King Jr. Memorial Convocation, Walker noted that "Osama bin Laden's desire to see the United States weakened will come true only if Americans become afraid of each other and of examining U.S. policies ... if we see terrorists everywhere we look, except when we look in the mirror."
Afterward, Walker temporarily became Santa Cruz's misplaced ("nothing is ever lost, it's just misplaced" as she'd said earlier) conscience, as she fielded questions from a packed Civic Auditorium audience.
To the UCSC student who had the American flag removed from his campus balcony, Walker said, "You have the right to put the American flag wherever you want."
To the UCSC student who wanted to know how to make a campus environmental group more multicultural, Walker said, "Integrate your neighborhood."
And to the man who asked whether her compassion extends even to mosquitoes, Walker said, "That goes without saying. But I come from a place where human life was worth less than a mosquito."
When asked what to do about the city's camping ban, Walker said, "You can't get rid of the laws?"
At the end of the night, Mayor Christopher Krohn gave Walker the key to the city, prompting one city watcher to wonder, "But what does it open?"
[ Santa Cruz | Metroactive Central | Archives ]