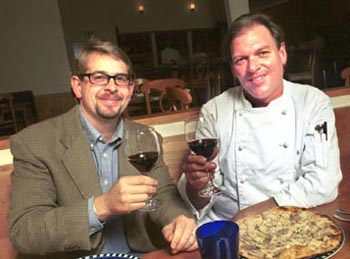 Photograph by George Sakkestad

Flair and Space: Owner Chris Vizas (left) and chef Clyde Griesbach toast their new creation.

Azur Coast

Culinary skill and an ambitiously eclectic Mediterranean menu highlight the new and potentially exciting Azur

By Christina Waters

FINALLY, AFTER years of decline, the huge space formerly known as India Joze has a chef--the gifted Clyde Griesbach--and a menu worthy of its glory days. Despite its cruise ship acoustics and murky lighting design, Azur has opened with flair to the delight of downtown Santa Cruz.

Azur entrepreneurs, whose pedigree extends to San Francisco's Lulu and Palo Alto's Zibibbo, appear to have put the past four months of work solely into preparing the Mediterranean kitchen with its wood-burning ovens and rotisserie. The vast dining areas remain virtually unchanged architecturally and completely undecorated. Table lamps and white tablecloths--surprisingly absent in this upscale dining room!--would have given the place instant sparkle. One can only assume that the lighting and decor are being fine-tuned and will soon keep pace with the cuisine.

In our visits we sampled enough to confirm that this wood-fired grill knows what it's doing. Terrific pizzas with thin, chewy crusts rule here and the initial wine list offers enough intrigue to please demanding palates. Glasses of Cooper-Garrod Cabernet Franc 1998 ($9) and a decent Côtes du Rhone, Domaine de Piaugier 1998 ($7) went beautifully with a robust appetizer of pan-roasted Manila clams, spicy Calabrian sausage and pungent garlic confit, served with panache on an eye-level plateau du fruits de mer ($10).

An order of spit-roasted rabbit was luxurious with tender beans, shallots and pancetta ($17), though the meat itself was dry. An entree of grilled quail was crisp and juicy, an accompanying fluff of frisée all drenched in a pancetta-infused vinaigrette ($17). This kitchen is brilliant in cross-pollinating dishes with a primal core of seasonings--the roving pancetta, sausage, roasted garlic, olives, arugula and spiced lemons find their way into many recipes. We enjoyed an entree of roasted scallops with lime juice and basil oil ($19).

Last weekend, we joined what felt like half the town celebrating Friday night at Azur. Cascading micro-bubbles filled a flute of Piper-Heidsieck NV ($7) and a spice-laden goblet of Roudon-Smith's excellent Meeker Vineyard Cabernet Sauvignon 1996 ($7) opened nicely throughout a wonderful meal.

Ignoring the foccacia--served with butter, not olive oil--we devoured a splendid plate of fiery spiced prawns ($13). Coated with North African pepper paste, the shellfish ringed a central mound of arugula topped with warm tomatoes. Thinly sliced ciabatta, grilled on the spit, made the perfect foil for the tomatoes (far better than the spongy, tasteless foccacia). An entree of roasted whole striped bass ($24) was invitingly presented in an oval glazed terrine, filled with an undulant bed of warm olives and topped with roasted lemon and bursts of oregano. The fish--a destination unto itself--was outstanding, perfectly roasted to crisp the skin while keeping the delicate flesh moistly intact.

Another order of New York steak, grilled on the bone with a healthy squeeze of lemon, proved a bit tough, though its resident fingerling potatoes were to swoon for ($25). Needlessly included in this huge, almost overflowing dish were tasteless grilled radicchio mounds and a stridently rosemary-inflected stuffed baked potato. One potato, two potato. No, only one potato needed. The delicious steak and fingerlings would have been more than enough.

An unusual dessert of wood-grilled coconut bread/cake proved deliciously textural, addictive actually, though a mango sauce rather than mango gelato might have succeeded better in providing needed moisture ($6). Another playful creation, a deconstructed apple pie, was a distinct winner ($5). Here crisp sugar cookies, made with a light hand, adorned a fragrant hash of warm minced green apples laced with orange zest. Joined by a scoop of vanilla gelato--and a glass of Bonny Doon's vin de glacier ($5)--it was pure heaven. Azur's dashing menu has already expanded the sophistication of Santa Cruz dining.
---
Azur
Address: 1001 Center St., Santa Cruz
Phone: 831.427.3554
Hours: Tue-Thu 11:30am-10pm, 'til 11pm Fri-Sat, Sun 11am-9pm
Ambience: ** Lots of potential, and lots of space filled with sleek woodwork
Service: *** Still finding its feet, the staff works hard and shows skill
Cuisine: *** Chef Clyde Griesbach has a remarkable touch with complex ingredients
Overall: With adjustments to its new environment, Azur could become one of the most vibrant dining rooms in town
---
[ Santa Cruz | MetroActive Central | Archives ]