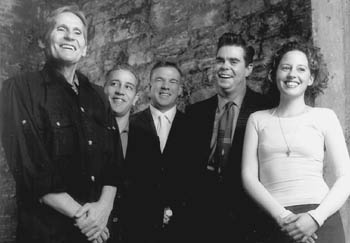 Barnstormers: Rock & Roll Hall of Famer Levon Helm (left) is creating a new legacy with his current band, the Barn Burners.

Fast Forward

Levon Helm doesn't need to relive the good old days with the Band

By Scott Cooper

IT MAY COME as a surprise that Levon Helm, enshrined in the Rock & Roll Hall of Fame as a member of the Band, doesn't want to talk about the past. After all, he's not making classic records with Bob Dylan anymore or staging epic farewell concerts like "The Last Waltz." Neither is he influencing generations of ragged-but-right drummers like he did back in the 1970s. Plus, it's not as if the Barn Burners, Helm's current band, is a household name.

But his reasons are obvious if you look, as VH1 might say, behind the music. First, the 60-year-old Helm recently recovered from throat cancer. "Thank God it's gone, brother, thank God it's gone," he says in his Arkansas twang. "It was one of those occasions where I just got hoarse and never could sing my way through and bed rest wouldn't fix it."

As a result, the Woodstock, N.Y., resident has had to make some serious sacrifices. Not only has he given up smoking cigarettes, but he's also given up singing, a talent that contributed greatly to the Band's success. On the other hand, it afforded Helm the opportunity to get a fresh look at life.

"I feel fortunate as hell," he admits. "I'm still alive and I can still play music."

Another reason he doesn't lean on the Band's legacy is that "most of it seems sad. If I could think of something funny it would be OK, but I can't think of a damn thing funny about it right now."

The death of bassist Rick Danko in 1999 was the final straw in the demise of the Band, which up to that point had endured despite the loss of guitarist Robbie Robertson in 1976 and the death of pianist and singer Richard Manuel in '86.

"We lost Richard and that just about done us in," Helm says. "We had to continue playing after losing Richard too. God, it just hurt too bad. ... And then after we lost Rick, man, that was it. Richard was our main singer and did all those good tunes, and Rick did the rest of 'em for the most part."

Like a Rolling Stone

WITH GRIEF as fuel, one might think Helm would be able to channel his pain into something creative--after all, they say sad stories make the best songs. "That's what they say but I'm not sure that's true," he says. "'They say' and 'I heard' are two of the biggest damn liars in town."

But the biggest reason he keeps his sights set forward is because his current musical life fulfills many of his desires. First, he gets to spend more time with his kin while on the road. Helm's daughter, Amy Helm, plays keyboards and sings with the Barn Burners. Fronted by harmonica player Chris O'Leary, the group is rounded out by guitarist Pat O'Shea and upright bassist Frankie Ingrao.

"And if luck has it," he adds, "I'm going to bring my old pal Bobby Keys with me. Bobby does them nice horn lines. That will spice it up."

Music aficionados may recognize Keys' name from his stints with the Rolling Stones and Joe Cocker.

Now that he's touring with a new band, Helm still opts to leave the past in the past. That means no rehashing those classic songs of the Americana genre, no "The Night They Drove Old Dixie Down" or "Up on Cripple Creek."

"We do a lot of blues standards and enough of our own things to keep us interested and that's pretty much it," he says. "That was then; this is now."

Helm is also excited about future releases of studio recordings he has made with blues greats Ronnie Earl, Louisiana Red, Kim Wilson and Irma Thomas, not to mention an instructional video with legendary guitarist Hubert Sumlin. Another future project involves harmonica ace James Cotton.

One aspect of his past he wouldn't mind reliving is acting in a feature film; Levon Helm has appeared in several movies, including The Right Stuff and Coal Miner's Daughter.

"If something came up that I could do, I would love to do it, but I don't entertain those thoughts. I'm trying to learn how to play drums," he says. "It's a never-ending process."
---
Levon Helm & the Barn Burners play Sunday (Feb. 4) at Palookaville; 8pm; $13-$15; 831.454.0600.
---
[ Santa Cruz | MetroActive Central | Archives ]