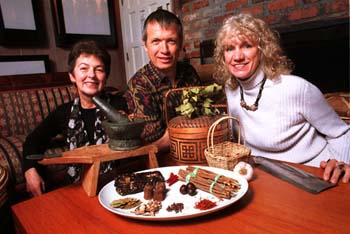 Bali Bound: Patricia Rain (left), Joseph Schultz and Judy Slattum prep for their upcoming A Taste of Bali tour.

Adventures in The Spice Trade

Escape to a fabled spice island with a team of culinary experts and expand the taste buds of your mind

By Christina Waters

BALI. MAGIC. Practically synonyms. What began with a luscious nanosecond of popular culture in the movie South Pacific got serious when Californians discovered the surfing gnarl of the tiny Indonesian island.

For decades now there's been an underground Bali Hai pipeline from the Bay Area to the heart of the former Dutch East Indies. Everyone who sets foot on the volcanic Eden appears to fall in love with its abundance of artwork, spice plantations and perfect beaches.

Most of them return--some succumb to the primal charms of the place and its people and make it their second home. Others--perhaps those joining Judy Slattum's intimate tour group to Bali next month--might be first-time visitors to an enchanted realm of waterfalls and fiery food fantasies.

Bali is also the land of cardamom, chiles, lemon grass, nutmeg, cloves, garlic, coconut, ginger, tamarind, lime, pepper and--well these are the spice islands after all. Even sophisticated Bay Area palates can be expanded by sampling these exotica in their indigenous surroundings, as well as the foods created to unleash their aromatic charms.

That's the idea behind A Taste of Bali, a two-week culinary excursion into the best of Bali (March 26-April 8) led by Danu Enterprises guides Judy Slattum and her Balinese partner Madé Surya. For 17 years, Slattum and Surya (who split their time between Santa Cruz and Bali) have joined their expertise in the art and culture of Bali to arrange special tours to the land of wayang and gamelan. But this year, they're offering something even tastier.

It all started when Patricia Rain, a local food anthropologist and international vanilla expert, approached Slattum and Surya about a tour that would emphasize the exotic elements of Balinese cookery.

One thing led to another, and soon Joseph Schultz was on-board, bringing to the group the culinary inventiveness behind his original India Joze Restaurant in Santa Cruz. "Outside your own culture, you get a tremendous perspective about the entire act of cooking," says the energetic Schultz, who will bring two decades of Asian-inspired spice research to the tour as guest chef and cuisinartist.

Even for those who've tasted a lot of Thai, Cambodian and Indonesian cookery, the experience of sampling coriander-spiced recipes created in their tropical home will come as a revelation. Flavor just can't be translated into pixels--being there is irreplaceable.

SLATTUM AND SCHULTZ get excited trading tales of Bali and special features of the tour like an evening of fruit-tasting. "There's this wonderful selection of ingredients for cooking in the tropics," Schultz says, "a much bigger variety of things to eat, obscure little roots and berries, barks and leaves."

Not to mention wild hibiscus, fruit monstrosities like the durian and chiles hot enough to alter your consciousness. "It's spicy, alert food," Slattum admits. "Healthy and really unusual," agrees Schultz, who's looking forward to having black rice pudding for breakfast "Strange, yes--but not threatening."

And even though the savory palate of Bali interweaves a cross-cultural past--Dutch, Spanish, Chinese and East Indian--the menu isn't all devoted to seafood, duck and suckling pig. "There's a whole range of tempeh used in Bali," Slattum says. Schultz, as usual, goes further. "Tempeh is actually an Indonesian process, and it's extraordinary to taste it in its native element."

"We'll be cooking and grazing throughout the trip," Slattum continues. "We start in the mountains, staying in bungalows near the coffee, clove and vanilla plantations."

This travel experience works on multiple levels--travelers will not only have intimate glimpses of the cooking process, but "there's a lot of seeing how it's all grown and produced," says the tour group's co-founder. You drink coffee, you stroll through coffee plantations, you watch coffee being produced. Is that worth flying a few miles to experience? Besides, the climate this time of year will be warmly optimum.

The tour's menu of activities--which allows ample time for unwinding, wandering the markets and trekking in rain forests--reads like a food-lover's wish list. It starts in the highlands of Bali, which is, by the way, a volcanic island roughly 84 by 48 miles in area (the size of Delaware with the climate of Hawaii) crowned by 10,000-foot mountains.

RICE, THE OMNIPRESENT staple of Balinese dining, will star in several cooking classes and several authentic ristaffel feasts. Factoid: Sixty percent of Bali's exquisitely terraced landscape is devoted to rice production.

Satés and gado gado will give way in week two to glimpses of rare double ikat weaving and visits to some astonishing Hindu temples. Even the high-energy Schultz--a man who could give hyperactivity lessons--drifts into a happy trance over the presence of religious practice in the daily life of Bali. "Every village has a temple," he smiles. "It's riddled with consecrated spaces."

And Bali manages to remain culturally resilient in the face of the 21st century. "This is Bali the way it was 20 years ago," Slattum reveals. "It's still there, off the tourist track."

This is one of those off-the-beaten-tourist-track tours. Frankly, this sounds like the tour you've always dreamed about. A tour guided by bilingual, East/West insider experts on which you'll join a handful of fellow travelers inside the culinary and artistic life of a fabled island paradise. A tour priced just a few clicks above the cost of airfare alone.

Wrapping up in early April, the tour visits the great marketplace of Bali's capital city of Denpasar, makes an excursion to Turtle Island, where turtles are farmed for delicious recipes, and finishes with sunsets on the gorgeous beaches of Sanur.

The fastest way into a culture is through its food, and this cozy tour--10 to 16 people only--has been designed to provide a well-seasoned sampling of Balinese food ways and a chance to visit the small groves where some of the world's most fabled spices are hand-grown. "The trip will appeal to adventurous food lovers of all kinds," says Slattum, who looks forward to the tour as, at the very least, a party in an exotic land.

Besides, when was the last time you got to taste a betel nut?
---
A Taste of Bali takes place March 26-April 8. Trip price of $2,950 includes round-trip air from San Francisco, all accommodations (based on two people sharing a room with twin beds and private bath), tours, classes, transfers and two meals a day. For info, call 831.476.0543 (toll-free 1.888.476.0543), or email: [email protected].
---
[ Santa Cruz | MetroActive Central | Archives ]