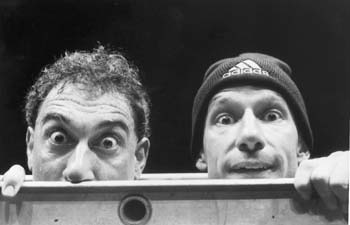 Photograph by Kerry Lee

Heads Up: For Stefo Nantsou (right) and Tom Lycos of Melbourne, Australia's Zeal Theater, the stage can give an artful spin to heated national debates.

Theatrical Headlines

Australian and South African theater companies play topical events for dramatic impact

By Rob Pratt

EVEN THOUGH STEFO Nantsou has an inkling that America at the moment might evince a heightened sensitivity toward stories of wayward teens acting up with lethal consequences, he's ready to take on the topic. After all, just such a difficult national debate--started with the misadventures of two teenagers when they killed an innocent passerby and touched off a rancorous polarization of public opinion in his native Australia--inspired the play he brings to UC-Santa Cruz on Thursday.

But as Nantsou listens by phone thousands of miles away to my description of last year's Columbine High School tragedy, I realize that I could be brief in my explanation. No doubt, during his performance tour across California, he will hear the story many more times as audiences react to The Stones. This gripping story of two teenage killers, despite the distance of six years and as many thousands of miles, seems cut from recent headlines in American newspapers.

Ellis Pearson talks fast and with a breathy excitement when he tells me about the theater pieces he creates with Bheki Mhkwane, pieces that use colorful allegory and a playful spirit to comment on the tense social and political scene in South Africa. Even though his country has made the transition from apartheid to democracy in relative peace, he says, there's a real sense that things are in flux and that long-standing social divisions could quickly escalate into heated battles.

His play Amazwi Omoya (which loosely translates from Zulu as A Message on the Wind) is a symbolic tale, the fablelike account of a bitter and comical competition among singing birds that eerily echoes Rodney King's plea in the aftermath of the Los Angeles riots: "Can't we all just get along?"

Both plays, aimed at young people but writ large for general audiences, come to Santa Cruz this week through a remarkable set of circumstances crossing four continents and hinging on a handful of people who have experienced firsthand the power that theater has to affect lives.

KERRY LEE HARDLY expected to become a local theater producer--much less one who manages to arrange shows with companies literally a world away. At 40 a director and actor with Bay Area young peoples' theater groups, Lee found herself burned out with commuting and with the day-to-day hustle of working on shows. She decided to take a break and raise her family, only working when a good part in an industrial video came her way.

"I had worked at [San Francisco's] Children's Theater Company with Shannon Edwards, and she's now a professor at Cal State Monterey Bay," Lee says. "She lives in Los Gatos, the summit area, and we ran into each other one day, and she was talking about going to this children's theater conference in Norway. We both ended up going."

During the long summer days in Tromso, Norway, last June (the Scandanavian city is just outside the Arctic Circle), Lee saw an "amazing" performance of Zeal Theater's The Stones. And she met Barry Kornhauser, playwright in residence and director of theater for young audiences for the Fulton Opera House, a 700-seat historic-landmark regional theater in Lancaster, Pa.

A huge fan of Pearson and his partner, Bheki Mhkwane, Kornhauser saw the pair perform Amazwi Omoya at a San Diego theater festival "two or three years ago." He convinced them to let the Fulton Opera House produce the play and two weeks ago hosted Pearson and Mhkwane's performance of Kaboom!

"I fell in love with Amazwi, and I fell in love with them," Kornhauser says. "I asked them if they had ever let other people do their play ... and we ended up having great fun with that piece. In fact, our production was just selected for another theater festival at the Kennedy Center in June."

Shortly after returning from Norway, Lee heard from Edwards that CSUMB planned to host Zeal Theater and Pearson and Mhkwane for shows and student workshops, and she jumped at the chance to bring them to Santa Cruz.

MUCH OF THE SOCIAL and political engagement of Pearson and Mhkwane's theater has strong parallels in Augusto Boal's "theater of the oppressed," Kornhauser says. Pearson and Mhkwane's work, while obviously seeking to entertain, also aims to pose direct questions of current social and political issues.

"It really blurs the notion of spectator and audience," he says. "Instead of telling a story and letting audiences go, 'Oh, yeah,' you stop the action and ask questions like, 'How could they do it differently?'. ... The audience is empowered to act. It tries to get them to think in new ways."

Zeal Theater's Nantsou explains that a similar motivation inspired The Stones. While conservative voices in Australia called for strong penalties for two teenage boys who killed a young doctor by tossing a rock from a freeway overpass, Nantsou decided to inject a dose of human reality into an issue that had turned into an abstract political debate.

"The people who are a lot more severe, their voices tend to be heard more," Nantsou says. "And I suppose that it was the voices from the more reactionary part of society that made me want to do the play."

The whole thing started out as a series of teenage pranks, he continues. The two boys weren't menacing thugs or young people gone bad. Mostly, they were just stupid. "The play opens with them breaking and entering, trying to get the emblem from a BMW, and all of this is quasi-violent and quasi-stupid," he says. "The audience is pissing themselves laughing, and you actually forget how dangerous and how stupid these things are until something really bad happens."

For Pearson, theater and the arts in general must continually strive to find new ways of looking at a changing world.

"With a lot of pieces, we're always trying to revise our vision," he says. "It's essential for us as actors, and it's also essential for us as South Africans."

"I don't think that we can change society with art or theater," Kornhauser adds. "But they can definitely be useful."
---
Zeal Theater' s free show of The Stones at the Porter College Dining Hall, UCSC, is Thursday (Feb. 3) at 8pm. Ellis Pearson and Bheki Mhkwane's Amazwi Omoya plays the SC Vets Hall, 846 Front St., Santa Cruz, Saturday (Feb. 5) at noon and 2:30pm. Tickets are $10 general/$6 children. (465.8217)
---
[ Santa Cruz | MetroActive Central | Archives ]