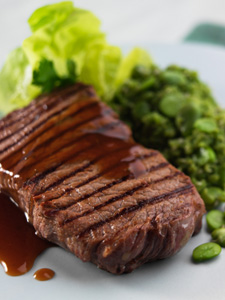 Just When I Thought I Was Out, They Pull Me Back In: You're a vegetarian. trapped in a steakhouse. Fate is cruel. But all is not lost.

Stranger in a Strange Land

Our resident vegetarian boldly takes on the final frontier--steakhouses--and Peachwood's comes out on top

By Elisa Camahort

It happens to the most stalwart vegetarian. You're backed into going to a steakhouse. Maybe your Uncle John is in town, and he wants to go to a Black Angus, because he's not interested in that pretentious California cuisine. Or maybe your VP of sales thinks nothing shows important clients you care like an overpriced dinner at a fancy steakhouse. Or maybe you were reckless enough to tell your significant other you'd take him anywhere for his birthday dinner, so he picks the place you won't go to the other 364 days of the year.

So I wondered, how is a vegetarian treated at steakhouses in the Bay Area, which is known to be fairly acclimatized to meatless eating? A little tolerance goes a long way, but would it go this deep into meat-lover's territory?

First we hit Spencer's Steaks & Chops in the Doubletree Hotel near the San Jose Airport. The irony here was that there was a convention in the hotel that evening ... a convention of people who like to dress up as animals. It made for a surreal evening ... imagine me at a steakhouse to begin with, seeing large human-sized animals walking by!

Scanning their menu, I found a grilled vegetable platter among the steaks and chops. The platter was hearty, plentiful and featured all my favorites, from mashed potatoes to asparagus to a portobello mushroom.

One veggie-unfriendly thing happened with our side dish, hash browns au gratin. While it arrived looking delicious, my first bite included definite meat product.

I called our waiter over and asked him if there was meat in it. He said, "Yes." Uncomfortable silence. I said, "I'm a vegetarian, remember?" Him: "Oh ... right." Me: "It doesn't say in the menu that it comes with meat in it, does it?" Him: "Nope." Silence. No offer to have them make a new meat-free version. No offer to even whisk the offending dish away and off our bill. Finally I said, "I think we'll just skip it, thanks." "Oh, OK. Sorry."

Spencer's must have micro-phones under the table. Soon after, the manager came to apologize and buy us dessert. Nothing like a scrumptious strawberry shortcake to help me get over my discontent.

Next, I hit a Black Angus. They offer one vegetarian pasta dish. It's in smaller print, in italics, and with no dish description ... the little outcast entree choice, but it's there. I can't say the pasta was inspiring. I might have even been happier with a salad and a potato. But it was a fresh, large portion, featuring four different vegetables. So, I guess they're trying.

Last, I hit Santa Cruz's own Peachwood's Steakhouse. I'm going to admit that my hopes were not high as we walked in. Peachwood's is attached to the Inn at Pasatiempo, and we were the only diners that evening. I was pleasantly surprised.

Our waiter expressed surprise that we came to the "best steakhouse" and ordered vegetarian, but he was all over it. For example, every meal comes with French onion soup, but he brought vegetable soup, since the French onion is made with beef stock. Did it without my having to ask. I ordered the Vegetarian Extraordinaire platter, and my companion ordered pasta primavera. My platter was tasty, and not some plain, grilled vegetable platter. This broad assortment of vegetables came with two different sauces: a fruit salsa and a lemon beurre blanc. The pasta was nicely done, with al dente pasta and al dente vegetables (mushy vegetables being an unfortunate hallmark of a hastily thrown together pasta primavera).

Peachwood's is not cheap. $20 for a vegetable platter seems steep, but each entree comes with soup, salad, bread, a palate cleansing sorbet (!) and a peach fritter (a yummy cross between a donut hole and a beignet). Along with the fried artichoke appetizer (excellent) and the desserts we ordered, we rolled our way home. That much food and a very attentive waiter made us feel like we got our money's worth.

I know some veggies won't appreciate my discussing steakhouses. But this column was started to help veggies navigate the nonveggie world. It seems that, from the affordable to the pricey, even steakhouses are making some effort to accommodate us.
---
Peachwood's Steakhouse is located at 555 Highway 17 in Santa Cruz; open daily 11:30am-10pm; 831.426.6333.
---
[ Santa Cruz | Metroactive Central | Archives ]