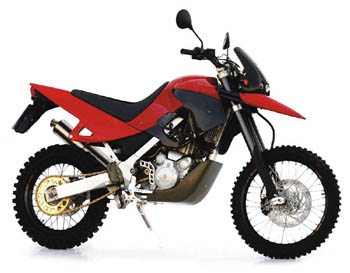 Rev

Go Enduro

The body has a stripped-down, almost skeletal look. Basically, they look like giant insects.

By Novella Carpenter

Just got done grafting my fruit trees, thanks to the scion exchange (no relation to the car), where people share cuttings from their favorite varieties. Later, I grafted my peach tree in the kitchen (too cold outside). It's a bit like making a Frankenstein tree--nectarines, donut peaches and apricots all on one tree. Where the exchange happened, I noticed another Frankenstein monster-like creation: a Kawasaki that was half dirt bike, half street motorcycle. Neat rows of scions lined the bike's metal panniers.

These bikes, sometimes called enduro, dual-sport or dual-purpose motorcycles, are becoming increasingly popular. They are the equivalent of SUVs for motorcycle enthusiasts. The dual-sport motorcycles look like dirt bikes, mostly, but the manufacturers have modified them to be street legal.

Depending on what state you live in, street legal roughly means the bike must have brake lights, turn signals and a headlight. It has knobby tires; the front tire usually is larger than the back; and the front tire's fender usually has major clearance to accommodate a steady collection of mud and rocks on the tire. The body has a stripped-down, almost skeletal look. Basically, they look like giant insects.

A friend of mine just completed her motorcycle training and is looking for a dual-sport motorcycle. "It's perfect. I can ride down along the railroad tracks and get to my property, which can be difficult and muddy to access in the winter. And I can drive on the road to town to get eggs and milk!" she cheered and then clicked on a photo of a Suzuki DR200SE with a look of glee.

Not being stunningly tall, she needs a bike with a height of about 33 inches, tops, and many dual-purpose motorcycles, like the Honda XR650L, are especially high riding. To figure out what height you'll need, just add a couple inches to your jean-inseam length.

According to All-offroad.com, what kind of enduro you buy depends on how you plan to use the bike. If you want to commute to work on it but then go off-roading on weekends, you'll need to get a midsize motorcycle that will be comfortable on the highway, but not too heavy for off-roading. On the other hand, many people want a bike they'll only drive on the highway for a second in order to get to those off-road sites. These folks should consider a lighter, more maneuverable bike like a Kawasaki KLX300, which will perform adequately on the highway and be a motocross fandango in the mud. In general, beginners might be better off with a bike with a smaller, two-stroke engine anyway. These are cheaper, and when you drop the bike--and believe me, you will--it won't be a huge workout drudging the thing out of the mud.

A dual-sport is surprisingly inexpensive. A new Suzuki DR200SE costs under $4,000. However, the high-end enduro does exist: a BMW R1150GS Adventure runs almost $15,000. When shopping for a used bike, bear in mind that most dual-sport engines last fewer than 20,000 miles before needing a rebuild. In good news, enduro motorcycles get great mileage; expect 50-60 mpg.

Finally, safety first, kids! Riding a dual-sport bike usually involves several crashes--with luck, just into soft mud. A helmet is, of course, required. There are hundreds of different styles and colors. Off-roaders recommend a white helmet because it's cheaper and reflects heat, but some people need a lime-green/orange swirly helmet, and I'm not going to stop them from expressing themselves.

Get a helmet with full eye and jaw coverage (remember: mud). Also, folks often wear a pair of goggles while frolicking in the dirt. Gloves are good to have for grip and protection, but there is no need to blow your life savings unless you want to--many people use gloves from hardware stores. A jacket and pants of leather or some other sturdy material are necessary. One can even find Kevlar-lined pants that look like regular old jeans or work pants. Body armor--for shins, knees--is optional, but a sturdy pair of big old boots is not.
---
Email [email protected]
---
[ Santa Cruz | Metroactive Central | Archives ]