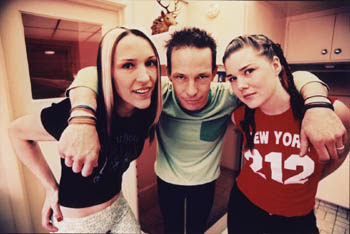 Their Groovie Is the Ghouliest: Sacramento pop-punk heroes the Groovie Ghoulies play a benefit for the Santa Cruz chapter of the American Red Cross Feb. 10 with Drag the River, Los Dryheavers and the Holy Vegas Chapel.

Monster Clubbing

The Groovie Ghoulies rock & roll in the belly of the beasts

By Steve Palopoli

From Bigfoot to the Blob to the Chupacabra and straight on down through leprechauns and zombies, there's been a whole lot of shamblin' goin' on in the adrenalized pop-punk of the Groovie Ghoulies. And yet the most telling monster of all has yet to make a showing in their catalog, because the Ghoulies are a fascinating Jekyll and Hyde of a band.

Take their two most recent albums, last year's Go! Stories and the new Monster Club. Recorded at the same time, they may as well have been simultaneous releases, the way they showcase the two distinct sides of the band.

The practically monster-free Go Stories! is the most potent demonstration to date of the Ghoulies' philosophical bent, working up the positivism of earlier songs like "I Wanna Have Fun" and "Carly Simon" into an honest-to-God frenzy on "'Til Death Do Us Party," "Let's Do It Again" and "Kick Ass."

"I didn't want to be stuck having to write monster songs," says Kepi, the Ghoulie frontman who along with guitarist Roach has long been the core of the group. "There's very few bands that can do it and maintain. The Cramps can do it, but they've kind of switched to sex and hot rods."

Where the Cramps built their monsters from sleaze and menace straight outta Tod Browning's Dracula, the Groovie Ghoulies are more in line with the same director's subsequent masterpiece, Freaks. Their musical heroes, the Ramones, adopted that film's famous chant "gabba gabba hey" as a battle cry, and, despite their cartoony imagery, the Sacramento-based Ghoulies have taken the misfit-monster connection to heart in the same way.

"You can't fake it," says Kepi. "If I was going to write a song called, you know, 'Here Comes Frankenstein' or something, it'd be dumb and I couldn't live with it."

Point taken, but on the other hand, the smart money says Kepi would knock "Here Comes Frankenstein" out of the park. This is, after all, the guy who turned the 30-second buzz-saw love song "That's That" into an instant classic with the lines, "I need you like flowers need the rain/ I need you like zombies need brains/ I need you like a witch needs a hat/ I need you like black needs a cat."

Several of the best of this breed of the band's songs have been rerecorded for Monster Club, as the early records on which they were released go out of print for a second time. The new album's remakes include a couple of rarities; first, the Ghoulies' fantastic cover of Daniel Johnston's "Devil Town," previously available only as a vinyl B-side and on an obscure compilation, opens the record--just as it's been opening their live show for the last year or so. Second, there's their cover of the Ramones' "Pet Sematary," once relegated to a Ramones' tribute album (which is still worth tracking down for Mojo Nixon's version of "Rockaway Beach," by the way). The beefy, riffariffic "Pet Sematary" redo, which sounds about 100 times better than their original recording, is the best example of the difference that producer Mass Giorgini--who's done all of their records beginning with 1997's landmark Re-Animation Festival, has made to the band's work.

Both "Pet Sematary" and "Devil Town" are examples of the Groovie Ghoulies' undying love--and remarkable talent--for cover songs. They've recorded at least three dozen covers--not just obvious picks, like Motorhead's "R.A.M.O.N.E.S." and Jonathan Richman's "Dancing Late at Night," but songs by everyone from Neil Diamond to Neil Young. On a split EP with Chixdiggit, they covered a handful of Boomtown Rats songs, and one of their most requested covers is Billy Bragg's "A New England."

"Every night someone requests 'A New England,'" says Kepi, "and about twice a year I get a letter saying, 'Oh my God, I just discovered Billy Bragg, thank you very much.' Then I've done my job."

The reason fans have such ready access to all of this material is that at their live shows, the Ghoulies start taking requests after about the fourth song.

"It's just coming from a fan's point of view," says Kepi. "If I asked my favorite band to play a song for me and they did, I'd poop my pants. So we usually do."

Play the songs, that is, not poop the pants. Although the Ghoulies have certainly been through a lot of shit, which makes Kepi's relentlessly optimistic tunes all the more inspiring.

"On Go Stories!, you can feel the positivism, and that's me writing for myself," he says. "'Cause we were leaving the label, we had been through five drummers, we had lost our agent. So 'Stick It Out,' "Let's Do It Again,' ''Til Death Do Us Party,' those are all love songs to me, to keep me up."

That's not to say they're not also love songs to Roach. Speaking of "'Til Death Do Us Party," the two of them have been married now for 13 years, since before Roach even joined the band. They've known each other since high school, and when Kepi talks about her, he still sounds like a Ghoulie in love.

"She was always a rocker, even in high school. It's kind of like everybody's dream girl, you know, a cool, beautiful woman who loves the Ramones and loves the Rolling Stones and just loves music," he says. "She's really cool. She'll watch any crappy B movie with me. And then, you know, I'll watch Chicago and Moulin Rouge with her. Rock & roll."
---
The Groovie Ghoulies play Tuesday, Feb. 10, at Moe's Alley, with Drag The River, featuring All vocalist Chad Price, Los Dryheavers and The Holy Vegas Chapel. Doors 8pm, show starts 9pm. Tickets are $5 advance, $7 day of show. A portion of the proceeds goes to the Santa Cruz chapter of the American Red Cross.
---
[ Santa Cruz | Metroactive Central | Archives ]