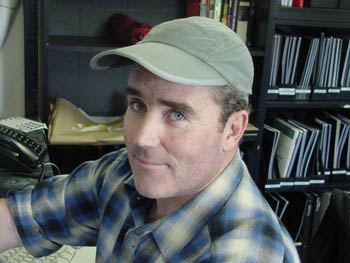 Photograph by Sarah Phelan

Swimming With Sharks: Sean Van Sommeran's Pelagic Shark Research Foundation isn't feeling too chummy toward UCSC right now.

Nüz

Extended Niche

Publish or perish. That, as every professor and grad student knows, is the mantra that ups the blood pressure in the corridors of academe.

But what about people who don't have college degrees but have become experts in their field? Are they to be mocked just because they don't have a Ph.D.? And do they risk being ripped off if they share what they know with those who do have mortarboard-wearing aspirations?

That, in a nutshell, sums up the fears of local resident Sean Van Sommeran, who's been grokking sharks ever since he was 12 years old and the fishing boat he was riding on rolled past a big blood slick near Año Nuevo.

"I saw a white shark thrashing on the water surface with an seal in its mouth. It was the mid-'70s, and I'd just seen Jaws and read the book," says Van Sommeran of the obsession that led him to found the Pelagic Shark Research Foundation, an independent research, education and advocacy group based in Santa Cruz. The foundation has tagged almost 100 great whites off Año Nuevo Island in the past 12 years--experiences you'd think would earn him an honorary degree.

But at first, says Van Sommeran, his ego was satisfied by just working in a field that he likens to a "vast desert of ignorance about sharks." His attitude shifted two years ago, when UCSC grad student Scott Davis, who was also PSRF's director of research at the time, apparently incorporated--but did not credit--some of PSRF's data about the movement and behavioral patterns of great whites off the central California coast into a paper that Nature published in 2002.

Titled "Expanded Niche for White Sharks," the paper rocked the science community with the news that the world's largest-known predatory shark is primarily oceanic or "pelagic" and only visits the mainland coast on a seasonal basis (a revelation that made Nüz vow never to venture into the ocean dressed like a seal between the months of October and February, which is when great whites apparently cruise the Cruz in search of fat-wrapped bundles of seal).

Determined to get the credit he believes he deserves for his part in this trailblazing project, which involved tagging great whites with satellite trackers, Van Sommeran took the matter to court--and finally recovered missing data and funds and a letter of apology and admission from Davis in December 2003.

But while that battle is over, the greater war is still on, according to Van Sommeran, who is pursuing a published erratum/correction from Nature, while his blood still boils over some "additional background detail" that was supplied to Nature on Stanford University's Tuna Research and Conservation Center letterhead, shortly after Van Sommeran complained he should have been listed as a contributor/co-author of the "Expanded Niche" article.

"[Mr. Van Sommeran] has no college degree and has a reputation within the academic community of misrepresenting and exaggerating his role in research projects where he has been a paid assistant for driving a boat. His income is derived from donations to his foundation and welfare checks. He does not publish research papers," states the letter, which claims to be from both UCSC professor Burney Le Boeuf and Stanford researcher Barbara Block.

Says a clearly irate Van Sommeran, "I have no college degree--so kill me! They don't teach what I do. Le Boeuf had never seen a shark until I showed him one. I rarely have time to get involved in projects that I did not initiate myself, and when I first said I thought great whites were primarily pelagic after seeing several of them with harpoon lanyards and other offshore commercial fishing debris about their bodies, the academics mocked me for not having any empirical data."

As of presstime, Le Boeuf had not returned Nüz's calls seeking comment, but Block emailed us to say that the expanded article was a "brief communication to Nature and not a letter, which technically is a different style of publication," and that "acknowledgments and joint first authors" were not allowed. "

The good news, according to Block, is that Nature has updated its policy since then. As for the letter to Nature on Block's letterhead, Block says Le Boeuf, who was Davis' adviser, drafted the letter in response to Van Sommeran's allegations, and that as senior author she submitted his comments with her signature on behalf of the research team.

"If Burney's letter was incorrect, then I believe he should respond, and he most likely believed his student," she says. "That is the position most professors would take for any student."

Meanwhile, Van Sommeran is likening himself to "a sherpa, who carries all the stuff up to the top of the mountain, then is asked to get out of the way while the guys with altitude sickness take all the credit--only this time we're talking about sharks and sea sickness."

Duck and Cover

Dick Cheney Day (formerly known as Groundhog Day) dawned sunshineless, at least in California--a hopeful sign, Nüz thought, that the rumor that Cheney won't be running as VP in Bush's re-election campaign might be true. Still, efforts to verify this rumor were met with ennui on the part of his White House receptionist, who simply fubbed Nüz off onto the White House Comment line, where we left a very nice message about duck hunting, Supreme Court Justice Antonin Scalia, Cheney's energy task force and whether the "failure of U.S. intelligence" has anything to do with the president misplacing his brain medicine.

Flowers and Hearts

Instead of chocolate this Valentine's Day, how about an orchid? So says Mat Zemny, who teaches a vocational agricultural program at Soquel High and says that prize orchids will be on display, with others for sale. If, like Nüz, you have no clue how to care for orchids, local expert George Stagi of Maplethorpe Orchids notes that most orchids"grow on trees in jungles, so don't give them too much water (only a cup and a half once a week), use some fertilizer (about 2 teaspoons of 24-16-16 in a gallon of water) and repot them every few years, using fir bark, NOT potting soil."

When: Feb. 7 and 8, 10-5pm, 10-4pm, respectively, at Soquel High, with proceeds going to the Orchid Society and the Regional Occupational Program.

In addition, you can catch disappearing rabbits and doves, and check out a levitated woman and the world famous mind-reading teeth, not to mention a fix for "belly button blockage," at two Feb. 14 magic shows to benefit Jacob's Heart Children's Cancer Association. Featuring Mickey Magic and the Amazing Jimbo at the Aptos Academy Theatre, 1940 Bonita Dr., Aptos, at 2 and 5pm. Call 477. 0690 or check www.jacobsheart.org for tickets.
---
Nüz just loves juicy tips: Drop a line to 115 Cooper St, Santa Cruz, 95060, email us at , or call our hotline at 457.9000, ext 214.
---
[ Santa Cruz | Metroactive Central | Archives ]