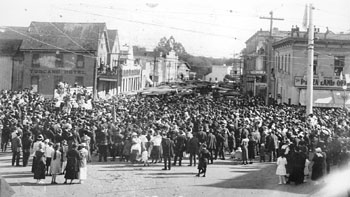 Covello & Covello Historical Photo Collection

Celebrating End of World War, Nov. 11, 1918: This is looking down Front Street with the Bear Building on the right where the Plaza Land Office is shown. The post office is now on the left, where the Toscano Hotel was.

Bruce Bratton

RICHARD DEUTSCH AT MAH. The current exhibit of Richard Deutsch's sculpture at the Santa Cruz Museum of Art & History is absolutely the finest exhibit I've ever seen there, and I've seen just about every one. Well, it ranks up there with the Neon show and the one with the reflecting pool. Don't miss Deutsch's huge sculptures made from marble, fiberglass, terrazzo and granite. The sculptures and the spaces they create make the museum gallery space flow like a poem in space--or something like that. Look at the book on Deutsch's exhibit--it's beautiful and a credit to MAH and all the hard work behind the scenes. The Deutsch exhibit will be there through April 7.

DARK PLEASURES. Aside from the fact that Monster's Ball opens the new Theatre Del Mar on Friday and just seeing the theater, seeing the big brilliant screen and hearing the new sound is reason enough to go, the movie's good too. Billy Bob Thornton and Halle Berry do excellent jobs with a script that lacks just a little bit of explanation or depth. It's not scary and there aren't any monsters in it except for three generations of racial bigots. See it on the Del Mar's big screen. I got to see all of Lantana including the ending this time. It is really a rare and good film about middle-age relationships. Barbara Hershey, Geoffrey Rush and Anthony LaPaglia all do excellent acting jobs; don't miss it.

NORTH COAST POLITICS AND SCENERY. Frans Lanting has spent decades showing the world how fragile our planet's beauty and animal life is through his work with National Geographic and his books. Because he lives on our North Coast, and appreciates its threatened existence, he's photographed absolutely amazing scenes right in our backyard. Frans is co-hosting a special Santa Cruz County North Coast party as a benefit for Third District Supervisor Mardi Wormhoudt. They have worked together on many battles to preserve the North Coast against some nasty development schemes, and they won. And our North Coast has remained protected. At 4pm this Sunday you meet Frans, talk to Mardi and learn more about our North Coast at a very limited seating party at Gail and Mitchell Page's house, 535 Spring St. He might be showing slides, I don't know for sure. Call for reservations at 466.0261, and call quickly.

THEATRE DEL MAR GALA. Hoffman's Bakery is going to host a special reunion party for Del Mar usherettes and ushers from the early years on the Del Mar Gala Day Saturday, March 2. The Ocean Pacific Lodge is working on naming a special suite after Beverly Roberts, star of China Clipper, the 1936 film that opened the Del Mar, who'll be here in person for the gala. Jon Michael Studio has a cast of characters arriving in a limo for the Movie Star Look-Alike Contest happening that evening. Paul Ritscher's Ritz Sho-Card Co. is creating an original limited edition Del Mar Gala poster and special letterpress tickets for the occasion. Remember: tickets for the gala go on sale Monday, Feb. 11, at the Theatre Del Mar. Deluxe tickets, which include the reception with Beverly Roberts, selected seating, a poster and the stage and film program, are $50. Tickets for the stage and film program are $10.

LONDON NELSON ART CENTER. There are usually plenty of reasons to go to London Nelson Community Center, but now through April you should go there and see the art. I had seen Vern Bowie's cabinets before, but hadn't taken the time to study all the art and beauty he has in each piece. His inlay techniques are as creative as his choice of woods. Barrington McLean's bronze work and Michael Perkins all worked together with Bowie on these permanent art pieces for the center. The west wall of the hallway has Carol Bowie's oil paintings of jazz figures such as Charlie Parker and Carmen McRae along with studies titled Waiting and Evening Respite. They're subtle and forceful at the same time and very good. The hallway's east wall has more jazz paintings by Watsonville artist Greg Hines. His paintings feel like they were painted right at jazz sessions. While you're at London Nelson checking out this art, note the statement in one of Vern Bowie's cabinets saying that even though historical evidence shows the name was London Nelson, the 1984 Santa Cruz City Council voted to continue spelling it Louden. I'm continuing to spell it London, out of respect.

SMUIN BALLETS/SF HERE. Smuin Ballets/SF is the only ballet company in history to win both Tony and Emmy awards, and it was seven Emmys! They're going to be dancing at two performances in Cabrilho College Theater. The program is "Dancin' With Gershwin," which means songs sung by Marilyn Monroe, Fred Astaire, Ella Fitzgerald and more like that. One at 8pm Saturday and the last at 8pm Sunday, Feb. 10. They're being presented by UCSC Arts & Lectures. You can go online at www.events.ucsc.edu/artslecs to learn more about Smuin. Call 459.2159 for tickets. I wouldn't wait to buy them at the door--better to plan ahead.

HISTORICAL PHOTOS. One of the greatest joys in running the historical photos in this column is the unexpected responses, like the ones from Lori Dettling and Madeline Britton last week. It turns out Lori and Madeline were among the young Rio Del Mar protesters in last week's 1968 photo. Lori emailed to say, "We were protesting the new fees that they were collecting at Rio Del Mar." Their group won and there is still no charge to enter the beach at Rio!

IN CLOSING. Barbara Graves writes to ask our enlightened community, "If a group of whales is a pod, a group of otters is a raft, and a group of cows is a herd, what is a group of surfers called?" We need to come up with something, maybe a slough of surfers, a flotilla, a sarong of surfers, a scatter, a school of surfers, a surge, a synod? Maybe there's a term already in use, but we really should have something nice to call our own little waterworld. Send those ideas in, but be nice.
---
Bruce critiques films every other Thursday on KUSP-FM (88.9). Reach Bruce at [email protected] or 457.5814, ext.400.
---
[ Santa Cruz | Metroactive Central | Archives ]