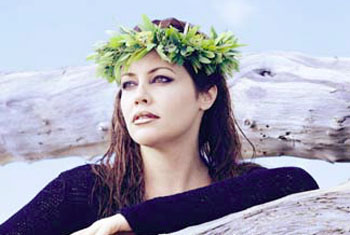 From Poi to Pop: Vocalist Amy Hanaiali'i Gilliom has revived the female falsetto style of traditional Hawaiian singing.

Making Waves

Mele Hula unites three new-school Hawaiian music masters

By Todd Inoue

IN A CONVERSATION with anyone from Hawai'i, the topic of music and food eventually crops up. Both Hawaiian music and food are revered if acquired tastes. And ironically, it sometimes takes leaving the islands to appreciate them fully.

There's no better place to witness the synthesis than at a mainland Hawaiian music concert. Folks who passed on the shows when living in Makakilo will tap it into their PalmPilot. They want to replace the sounds of traffic and car alarms with clean plucking and sky-high melodies. They'll forego Krispy Kremes for two fingers dripping with poi. The uptight workaday uniform of khakis and button-down shirts will blossom into aloha shirts, the business brogue hanging loose like a pair of wet baggies.

It's a feeling best described as ohana, family. And Hawaiian acts like Mele Hula welcome the ex-pats with open arms.

"I know they miss home and this is a way of reconnecting to home-- it's almost like comfort food," says educator, chanting master and Mele Hula host Charles Ka'upu, in a phone interview from his native Maui. "You didn't appreciate it when you were here, and now that you're not, it makes it feel like home--familiar and yet different."

In the Hawaiian language, Mele Hula translates to "song and dance." To Hawaiian music aficionados, Mele Hula is like the Traveling Wilburys. The "mele" half is stacked with some of Hawai'i's best new school traditionalists: guitarist Barry Flanagan of Hapa, vocalist Amy Hanaiali'i Gilliom and rhythm guitarist Ernie Cruz of the Ka'au Crater Boys.

The "hula" part is handled by hula expert Jackie Booth and the regional halaus (hula dance troupes) that perform at each tour date. Charles Ka'upu chants and provides historical context and comic relief.

Island Style

Mele Hula rose from the ashes of three groups that broke up around the same time last year. Flanagan was the blond half of Hapa, a duo that toured the West Coast regularly and built an ardent fan base. Flanagan's former partner, guitarist and vocalist Keli'i Kaneali'i, abruptly left the group in May 2001.

Hapa was just making the leap from playing the intimate clubs to selling out 2,000-seat amphitheaters. The group was just about to embark on its most ambitious tour of Japan when Kaneali'i served notice.

"I guess crossroads happen in life and Keali'i came to the end of the road," says Flanagan, clearly still wondering what to make of it. "I think after 17 years the group hit a wall and he went his separate way. I will always be his biggest fan. He's an amazing voice and presence."

Hapa couldn't back out of the Japanese tour, so Mele Hula came together to fulfill the contractual obligations. Flanagan enlisted vocalist Amy Hanaiali'i Gilliom, one of Hawai'i's premier singers. Gilliom uses a style called Ha'i, favored by pioneers Auntie Genoa Keawe, Leina'ala Haili, Linda Delacruz and Myra English.

"This is a style of female falsetto that is kind of dying in Hawaiian music," says Gilliom. "Mostly the kupuna, or elders, in Hawai'i sing it."

Gilliom recorded four albums with guitarist Willie K. The duo ended their partnership last year. To keep their minds off the breakups, Flanagan and Gilliom collaborated. For the Japan tour, they enlisted Ka'au Crater Boys guitarist (and Amy's cousin) Ernie Cruz and hula dancer Jackie Booth. The Japanese leg went over like gangbusters.

"The boys are awesome to work with; we all admire each other for our musical accomplishments," says Gilliom.

One third of the Mele Hula set is comprised of Hapa songs, the rest is a mix of traditional and contemporary songs, collaborations like Flanagan and Gilliom's "Te Makohe," and instrumentals. Amy does stirring renditions of Hapa favorites "Lei Pikake" and "Ku'u Lei Awapuhi."

"We're doing the first record as much as possible," says Flanagan. "We have to do songs like 'Olinda Road' and 'Anjoli.' "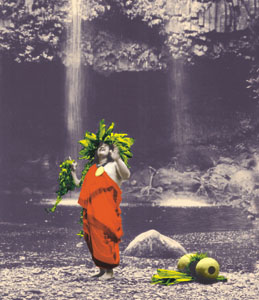 Oahu Ohana: Chanter/storyteller Charles Ka'upu adds a historical and cultural texture to Mele Hula's performances.

Return to Roots
Traditional Hawaiian music and slack-key guitar thrive as much on the mainland and in Japan as they do in the 50th state. Santa Cruz in particular is a hotbed of slack-key action. George Kahumoku Jr. lives here, and Keola Beamer and Ledward Kaapana are regular visitors to Henfling's Tavern. One of the premier slack-key labels, Dancing Cat, is based in Santa Cruz.
In Hawai'i, the popularity of indigenous music, like many other styles of music, goes through phases. The 1970s were considered the apex, with Waikiki hotels drawing sellout crowds to see legends like Dennis Pavao, Alfred Apaka, the Makaha Sons, even Don Ho. In the '80s and '90s, the arrival of karaoke and cover bands threatened to push traditional music completely off the strip.
Today, Hawaiian music isn't immune to trends, with the constant market for reggaefied Hawaiian music, "Jawaiian," gaining popularity. It's hot with the kids--that is, the kids who aren't listening to Top 40.
"What we have to deal with is a younger set of kids, because Hawaiian music doesn't appeal to the younger crowd," says Ka'upu. "When it comes down to a concert--Hawaiian music versus Britney Spears--Britney is going to win out."
The generation gap will always affect Hawaiian music. Fewer young people speak the native language. They're more tapped into feelings of agape than honoring tribal warriors. The upside, says Flanagan, is that fans of traditional music will be even more true.
"I seem to be feeling that there's so much of the younger material that it's enhancing traditional more," says Flanagan. "Traditional is more vibrant and alive than ever."
Mele Hula wants to give audiences the full cultural experience. The group highlights traditional and contemporary styles and artists. The dancers perform classic hula routines. This is a return to the roots with lush guitar, harmonies, and songs about nature, beauty, love, kings and queens, sung in the Hawaiian dialect.
"They'll get a true gauge of what Hawaiian music is all about, from the beginning to what started it to where it is today," says Charles Ka'upu. "Minus the reggae beats."
---
Mele Hula: A Celebration of Hawaiian Music and Dance performs Wednesday (Feb. 13) at 8pm at the Rio Theatre, 1205 Soquel Ave., Santa Cruz. Tickets are $20 and are available at the Civic Box Office and Streetlight Records or by phone at 831.420.5260. See the Mele Hula website for additional Bay Area tour dates.
---
[ Santa Cruz | Metroactive Central | Archives ]