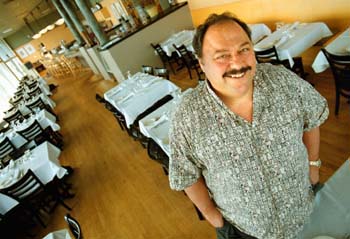 Photograph by George Sakkestad

Trattoria Talent: Aldo's co-owner Walt Olivieri presides over a trusty bistro.

Atmospheric Aldo's

A neighborhood bistro earns new respect with accelerated charm, menu confidence and an attitude of playful sophistication

By Christina Waters

Like many West Side residents, we cherish the presence of a few trusty bistros in our neck of the woods. And Aldo's, a former favorite, recently won our renewed respect with a delicious dinner highlighted by smart service. Oliver, a Santa Cruz artist/expatriate now living in L.A., was visiting for the weekend, so we decided to rendezvous for dinner at Aldo's. We feel welcome here and the menu always appeals. The brief lull in creative vigor the cafe seemed to experience during its change of staff a while back appears to be history.

The cafe was filling up early last week as we took a window table. The sleek urban interior, with its handsome artwork and gleaming hardwood floors, instantly raises both the IQ and sex appeal of each and every patron--or so it seemed to us. Our cordial young waitress brought a bottle of Ridge Geyserville Zinfandel 97 ($40) for me to taste. Oh my, I said, rolling my eyes. Oliver and Jack did the same after we toasted the fickleness of the L.A. art scene and placed our dinner orders.

Jack was dying for gnocchi, but he also wanted the evening's swordfish special ($17.50). With our waitress's help, he managed to have both. The trick is to order a child's portion ($5.95), which you can have with your choice of sauces. Soon Jack's generous "small" appetizer of luscious gnocchi arrived, giving all three of us plenty to sigh over. He thought the marinara was not mellow enough, but I loved it. And we all admired the exceptionally light potato pasta dumplings. I started with a lavish salad--the Insalata alla Florentina ($6). Sliced tomatoes and hard-boiled eggs ringed a central mound of infant spinach. A vinaigrette of good olive oil, filled with fruitiness, and balsamic dressed the baby leaves and on the side was a tiny bowl of pancetta. I found myself eating the crisp cubes of Italian bacon like peanuts, in between bites of the sensuous spinach salad. And the fresh francese. These simple trattoria elements--olive oil, salad, tomato sauce and red wine--are some of the best things on the planet.

Main courses were very attractive, especially the thin swordfish steaks topped with a riot of olives, capers and red bell peppers. With less topping, the fish itself might have made more of its own statement, but everything was luxuriously moist. My grilled pork chop--large, thick and juicy--arrived with a red bell pepper puree on the side, as I'd requested. But the pork chop was so good that I pretty much ignored the unnecessary topping. All entrees were joined by killer mashed potatoes, the kind that taste so freshly made and creamy that you can't stop eating them no matter how many calories they contain. Jack coveted my pork chop and vowed to return just for this dish alone.

Ah, but then he decided he'd come back just for a dessert order of Aldo's notable panna cotta ($4.50), a blissful and non-cloying Italian flan. Shaped into a graceful pyramid, the vanilla-spiked custard dripped with crimson berry puree, whose tart tanginess accented the custard's voluptuous texture. With excellent house coffee, this was one of those perfect closings to a winter meal.

Aldo's Cafe offers a lot--an inviting wine list, sensuous pastas, hearty entrees and nicely made desserts (with service to match). And after dinner you can swing by Hollywood Video for some over-the-top biblical epic starring Victor Mature. Life is good.
---
Aldo's Cafe
Address: 841-A Almar Ave., Santa Cruz
Phone: 831.429.9982
Entrees: Moderate
Hours: Tue-Sun, 5-9pm
Ambiance: *** Pretty, understated bistro setting.
Service: *** Youthful staff is willing to please, works hard to make your dinner exactly what you want.
Cuisine: *** Very fresh ingredients, attractive presentation and nicely harmonized flavors make for delicious dishes.
Overall: Aldo's is once again an equal partner in the fine West Side dining landscape.
---
[ Santa Cruz | MetroActive Central | Archives ]