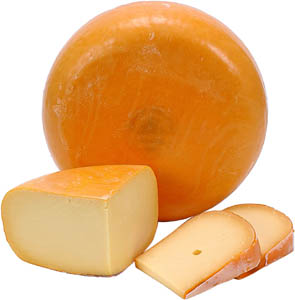 Wheel of Fortune: The River Cafe and Cheese Shop brings the gourmets behind the Feel Good Foods catering service to a whole new level of exposure.

Grate Expectations

The River Cafe and Cheese Shop brings the true cheese experience to Santa Cruz

By Steve Billings

Heidi Schlecht is a self-proclaimed Luddite. She's the only caterer she knows who doesn't carry a cell phone. She doesn't email and is much more at home preparing simple elegant organic foods for weddings (including her own) and farm products from her own plum and apricot trees than she is searching the Internet to learn about anything.

In short, she's old-school.

And along with her longtime friend and business partner Amy Linstrom, Schlecht has brought her subtle, gourmet sensibility to River Street with the River Cafe and Cheese Shop.

Serious cheese eaters and novices alike should rejoice that Schlecht and Linstrom have surfaced from nine years of relatively underground word-of-mouth catering work in service of their company Feel Good Foods. No more drudging pilgrimages to Carmel or San Francisco for Sally Jackson's hard-to find sheep's milk cheeses or for complex, exotic rounds of Corsican Brin dí Amour. Heaven have mercy, for there's a cheesemonger on River Street.

The other night, Heidi and Bob Furber, who assists with the purchasing, research and care of the shop's precious inventory, initiated Metro Santa Cruz into their world with samples of some dozen or more cheeses from around the world (with a little bit of pinot noir from Schlecht's home vineyard). Bob guided us through the cheeses, providing pithy details on the history, process and flavors of each offering, while Heidi dished the background on the accompanying dried fruits, vegetables, spreads and condiments, many of which are made by her and available at the shop.

Those who enjoy and know a little bit about cheese would recognize some familiar names such as Humboldt Fog and Vella Dry Jack. But two cheeses that stood out for me that night, which I never had before, were both made from sheep's milk though totally different in style. The first, a smoked sheep's milk cheese from the Basque region of Spain called Idiazabal, possessed a thin rind that added greatly to the Manchego-like experience. The other, from New York state, was a soft-ripened, bloomy rind (like brie) cheese called Shepard's Wheel. The cheese oozed onto the plate away from its rind, and once spread onto bread and savored, provided a blend of creaminess and tang which I never before experienced.

The opportunity to sample a wide selection of 50 different cheeses (which are then cut to order) sets the River Cafe and Cheese Shop apart from other local venues with decent selections. Cheese is so various, its flavors so diverse, intense and particular, that buying without tasting is unthinkable, akin to purchasing a car you've never driven.

"At a good cheese counter, you have to take some time, let people try a little bit of this and a little bit of that," says Furber. "We do a lot of education, because people walk in and they are not familiar with certain things. Cheese is a lot about letting people know what can be done with it."

The shop also distinguishes itself by featuring a wide array of North American artisan cheeses from states such as California, Oregon, Washington, Wisconsin, Vermont, New York, Virginia and Georgia.

Supporting small scale, farmstead producers is one of the things which inspires Schlecht about great cheese.

"What appeals to me about cheese is the small scale and the handmade aspect," says Furber. "Also, the dollar isn't the bottom line. These people work to make something that is of very high quality, and a lot of the ways these people are doing these things is not about efficiency, it's about a high-quality product."
---
The River Cafe and Cheese Shop is at 415 River St. in Santa Cruz. Hours are 10am­6pm Tuesday­Saturday; 11am­5pm Sunday; closed Monday. (831.420.1280)
---
[ Santa Cruz | Metroactive Central | Archives ]