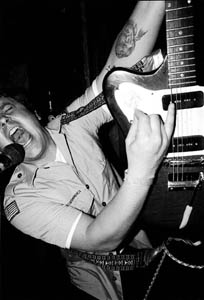 Photograph by Jim Thomson

Yellin' of Troy: El Buzzard opens for Greenhouse Effect at the Med on Friday, Feb. 13.

Med Alert

The explosive arrival of Aptos' tiny Mediterranean club on the music map has put fire back into the belly of the local scene

By Mike Connor

"It was an utterly crusty, filthy dive bar," recalls Abi McKee, whose father Patrick bought the tiny Mediterranean Club in Aptos back in May of 2002.

Legend has it that the club was originally established as a speakeasy and gambling mecca during Prohibition--funny that it got shut down for gambling before the McKees bought it. The new owners set out to erase some of its history and get a fresh start, but history--and the grime born of years of neglect and entropy--is not so easily defeated. So tenacious was the filth in the club, it bloodied their noses when they began to clean.

"I thought the place was just horrible, and way too small to do anything interesting for music," says McKee, a trace of his British accent seeping through his words, "but it just took on a life of its own that just continues to pick up momentum to this day."

So what exactly is happening at this little club? We know for sure that it plays host to punk rock, indie rock, hip-hop, global groove and Americana music. But some say it's haunted by the ghosts of 924 Gilman. A few think it's an Italian restaurant selling pizza. Still others say it's a refuge for demonic hordes of Satan-worshipping metalheads. They're all wrong, but each theory--except that last one--has in it a little grain of truth.

After an unsuccessful attempt to fit the Med into the jazz/blues mold when they first reopened the club, the McKees decided to open up the doors to the community and just see what the cat dragged in. Owners with weaker constitutions might not have liked what they saw. Belligerent local punk-rock bands like Los Dryheavers, the Highway Murderers and the Horrible Humans attracted crowds that would make your psychotic, alcoholic mama proud.

"In all honesty, we did not mean to establish it as a punk or rock or hip-hop venue. But it quickly became obvious that there's a tremendous need and desire for a venue where local bands could play, and they ended up being predominately punk rock and rock," says McKee. "I happen to love punk rock, but I had no idea it was a big thing here in Santa Cruz. I was very surprised to see how well it worked."

Perhaps he should be less than surprised--angry spirits have been appeased by less than the blood, sweat and probably a few tears he's spilt in his quest to revive the club. "Spirits," you ask? Yeah, I'm about to get pagan on your ass. R.I.P. Palookaville, Diane's, Club Culture, O.T. Price's, Skinny McDoogles, Live Soup, What Is Art?, etc., etc., etc. Hence the demand for a place to play local music, and for a while now it's been mostly punk rock and hip-hop knocking--and knocking hard.

Look What the Cat Dragged In

At an Angry Amputees show a couple months back, the dark, smoky mosh pit got so wild that people got thrown into the sound equipment, causing an amp to come crashing down on the head of the wheelchair-bound bassist. A few weeks later, Johnny No Moniker of the Fleshies ran around on the bar and rolled in broken glass on the floor of the mosh pit, singing all the while. Somehow, the staff at the Med takes it all in stride.

"My dad, myself and [bartender] Robin [Hollinger] truly love wild abandon. We absolutely love those nights," McKee enthuses. "I think it's important for people to feel like there's a place where they can come and let go. If people aren't hurting or disrespecting each other, then we're happy with them having the best possible time they can."

Fortunately for posterity, McKee has been filming some of the shows, which he plans to compile into a documentary on Santa Cruz rock bands. But even as he pours over the 30-some hours of footage he's already filmed, McKee is steering the Med into uncharted waters, toward the junction where the galloping torrent of punk rock and the lazy, whiskey river of Americana meet.

Crossover groups like the cow-punk trio The Devil Makes 3, Ten Gallon and American Heartache (featuring Jonas and Jake from Lonely Kings) have proved the allure of Americana for the punk-rock set. McKee and company are riding that wave with their new "Sunday Americana" night.

"I've noticed that people who go to hardcore shows will sit and really enjoy great Americana, which seems more laid- back, but when you listen to the lyrics, it's about the same things: running from the law, drinking way too much, being up against the government and financial pressure--the themes in the songs of both are the same."

The Med is also hoping to tap into the world beat community with a weekly "Global Grooves" showcase put together each Thursday by Moshe Vilozny of the local band Universal Language. With a brand-new sound system, lighting and platform setup, plus a recently instated nonsmoking policy, McKee is hoping to expand--not change--the Med's clientele.

"Our intention is to create a space for these different genres of music," says McKee, "but also maybe create the opportunity for people to cross-pollinate. It seems very healthy, and it's very good in terms of galvanizing creativity."

He's also interested in community building through media like art, film, outreach and activist speakers, all of which he hopes to facilitate through the Med in the future. With his halo firmly affixed in place, McKee even talks excitedly about other venues like the Catalyst jumping back into the local music scene."

"As far as I'm concerned, a rising tide raises all boats," says McKee. "It takes a hell of a lot of people to make this scene what it is, all the musicians, of which there are thousands, all their friends and their fans, all kinds of people in the community that lend their help and enthusiasm just to make it work. It's not a money-making venture, it really isn't ... though I hope that will come later."
---
Greenhouse Effect, The Deed, El Buzzard and Splitting Seconds perform on Friday, Feb. 13, at 9pm. Tickets are $5. For more info about upcoming events at the Med, visit www.themedfly.net.
---
[ Santa Cruz | Metroactive Central | Archives ]