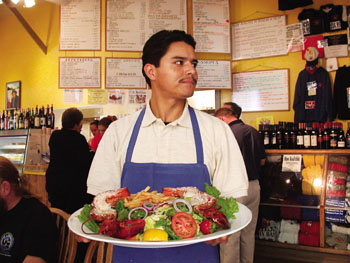 Photograph by Stephen Laufer

Eat Your Phil: You'll notice that plate of food is twice as big as Antonio P. Santoyo's head.

The Phil Phenomenon

Seafood guru Phil DiGirolamo just keeps getting it right, as his expanded Moss Landing Fish Market proves

By Christina Waters

An expanded interior, spacious side awning and spiffed up fresh-fish counter mark the 2-year-old renovation of Phil's, the legendary Moss Landing seafood institution. But fans of the older, funkier Phil's will feel completely at home in the cozy new digs. More designer wines are available, and solid beers like Newcastle Brown Ale and Sierra Nevada are on tap, but the food is still the solid, lusty, generous, completely irresistible fare that Phil has offered since before the Earthquake (which, in our neck of the woods, is the equivalent of "before the Flood").

Sparkling winter sunshine glinted off the waves and fishing craft bobbed right on cue--it was one of those incomparable days on the tiny island of Moss Landing. My companion Keith is a Phil's veteran and was dying to show off the new expansion.

Dozens of regulars were already well into their bowls of cioppino and platters of cracked crab when we placed our orders and took a table on the long side patio. Linguine and clams for Keith ($12.95), and an order of spicy jumbo prawns for me ($15.95).

We placed a "to-go" order for cioppino for four to pick up on our way out--if you want to impress dinner guests, this is it! A gallon of intensely flavored, bay leaf and garlic intensive cioppino, loaded with calamari, crab, prawns, clams, white fish and scallops, runs you $46.50 carry-out. An unforgettable bargain -- messy and wonderful.

Keith nursed his pint of Ramsey's Fat Lip Ale and we discussed favorite Phil's meals of the past while awaiting our order. Gone are the paper plates in wicker chargers--Phil's mammoth orders of Dungeness crab cakes, whole lobster and blackened sea scallops arrive on real porcelain plates. But never fear--there still aren't any tablecloths to mar the earthy atmosphere (and get stained with cioppino sauce!).

Topped by a slab of garlic bread large enough to soak up Lexington Reservoir, my house special of prawns offered a huge field of greens on one side and a half-dozen fist-sized prawns on the other. Blackened in a spicy cayenne mixture, the prawns were terrific but all the more so thanks to a fiendishly clever tropical "sweet & sour" salsa that balanced red peppers, citrus and a hint of pineapple. It was an exuberant complement to the moist, spicy prawns. Now if my salad had needed any extras--a simple splash of oil and vinegar was all I required--or if we had ordered one of the juicy albacore sandwiches, Phil's plants a fully loaded condiment basket on each table. Here were all manner of flavor accessories, including mustard, ketchup, red hot sauce, green hot sauce, even malt vinegar--which I applied to my excellent side of french fries.

Meanwhile across the table, Keith was deeply involved in a bowl of brothy linguine loaded with clam bits and topped with clams in their shells plus a fat wedge of lemon. A central core of grated cheese was melting nicely into everything, and garnishes of scallions and parsley added to the fun.

Did I mention garlic? Let's just say that Phil, being Sicilian, is almost religiously devoted to garlic. And this bowl of linguine and clams was unashamedly clam-intensive as well as exuding enough garlic perfume to give any self-respecting vampire the bum's rush. It was delicious, even though Keith admitted that he'd met his match halfway through, packed up a huge portion in a to-go container, and finished up his lunch by consuming every last trace of his romaine salad slathered with blue cheese dressing filled with big chunks of blue cheese. "I'd say these are kick-ass portions," Keith grinned, picking up his custom ordered pot of cioppino. I'd say he was right. Phil's--be there.
---
Phil's Fish Market
Address: 7600 Sandholdt Road, Moss Landing (on the island)
Phone: 831.633.2152
Hours: 10am-8pm daily, till 9pm Fri-Sat, no reservations; fish market hours daily 8;30am-7:30pm
Ambience: *** Part Nantucket, part Genoa, all large-scale crab shack, Phil's is a coastal landmark.
Cuisine: **1/2 Gusto and spice plus top ingredients make for fine eating.
Overall: Moss Landing's second biggest reason for existing.
---
[ Santa Cruz | Metroactive Central | Archives ]