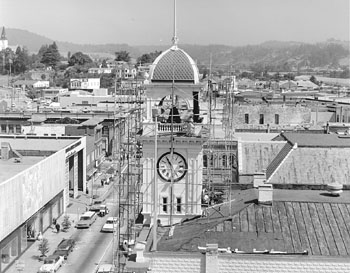 Photograph by Covello & Covello Historical Photo Collection

Removing the Town Clock: This was taken July 27, 1964, high atop the International Order of Odd Fellows Hall. The clock was taken to Harvey West Park and left outdoors for years. I'm assuming you know how it got to where it is now. With the recent hassle over the clock's present location, maybe it's time to move it again?

Bruce Bratton

DEL MAR NEWS. George Ow sent me some clippings from the San Jose Mercury News and the San Francisco Chronicle about the past, present and future restoration of San Jose's Fox Theater. Comparing the Fox and the Del Mar is apples and apes, but interesting nonetheless. The price tag to renovate the Fox was $65 million, but rising costs just increased the figure to $73 million. If they do rehabilitate the theater it appears that the $650,000 marquee will have to be removed. Plans are still to reopen the 1,119-seat theater, which was built as a movie house in 1927 and closed in 1973, as a home for Opera San José. It'll also show classic films if all goes well. It's scheduled to open by spring of 2004. Our Theatre Del Mar is now open and is really in a class by itself. Rarely are old movie theaters even saved. Even more rarely are they saved and used for movies. Most old theaters end up like Oakland's Paramount--a partially used performing arts space and a heavily subsidized municipal operation. So here's a prime example where redevelopment, developers, city officials and private enterprise all worked together and created an excellent and beautiful addition to our downtown. I never realized what an important role Geoffrey Dunn played in getting all the shakers and builders to work together. It was an unusual coupling with lots of compromising and nervous moves. Jeff sailed it through, and should be saluted or given some kind of gesture.

THE DEL MAR GALA. I have no idea how many tickets are left for the gala, but get to the Theatre Del Mar box office ASAP if you want some. The Gala is Saturday, March 2, starting with the Del Mar block closing at 4:30pm. One of the tasks I'd like to see accomplished before the Gala is at least the beginning of some documenting of what else went on at the Theatre Del Mar besides movies. Tom Honig reminded me that Duke Ellington and his band played there. Jim Phillips is loaning us his own original posters of the Tubes' performances at the Del Mar. I remember seeing Elizabeth Kubler Ross talking about death and dying, Werner Erhart talking about EST, and Rolling Thunder and Brugh Joy all being there at the theater. They were there as part of Darla Chadima's UC Extension program that drew believers from all over the West Coast to the Del Mar for an amazing two or three days in the late '70s. Anybody have any documentation of "other nonmovie Del Mar events"? I mean documentation like newspaper clippings, programs or printed stuff. We're learning rapidly that nobody's memories are what they used to be.

DARK PLEASURES. It's saddening to see Arnold Schwarzenegger's Collateral Damage at the top of the moneymaker films of the week. The plot, acting and photography are all miserable. What's impossible to imagine is that John Turturro and John Leguizamo are also in this film. Now there's a trio! In the action/violence category, Black Hawk Down is a much better film. In the original 1975 Rollerball starring James Caan, there was an attempt at a story and even a statement. The new Rollerball is as impossible to follow as the rollerball track they skate on--don't ever see it. It appears that the French people who made Brotherhood of the Wolf, now at the Del Mar, must have spent $30 million on the sets and costumes and about $149.50 on the monster. It is a very confusing mess of martial arts, sci-fi, the French Revolution and other Hollywood inventions that the French haven't quite gotten the hang of yet. Dark Blue World, also at the Del Mar, is sort of a semisweet "World War II fighter pilot and his sad love affair" type film. A nice little film with good acting, but not monumental or memorable in any sense.

THE VAGINA MONOLOGUES AND BETTY. Betty, the all-star female pop-rock-alternative trio, will play a special benefit performance on Friday night at 8pm at the Rio Theatre. There's a student and senior ticket price of $12. On Saturday night at the Rio, local women take the stage in a series of monologues now famous as The Vagina Monologues, for which writer Eve Ensler won an Obie in 1997. After the Saturday night Monologues there's a special performance and a big celebration featuring singer/songwriter Mary McCaslin at the Lather Beauty Salon on Seabright. Proceeds from the evening go to the Santa Cruz Women's Health Center. Tickets at Herland Bookstore or call 425.4480.

SANTA CRUZ SYMPHONY. They're back, and this Saturday night they'll be playing Weber's Ruler of the Spirits, Mechem's Songs of the Slave and the high-fidelity-stereo masterpiece by Mussorgsky, Pictures at an Exhibition. If you remember when stereo and hi-fi were just becoming popular back in the '50s you can probably still sing along with Pictures. If you forgot that one, there's always Ravel's Bolero, but they won't be playing it. Get tickets by phone at 420.5260 (press 5 after greeting) or call 462.0553 for info.

SURFING GROUPS. I asked last week if anyone had an idea of what to call groups of surfers. Well, Michael Bush suggested a smorgasbord. Patricia Smith, Michael Fitzpatrick, Jennifer and Nicolas Riddle thought it should be a swell, or a floe of surfers, or maybe an anticipation of surfers. Mr. Riddle--again thinking of the accepted term, a murder of crows--added that a slack of surfers could work. I had a long talk with Jake Wormhoudt at his mom's party on Sunday about what it was like to surf Mavericks and never thought to ask him about surfer terms. He told me that he and his brother have been surfing Mavericks for more than 10 years. I'd thought it was a more recent discovery.
---
Bruce critiques films every other Thursday on KUSP-FM (88.9). Reach Bruce [email protected] or 457.5814, ext. 400.
---
[ Santa Cruz | Metroactive Central | Archives ]