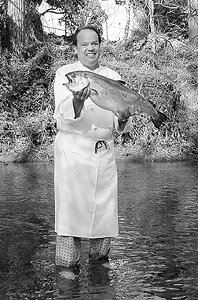 See? Food! The rustic Soquel Creek location of Michael Clark's new restaurant is fueling some fishing fantasies.

Photograph by Stephen Laufer





The Main Attraction

Moderate prices and a casual atmosphere make Michael's on Main a hit in Soquel

By Christina Waters

BY THE LOOKS of the happy crowd last week, all of midcounty has discovered the new food attitudes reviving the Main Street location of so many former dining rooms. Once the Courtyard, then Aragona's, the creekside culinary landmark is now the territory of Michael Clark, local catering legend who has whipped up a menu filled with a little bit of everything, in true California fusion style. Low prices--no entree over $19--and casual atmosphere are making an offer very few can refuse.

Smart enough to know that the economy requires downscaling, Clark has chosen to appeal to popular tastes, i.e., single diners and families looking for good flavors at good prices. Dressing things up a bit with local ingredients and handmade cheeses from Bravo and Bellweather Farms, Clark brings his substantial catering savvy to the large facility. An eager young staff, largely comprised of boys bearing water pitchers, appeared largely unacquainted with menu details but happy to search for information when asked.

We began with a bottle of 1999 Cigare Volant from local winemaker Randall Grahm ($49), a Greek salad featuring Bravo Farms feta ($6.50) and a starter of fresh ahi tuna ($12). A basket of multiseed sourdough from Beckmann's went nicely with the opulent Rhône-style wine, and soon our waitress presented us with a pretty plate of blackened ahi (as well as more of her navel than we needed--how about some uniform dress code for the wait staff?).

Breaking no new ground, the ahi was delicious and tangy with an edging of cumin. Salsa fresca and shred of cabbage on the side added both texture and flavor thrills. My salad was large enough to hide bin Laden and so drenched with red wine vinaigrette as to all but obliterate the flavor of the delicate feta ($6.50).

It was clear that most diners were having a great time in the extremely low-lit dining room, so perhaps we were the only ones distracted by the murky atmosphere. Perhaps the laid-back attitude of the serving staff simply makes patrons feel at home. But four strategically placed walls sconces would add miles of visibility and luster.

Entrees were large and arrived freshly cooked and steaming with good aromas. A vigorous creation of fresh salmon arrived encrusted with mashed artichoke hearts and mint vinaigrette--an idea that almost worked ($16). The salmon itself was moist and delicious, though the carrots, zucchini and mashed potatoes remained undistinguished. Jack's thick grilled pork chop ($17) was chewy--as is the way with pork chops--crowning a pool of polenta laced with apples (a good idea) and blue cheese (not such a good idea).

Again, this was excellent value for the low price, and in order to leave room to sample dessert we had our remaining entree portions boxed to go home. With such straightforward, heartland American entrees, one would expect similar desserts. And one would not be disappointed.

At the suggestion of our server, we shared an order of what had been described as an apple crisp ($6.50). Topped by some wonderful vanilla gelato, the dessert consisted of a fluted cookie tulip filled with sugar and cinnamon. And a few pieces of apple. The kitchen had not only used a liberal hand with the sweetening but had missed the chance to serve a warm apple pastry topped with cold ice cream. Why this was must remain a mystery.

What is not a mystery is the low-cost, moderate concept cuisine that stands to make Michael's popular with folks weary of sophisticated fuss and prices. You can safely take your parents and your children to Michael's on Main.
---
Michael's on Main
Address: 2591 Main St., Soquel
Phone: 831.479.9777
Hours: Lunch weekdays 11:30am-2:30pm; dinner nightly 5:30-10pm; Sunday brunch 10am-2pm. Small plates available in lounge 11:30am-midnight.
Ambience: ** Clean open look and original artwork lend a vivacious appearance.
Service: 1/2 * Friendly and as yet, untrained
Cuisine: ** Populist cookery long on user-friendly prices and generous portions. California comfort cuisine.
Overall: With more clearly defined management, and some fine-tuning of the menu, Michael's will fit nicely into its crowd-pleasing niche.
---
[ Santa Cruz | Metroactive Central | Archives ]