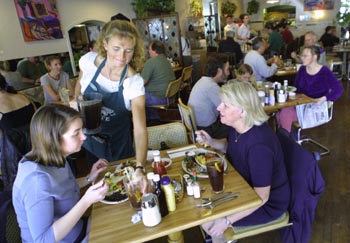 Photograph by George Sakkestad

Comfort Food: The menu at Walnut Ave. boasts all the classic egg dishes, plus a few of the more exotic ones.

Beyond Scones

Breakfast at Walnut Avenue Cafe is an effortless experience that proves coziness is still possible in a dotcom world

By Christina Waters

SOME RECIPES for pleasing the customer are so well honed and uncomplicated that they don't require much tending. Breakfast at Walnut Avenue Cafe would be one of those recipes, whipped up by combining fresh ingredients, friendly service and a complete lack of trendiness.

Last week Tara and I decided that a real breakfast was in order. We needed something beyond scones, and Walnut Avenue Cafe was nearby. The name of the game here is breakfast and lunch--nothing else. And it's nice to see that the cafe tucked into the ground floor of one of Santa Cruz' oldest remaining buildings--where my grandparents used to go to movies back in the old days--is still casual and inviting. Potted philodendrons do their verdant botanical thing, and there's your choice of table seating, counter or booths. We hit one of the small booths, which is so loaded with bottles of sauces and condiments it causes a traffic jam when the food arrives.

Two cafe lattes ($2.75) arrived so high, wide and creamy that the women at the next table moaned in appreciation. Truly, the kitchen here does the layered latte thing with flourish, and I felt vaguely guilty taking the first sip and ruining those baroque bands of cream, coffee and beige. Every classic egg dish is available here, from Benedict to Rancheros, as well as scrambles (both egg and tofu), omelets, pancakes and waffles. Walnut Avenue aims to hit every button, offering side dishes of all the basics, as well as addictive morning flavors like chips and salsa, Canadian bacon and bagels with cream cheese. The guys at the next booth were busy putting away omelettes the size of Elkhorn Slough when our orders arrived.

My 9-grain pancakes--a massive short stack for $4.75--looked more interesting than those whiter-than-white things served at generic pancake shops. Fluffy and not gummy, the pancakes came with a scoop of butter and a little pitcher of syrup. They were exactly as expected, no more, no less. Had I seriously craved a more aggressive flavor, I would have ordered the Huevos Rancheros, wouldn't I?

I brushed off the irritating parsley and slice of dry cantaloupe--these garnishes are absolutely unnecessary--and dug in. (I really don't want to single out Walnut Avenue Cafe for parsley abuse--everybody does it. Why? Is there some unwritten law that breakfast may not be served without extra frill of fruit and parsley?)

The sweet, light pancakes went beautifully with a side order of fried eggs ($1.65)--over medium--and some lean, salty Canadian bacon ($2.75). I'm a stickler for fried eggs; and these were exactly the way I like them. Cooked so that the center is still liquid, but not runny. Meanwhile, Tara was enjoying her mild-mannered hash browns, moist scrambled eggs liberally laced with tomatoes and pesto, and excellent English muffin. Even though Tara believes that only God can actually make an English muffin, I pointed out that Walnut Avenue was responsible for the expert toasting, neither undercooking nor burning. It sounds like a minor point, but we've all had to suffer through restaurant breakfasts in which toast or muffins are considered afterthoughts.

I had to agree with her, however, that the pesto was flavor-challenged. "Rather bland," was her verdict. More garlic, more parmesan--and while we're at it, more basil--would have given character to this otherwise generous presentation.

Fresh, tasty and nonthreatening could characterize the cuisine here, where even the hash browns speak softly. Comfortingly. But softly, meaning those who crave kick in their hash browns will need to add Tabasco. My eggs were delish, and I floated back to work on a Santa Cruz protein high.
---
Walnut Avenue Cafe
Address: 106 Walnut Ave., Santa Cruz
Phone: 831.457.2307
Hours: Breakfast and lunch, weekdays 7am-4pm; weekends 8am-4pm
Service: ** Reliably friendly and quick as the kitchen can go
Ambience: ** Old-fashioned coffee shop feeling makes this a touch of the old downtown
Cuisine: ** Hot, fresh food is made with honesty and pride
Overall: A niche well-filled
---
[ Santa Cruz | MetroActive Central | Archives ]