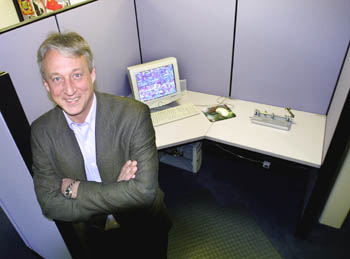 Photograph by George Sakkestad

On Angel Wings: Eugene Bernosky, CEO of Grey Zone Productions, received money from Horizon and is expecting huge growth.

Angels and Invests

While the dotcom world has faltered in general, in Santa Cruz, technology dreams still draw venture capital

By Jennifer Pittman

IN THE SUN ROOM at the Coconut Grill, tech types are sizing each other up over a buffet of fresh greens and chicken in a Marsala sauce. The scene could be just another agonizing business mixer, except that tonight Silicon Valley is here with money. Tonight, the people with ideas meet the people with money as local investors, known as "angels" (maybe because they fly in on wings of green), hover in the crowd.

This is the Lighthouse Venture Forum, a gathering for new business and a nod to the growing number of entrepreneurs in Santa Cruz and the people who have the money to support them. At this year's Jan. 31 forum, organizers scramble to set out last-minute rows of chairs, while event organizers in tailored dress suits tell latecomers that there won't be enough food and they'll have to sit in the back.

Gary Macbeth, president and CEO of Tartan Technology in Capitola and one of the chief organizers of the event, is not surprised at the turnout. He feels it indicates the growing need to support new companies in Santa Cruz, where getting startup money usually means looking elsewhere.

"I hope we have bridged the gap between Santa Cruz and Silicon Valley," Macbeth says. When Macbeth looked for local capital to support one of his enterprises last year, he found there was no infrastructure or funding network.

"There are businesses here that live off the valley. Now we have a sufficient number and a base of companies that can help nurture and help coach the startup," Macbeth says, adding that eight months ago he was unaware that a lot of the wealthy people in this community were interested in investing in technology.

Dressed in a button-down shirt, no tie, jeans and dress shoes, 36-year-old Sean Gilligan, president and chief technology officer of Catalla Systems of Scotts Valley, needs a half million dollars or so of what he calls "bridge money," and then, perhaps, a bigger investment down the road for his company. Gilligan recalls his first fundraising visit to a group of Silicon Valley angels last year. "These guys beat me up pretty bad," he admits. "It caught me a little bit off guard, and my responses weren't quite as quick as I hoped. But, at the same time, it was fun."

Jason R. Book, a 31-year-old business lawyer trendily attired in a suit but no tie, hopes to meet both clients and venture capitalists. Raising money from local investors is starting to happen, says Book, who has worked with a number of local investors and alludes to a long list of local tech startups as clients .

"I have initiated introductions that have resulted in the raising of approximately $6 million for my clients in 2000 alone, about half of [which] came from local angels," boasts Book, who, as co-founder of the law offices of Book & Book, is an official forum sponsor.

Angels or Demons?

CO-FOUNDED BY Macbeth and Kim Ruby of santacruzclicks.com in August 2000, the forum has received strong support from local business, whose aim is to raise the profile of local high-tech business and connect them with angels and venture capitalists. "We obviously have a lot of talent in Santa Cruz [but] a lot of talent still goes over the hill," Ruby says.

Though some in the tech community are concerned that sudden infusions of venture capital can artificially float businesses, inflate wages and rents, and drive out smaller competitors, they too are interested in nurturing local investors who have more at stake in caring for the local economy than outsiders.

"The last few years there was so much VC money available it was becoming a problem," says Cruzio.com president Peggy Dolgenos, who feels that local investment angels are less of a threat than a huge insurgence of Wall Street money, which may just as rapidly be pulled out. Dolgenos believes that while local investors may inherently have more interest in their community and at least involve a portion of the community, the trend still needs watching.

"A company that depends on VC money is not dependent on the customers for money, so they can ignore the normal rules of the market for profitability and supply and demand," Dolgenos says. "They can drive a local business out of business."

Dave Taylor, a seasoned business developer and founder of Growing Ventures, a locally based company that shepherds startups through their first year, also worked to get the forum off the ground.

"This is the biggest thing that's going to come out of this calendar year for the city of Santa Cruz," says Taylor, who incidentally carries "feminine" strategies-related business cards and a more "masculine" tactics card. "We're going to get on the map as an entrepreneurial community--indeed, we're already on the map."

Optimistic organizers estimate that perhaps 20 percent of the crowd are involved with startups. There are fewer venture capitalists. Says Taylor, "Who would have thought there were that many people interested in venture capital in Santa Cruz?"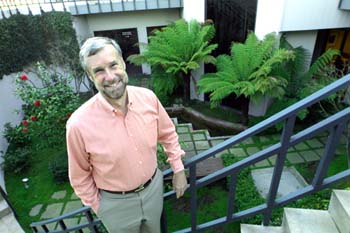 Stairway to Heaven: VC 'angel' John E. Hall, managing director of Horizon Ventures, has funded two Santa Cruz County companies.
Building Dreams
JUST A YEAR OR TWO AGO, there probably weren't. While the general dotcom world has faltered, here in Santa Cruz, technology dreams are still building. Seasoned executives seeking a higher quality of life have moved to the area, according to venture capitalists and forum organizers, and younger, local celebrity technology companies, like Network Alchemy, NetMind Technologies and Starfish Software, have increased the visibility of Monterey Bay area technology. In the last two years, at least 11 Santa Cruz County-based companies, including Lutris Technologies, Open Avenue and Antrim Design Systems, have received significant venture capital funding.
Before coming to Capitola's Grey Zone Productions as chief executive officer, Eugene W. Bernosky checked out stereotypes about the business culture in Santa Cruz County. For instance, how serious can surfing, bicycle-riding musicians be?
"I talked to VCs on Sand Hill Road and successful entrepreneurs in Palo Alto that were familiar with Santa Cruz." Their perception, says Bernosky, was that, "management style is different ... [that employees] aren't quite willing to grind it out like they are over in San Jose where you find cubicles with sleeping bags." Bernosky's experience since then, he says, is that "people here are just as driven as they are in Silicon Valley, but there is a little bit more priority given to the quality of work and quality-of-life issues in Santa Cruz."
After dinner comes a pep talk for weary and busted entrepreneurs with ideas to sell, a reality rap for the visionaries with angel investors in their dreams. The speakers are venture capitalists, the kind of men---and one woman--who lean back in their folding chairs as if they've heard every sales pitch on earth. These venture capitalists tell war stories from the frontlines. And they have advice.
"Good ideas are getting money," says John Hall, managing director of Horizon Ventures in Los Altos, which invested in Grey Zone as well as Invivo Data in Scotts Valley. But, say the VCs, this is not like last year when money spilled freely and profit margins were less consequential. No, the VCs are looking for better bargains and seem relieved the economy has slowed so they can sort more carefully through risky pitches, unbelievable profit projections, and fantastically vague business proposals.
Do's and Don'ts
'WE CAN TAKE a little more time," Hall says. "We don't have to meet you at 10am and give you a term sheet at 2pm."
What they want to see, say the VCs, is the entrepreneur of old--a person with well-researched business plans, real profit projections and a seasoned management team in place. Wincing at high-tech acronyms like "ASP," "XML" and "B2B" and industry buzzwords like "enabling technology," the VCs plead for substance.
"There's nothing worse than having someone come in and schmear the latest buzz words all over their business plan," says Emily Wood, of Draper Fisher Jurvetson in Redwood City.
Getting funded isn't a mystery, the VCs seem to say. It is a matter of diligence, tenacity and reality. "The logjam has kind of broken; there are companies on this side of the hill receiving funding but it's not ... comparable to Silicon Valley," says Steven Beedle, of ZNA Communications, a marketing firm for technology companies, and president of the Santa Cruz Technology Alliance.
"We're coming on the radar. But I don't think you can look at the portfolios of the Top 10 VCs in the valley and see many Santa Cruz companies.
Indeed, one of the biggest stumbling blocks for local companies is still: Who you know? "If you don't know anybody who can introduce you to a VC, you probably don't deserve to get funding," Hall says, which causes those in the crowd who interpret his comments as exclusionary to hiss. "I have 2,000 contacts in my Palm. You've got to know someone in it. We exist on our network."
Later, people say Hall's right. You have to be able to forge the relationships to succeed. You have to be able to find someone who is tapped into the network.
"You stand on your own two feet," Macbeth says. "There's nothing in Santa Cruz that prevents you from being funded if you have the right idea. I believe that 100 percent."
[ Santa Cruz | MetroActive Central | Archives ]