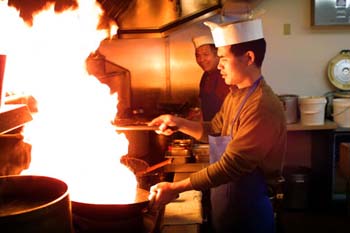 Photograph by George Sakkestad

More Than a Flash in the Pan: Chef Ben Huang works his magic at Golden City.

Mondo Soy

New occupancy in the old Saturn Cafe offers golden dining opportunity

By Christina Waters

AT LONG LAST, Golden City has opened its doors for business in the busy Mission Street corridor. Fans of the former Pearl (Golden City's Seabright incarnation) are giving thanks, especially reader Harriet Talan, who emailed me with her praise of the new Chinese restaurant. Calling the food, "varied, delicious and fresh," Talan is a big fan of Golden City's "yummy chow fun."

I stopped by for one of the restaurant's daily $4.25 lunch specials last week and was amazed at the quick service, very peppery hot and sour soup, and the gargantuan portion of Ma Po Tofu and rice I received, along with the always-intriguing egg roll and fortune cookie. Ensconced in the old Saturn Cafe digs cleaned up into a sunny diner-style venue, Golden City offers a huge menu of Szechuan and Cantonese classics.

One of the most welcoming aspects of Golden City is its non-stop service every day starting at 11am and continuing right on through the dinner hour. You don't need to ask--of course this new West Side restaurant has carryout! Golden City is located at 1230 Mission St. in Santa Cruz, 831.423.0688. Very nice people. Very nice prices.

A Whale of a Birthday

A few weeks ago I decided that since it was my birthday, I could do whatever I wanted. And that's just what I did. We drove up the coast to Pescadero in time to catch the sunset, and chased the high tide up and down the driftwood-littered beach. When it got too dark to see, we drove back down to Davenport and made a pit stop at Whale City Bar & Grill, where my all-time favorite hostess Cathy didn't bat an eyelash when we ordered French fries and red wine. Nothing but French fries dredged, sans couth, in megaquantities of ketchup and splashed with salt. Seriously, The Whale has potatoes down. For "dessert" we continued south, and shared a cheese platter at Avanti. French fries, five samples of outstanding cheese (plus toasted walnuts, quince paste, crusty francese) and red wine poured by ace wine steward Hugh Weiler. I highly recommend this gonzo strategy to everyone. Break with whatever hide-bound rut you're in and try celebrating your next birthday doing something you want. Very liberating.

Superlative Chowder; Polish Big Macs

According to one of Santa Cruz' top home chefs, whose initials are BB, the clam chowder at The Bleu Spoon in Aptos is the finest in the entire Monterey Bay area. ...

McDonald's by candlelight? So claims Christopher Samuels, account exec at Metro Santa Cruz, who recently returned from a whirlwind trip to Poland with a few believe-it-or-not stories. The one that amazed me most was Samuels' saga of a visit to McDonald's in Sopot where every evening white tablecloths are brought out and dinner is served by candlelight. He also swore that the coffee was great. Possibly a Polish joke.

Oswald's Oenophilia

If you've missed the chance to schmooze with smarty-pants chef Charlie Deal (opening chef for Oswald), then your rockets will be fired by one of his new pickup games, holding down the wine bar at Pearl Alley Bistro the first Tuesday of each month. Deal tells me he's always wanted to get more up close and personal with "tasty" wines. Winemaker and raconteur Peter Bargetto will still be around on Tuesdays, unless he's busy, and then Deal plans to take a stab at wine pouring, bartending and dishing out culinary bon mots.
---
Yes, I am waiting for your email! [email protected]
---
[ Santa Cruz | MetroActive Central | Archives ]