Southern Exposure: Along with their burgers or beer, lunch-time diners at Skinny McDoogle's sports bar in Pleasure Point can now enjoy the moves and views of Serina--pictured here--or one of the other half-dozen exotic dancers that work the noon shift.
Pleasure Point afternoon strip joint revealed as one of Santa Cruz' breast-kept secrets
By Kelly Luker
Planning an informal ladies' luncheon, we scanned our coupon book, finally deciding to use a two-for-one for that quaint little uptown bistro, Skinny McDoogle's. Imagine our surprise as we entered its dimly lit interior and were greeted by the blasting chords of AC/DC. Well, no matter. A deal is a deal, we figured, and waited for the maitre d' to seat us.
When none arrived, we sighed and moved to a nearby table. How odd, we remarked to each other as we were removing our chapeaux and gloves, that no other ladies were dining here. In fact, the men gathered at each table didn't appear to be eating either. They seemed to be waiting for ... something.
Just then Something strutted into the room wearing five-inch heels and little else. "Oh my," I gasped to Susie. "I don't think this is Herland."
Yup, girlie bars are back and Santa Cruz has 'em. Monday through Friday from noon until 3pm, Skinny's clientele can down a burger or a cold one in the company of scantily clad young women who writhe, shimmy and pelvic thrust from table to table. According to manager June Scott, Skinny's has been serving up strippers with strip steaks since last fall, but it's still one of this PC town's best-kept secrets.
Today finds only about 10 or 15 men bellied up to the bar or hunkered around one of the cocktail tables that surround the dance/performance floor. Two others are shooting pool in the corner as a dancer with a lithe young body--hell, they all have lithe young bodies--dances over and drops to her belly nearby, pumping the floor energetically. A shooter looks over at her bare buttocks appreciatively before sinking a two-ball in the side.
Scott, an alumna of San Jose's better shuck joints, admits that providing lunch-time entertainment was her idea, a civic contribution to keeping those shopping dollars in Santa Cruz. "It saves 'em from having to drive over the hill," she figures.
Attired in cutaway stretch pants and leather boots, Scott lists the dos and don'ts that govern hootchy-kootchy in this particular neck of the woods. "No nipples, no pubes," the brunette explains, as we both eye Lena, who is now grinding her G-string-clad hips to the beat of Prince, while her glittering pasties reflect the flashing strobe lights. Lena has won the hearts and minds of many, we're told, because of her near-Olympic-level gymnast training. Splits and cartwheels never looked so good.
"And, no touching," Scott adds. Seeing to that is security man George Pierce, whose eyes never leave the dancers as they prance around the customers. Another dancer crawls up on a table and, lying on her back, puts a stiletto-shod foot on each of a gentleman's shoulders, offering him a perspective not terribly foreign to my gynecologist. The customer, knowing the rules, carefully pulls back her G-string to fold in a bill and quickly releases it, glancing at Pierce.
Pierce is neither young nor large, but not to worry. A charter member of the Ghost Mountain Riders motorcycle club--as are three of the Skinny McDoogle's owners--he always has a few other members in here that would love nothing more than the opportunity to assist with any altercation. And altercations are few, especially during the day.
A good-looking man--"Just call me John"--drops in for lunch on a regular basis. "But I don't even notice the girls anymore," he swears. A construction worker, he has brought his nephew in with him today. John will certainly go down in history as a favorite uncle, especially after he peels off a roll of bills for the nephew to tuck into passing G-strings.
Syndi has now entered wearing, like most of the dancers, some variation of hot pants and halter top. Within 30 seconds they're off and so is she, working the room. John leans over and whispers, "She's one of the favorites." And it's clear why: Syndi loves her work. She laser-locks that teasing smile on some poor fool as she grinds between his legs, avoiding touch by a hair's breadth. By the time the second song is over and she leaves the room for the next dancer, Syndi's G-string has sprouted a fair growth of green, a commendable feat for this sparse crowd.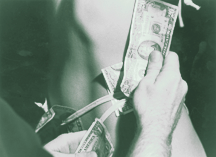 Photo by Robert Scheer
The Buck Stops Here: While lunch-time crowd sizes vary, the tips still find their way into the G-strings of exotic dancers like Cashmere.
Power and the Glory
In the cramped dressing room, ground zero of every man's--and a fair amount of this town's women's--wet dreams, a half-dozen dancers jostle each other as they hurriedly strip off what little is left. Amazingly, there does not appear to be a boob job in the bunch, a statement, no doubt, to Santa Cruz's love of all things natural.
Anywhere from five to eight women will work the lunch crowd, rotating every couple of songs. Most also work the one night that Skinny's offers exotic women dancers--Wednesdays--and most also peel it off for other clubs in San Jose or San Francisco.
Rummaging through gym bags, they pull out shreds of material, feather boas and gossamer lingerie, pausing to ponder the various fashion statements each can make. Cashmere, 26, has decided on a pair of Doc Martens matched with a silk chemise for her next number. Small-boned with a mane of auburn hair framing her heart-shaped face, Cashmere does this full time for a living. "It's not about sexuality, it's about performance," she insists, as the other dancers chime in their two cents.
In their brief tenure at Skinny's, the young women have learned to read customers like a paperback novel. "If some guy is looking at me, I know what he's thinking--if he's gonna be safe, if he's gonna tip well or not at all," says Cashmere as she sucks on a menthol. Mimi and Olympic favorite Lena nod in assent.
So is exotic dancing ... exotic? You get to play dress-up over and over just like a big Barbie doll, you get men drooling, and you get--let's face it--power, if only for as long as those two songs last. "Look, I worked in a coffee shop for $4.75 an hour where they treated me like shit," Syndi says. "Here, men put you on a pedestal." But that doesn't necessarily translate to exotic.
In fact, they admit, it's starting to get downright boring. "It's physically exhausting," Cashmere says. "You play the same songs every day, you put together and take off the same costumes every day--it's sort of like that movie Groundhog Day."
And they get sick of guys who say awful things or, as Mimi, a 21-year-old dance major at Cabrillo, delicately phrases it, "try to stick their fingers in places ... you know." A half-dozen button noses crinkle disgustedly on cue.
This is Santa Cruz, however. Do they ever feel used? Like victims? "Let me get this straight," one of them shoots back. "Guys come in here and give me all their money and I'm supposed to feel used?" Most of the dancers are doing it for the money, though they refuse to disclose what tips can run a day. And they all have another game plan in mind when the flesh starts edging south. Several are in school, working on their degrees. One, a former journalist, plans to turn to technical writing. And, yes, one stripper wants to work with children.
Whether they--and Skinny McDoogle's--can make a go-go of it in the same town that booted out the Miss America pageant remains to be seen. But, at least, they're in the right neighborhood, within sweatin' distance of Frenchy's adult bookstore in--where else?--Pleasure Point.