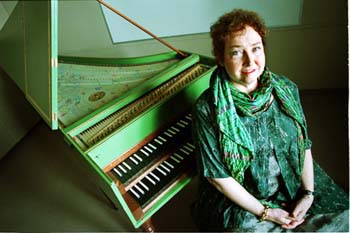 Photograph by George Sakkestad

Plucky Programmer: Like the clear attack of quills plucking notes on the harpsichords she plays, Linda Burman-Hall makes ringing statements with clever programming for the Santa Cruz Baroque Festival.

Modern Fun with Early Music

SC Baroque Festival director Linda Burman-Hall has a forte for piano playing and devising detailed musical meditations

By Scott MacClelland

A PERSPICACIOUS EYE may puzzle over the Santa Cruz Baroque Festival's logo: a violin-playing figure surfing on the back of a dolphin. Likely, many more have looked at the image without ever seeing it at all. The figure is that of Arion, the legendary charismatic musician who lived in the sixth century B.C.E. In the Santa Cruz Baroque Festival's signature logo, Arion is rescued from certain death by the dolphin he has charmed with the sweetness of his music.

Of course, as music director Linda Burman-Hall will quickly point out, there is no evidence that violins existed so long ago. Some have said Arion played a lyre or a flute. And who can question her on this and other matters concerning early music? Indeed, the Arion logo is emblematic of Burman-Hall's authority over the festival she founded 27 years ago and that she has run, with increasing attention to detail, ever since.

Fastidious detail, unwavering dedication of purpose, encyclopedic knowledge and a certain academic remove give Burman-Hall a mystique that has proved irresistible to her core following of fans. This small but fiercely loyal band not only populates festival concerts but also has served as members of the festival's board of directors and volunteers in a variety of tasks. It also fulfills the crucial function of attracting and recruiting new converts.

The festival launches its new season, titled "Celestial Harmony: Celebrating the Millennium," Saturday at Holy Cross Church in Santa Cruz. The star attraction is Voxfire, a trio of virtuoso sopranos--Samela Aird Beason, Christen Herman and Susan Judy--from Los Angeles, whose program, "Mystic Music From the Middle Ages and Renaissance," features works by Hildegard von Bingen and John Dunstable, as well as Guillaume de Machaut's astonishing Song of the Fountain. Instrumental support comes from Shira Kammen playing vielle, or medieval fiddle, Amy Brodo on viol and Burman-Hall on organ.

(Burman-Hall's instrument is the keyboard, ranging from harpsichord to clavichord to forte piano and organ. In most Baroque music, the keyboard plays in tandem with an instrument that can sustain the tone of the bass line, like a viol, cello or bassoon. The combination of bass line melody and keyboard chords is known as continuo.)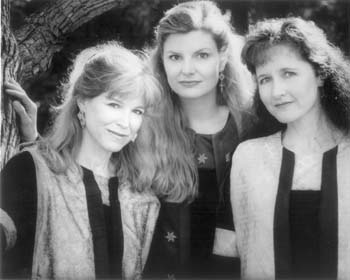 Vocal Mystics: Featured for the season opening concert of the Santa Cruz Baroque Festival, L.A. vocal trio Voxfire takes to mystical music of the Middle Ages and the Renaissance.
BURMAN-HALL'S CAREER has flourished during the period that followed the spectacular eruption of interest in restoration of authentic performance practices of the 18th and earlier centuries in European music. The UCLA and Princeton graduate came along just as the excesses and distortions of early-music instrumentalists had begun to reconcile with taste and credible expression.
In other words, the work of the rigid fanatics had begun to subside in favor of those gifted with instinctive musicality. This shift is easy to see in Burman-Hall's work (she's released many CD recordings both as soloist and collaborator, and she plans several new CDs during the next two years). Her engagement by numerous concert producers--among them Philharmonia Baroque, Chanticleer, American Baroque Ensemble, Musica Pacifica, Carmel Bach Festival, Berkeley Early Music, Aston Magna and the E. Nakamichi Baroque Festival--also speaks to her stature.
Among the 186 Santa Cruz Baroque Festival concerts presented to date, Burman-Hall has appeared with such luminous guests as Yo-Yo Ma, Gustav Leonhardt, Anner Bylsma, Judith Nelson, Heiichiro Ohyama, Elizabeth Blumenstock, Alan Curtis, Leta Miller, John Butt, Monica Huggett and Julianne Baird.
Scholarship, of course, remains paramount for Burman-Hall. Not only does she pursue authentic performance practices of earlier times, including tunings, bowing and articulations, but she also seeks accuracy in the instruments used, whether original or replicas, and, when possible, venues that faithfully represent music as it was experienced when new.
ONE DETAIL THAT finds Burman-Hall less than absolutely reliable is the exact beginning of the festival. No doubt this memory lapse results from the festival's extremely modest origins. In 1973, the Santa Cruz Festival of Living Music offered a series of public concerts.
Early supporters, financial as well as musical, included cellists Roger Emanuels and Irene Herrmann, harpsichord builder Ron Haas, Santa Cruz Mayor Burt Muhly, San Lorenzo school teacher Preston Q. Boomer and the parents of Linda Burman and her husband, Charles Hall. (The festival's predecessor, a hausmusik gathering at the Hall residence, which adjoined wetlands next to Schwan Lagoon, was called Camerata Refugio Selvaggio or "Camerata of the Forest Refuge.") Within a few seasons, the definitive name was established, making unmistakable the festival's mission and purpose.
Notwithstanding the value of performing artists, one of Burman-Hall's particular obsessions is programming. "I've always had a strong sense of making a concert coherent, a reason why certain pieces fit with others," she says.
This pursuit of coherence could be seen soon after the first festival, when concert themes and, later, season themes emerged. (A long stint in hosting her own show on KUSP-FM radio only underscored this imperative.)
"I remember starting this practice years ago with a French Baroque program and then the first of various all-Bach concerts," she says. Some may still recall with great amusement a Musical Libations program at Loudon Nelson in which singer John Hajdu overturned a mug of some beverage but continued his cantata while mopping up the mess.
"Our twenty-fifth season was called 'Sea of Harmony' and included a cantata by Andre Campra, A Musical Ocean Myth, which recalls the story of Arion's rescue by dolphins," she adds with particular delight.
Burman-Hall has detailed the "Celestial Harmony" season beyond what most of her audience is likely to perceive. While they will hear the Baltimore Consort, Lux Musica, the Lieberman-Kroll Duo, Schola Angelorum and Voxfire, they may find themselves a bit overwhelmed by Burman-Hall's program notes about Dionysis, St. Thomas Aquinas, Johannes Kepler, the search to discover the motion of the planets and the nine celestial choirs in three triads that orbit the Throne of Glory. It may be an understatement when Burman-Hall says, "We plan things out very well."
Count on this exactitude to continue in the future, with adjustments to accommodate new ideas and different needs. "We are planning 'folk and Baroque'-type concerts that juxtapose vernacular with classical, visiting cultures that haven't had as much exposure," Burman-Hall says. "And we are going forward to develop young audiences and emerging artists, a historic-instrument production and to use local professionals in early music, like Hideki Imaya and Margaret Kvamme."
The Santa Cruz Baroque Festival has come into its artistic maturity, with a remarkable track record, major grants to supports its efforts and big plans for community outreach ranging from elementary schools to UCSC, where Burman-Hall is a long-term professor of music theory, harpsichord, chamber music and world music. Far from resting on her laurels, Burman-Hall is determined to bring more and more of the community around to the pleasures she derives from early music.
---
The Santa Cruz Baroque Festival opens its 2000 season with Voxfire: Mystic Music From the Middle Ages & Renaissance Saturday (Feb. 19) at 8pm (with a preconcert talk beginning at 7:30pm), Recital Hall, Music Center, UCSC. Tickets are $18 general, $15 seniors and students. (459.2159)
---
[ Santa Cruz | MetroActive Central | Archives ]