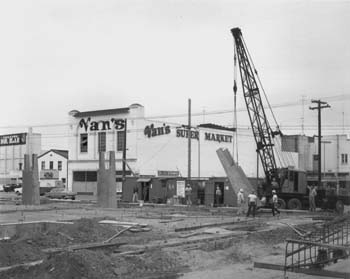 Covello & Covello Historical Photo Collection

Longs Downtown Drug Store, the Beginning: This is the construction site at Front Street and Soquel Avenue on July 22, 1965. Note Van's Super Market and the Mission Drive-in Market where the Silver Bullet used to be. That corner is now the forever-ugly Front Street Parking Garage, an embarrassment to us all.

Bruce Bratton

THE SCAN ENDORSEMENT MEETING. There's not much doubt about the growing importance of SCAN as a political force to be reckoned with in this county. I counted more than 75 folks at the London Nelson Community Room at this annual ritual. Who was there? Well, Peter Chang, Ron Ruiz, Art Pearl, Jan Beautz, Jeff Almquist, Joe Grossman, Mardi Wormhoudt, Keith Sugar, Tim Fitzmaurice, Katherine Beiers, Celia Scott, John Laird and that ever-popular SCAN member Mike Schmidt! Fred Keeley, Kathleen Akao, Art Pearl, Jeff Almquist and Ron Ruiz got endorsed after a lengthy and complicated vote count. Remember that there are less than three weeks until the election. SCAN also appointed new steering committee members Donald Burke, Becky Blythe, Joyce Malone and Bill Malone; the steering committee as usual does all the real work. Call 458.9425 to get involved.

THOSE BEATLES FANS. Last week, we ran that great 1965 photo of the five teenagers in front of the Del Mar Theater. Once again, we lucked out: Suzanne Fox called to say she was the second Beatles maniac from the left. A fire destroyed all her Beatles memorabilia, including this photo, so she was very delighted to see it printed again. Wally Trabing of the Sentinel interviewed the quintet for the story behind the picture. Others in the shot were Debbie Gaub, then Suzanne, Claire Sloan, Pam Hogan and Chris Gaub on the right. The kneeling kid is Pam's pesky brother. Being before video, this group of 15-year-olds had actually attended this film at the Del Mar somewhere between 30 and 40 times and had memorized all the script and songs, and Suzanne (now known as just plain Fox) could probably still do most of the film.

QUESTIONS IN PASSING. Isn't it about time for Lenz Arts to change that mural? It used to look nicer and change more frequently. Just how big is the coffee shop in the new Borders going to be? Will they have a sidewalk cafe operation like the Borders in Santa Monica? Just who is it in Aptos who wants some sort of museum at the Seacliff turnoff and are we talking about a Fisherman's Wharf tourist-type museum like Ripley's Believe It or Not--no, probably not. So far, the winning entry to name the new version of the original Cooper House is Stucco Station, and it's just the kind of name that could stick. Ever wonder about UCSC's influence on Santa Cruz County? Professor John Dizikes is giving a talk about it Feb. 28 at 7pm at the Museum of Art and History as part of MAH's "Happy Birthday, Santa Cruz County: Celebrating 150 Years" exhibition. I asked him about his talk--he's got some very surprising and controversial opinions. Call 429.1964 for tickets.

REALLY GOOD FILMS AND THE BEACH. Topsy-Turvy is one of the finest and funniest films I've seen in years. It's about Gilbert & Sullivan. If you like music or the theater or good movies, go see it. The Third Miracle definitely stars Ed Harris and Anne Heche. They are an amazing acting team that lights up the screen with sparkle and talent, and the script is completely absorbing--don't miss it. American Movie is a documentary about craziness and dedication and about making a movie. It has more laughs than any five other films: go if you have ever thought about making a film. Leonardo DiCaprio's new film, The Beach, is just a little bit dumber than Titanic. Whatever happened to DiCaprio's promising acting, which we saw in Gilbert Grape--a shameful career, but at least he's rich now.

CITY COUNCIL CANDIDATES. This is the time of the year when rumors fly, because few folks have made up their minds yet. To uphold the high standards of hearsay, gossip and rumors, we have the following folks being reported as thinking about running for the four City Council seats in November. Scott Kennedy's name has been bandied about more than most names, and the guess is that if he runs, then his aide-de-camp, Michael Hernandez, will go for another term. This possibility alone causes shudders in many other camps. Celia Scott still hasn't made up her mind, or at least she's made no announcement. Attorney Edison Jensen of Boroff, Jensen and Klein is another rumored candidate, as is planning commission member Brian Briggs. Emily Reilly of Emily's Bakery on Mission will have a huge following if she decides to go for it. We'll no doubt hear more on this topic before too long.

GOODBYE, GENE LEWIS. Gene died last Sunday around 6pm. He was one of the most loved, giving, sharing people I've ever known. He was also talented and funny, and I doubt that he ever made one enemy in his entire lifetime, and that's saying something. Gene was a complete musician and teacher and was involved with just about every music organization in our community. Farewell services haven't been announced yet, but we should rename a street or special place in his honor--he deserved it.

SUPERVISOR RACES. The 5th District race between Jeff Almquist and C. Patrick Dugan has Almquist supporters wondering where Dugan is, was or will be. Dugan's made few statements, has few endorsements and is apparently laying low. The entire Scotts Valley City Council and the Scotts Valley Chamber of Commerce, plus environmental and political groups on the other hand, have endorsed Almquist. Call 335.4625 to get involved with that campaign. Ellen Pirie's 2nd District campaign for Walt Symonds' seat is growing by leaps and bounds. Alicia Santana threw a big and traditional political support party last Sunday, and in spite of the rain the place was packed. As previously reported, Robley Levy, Bob Swenson, Earleen Overend, Ray Talley and countless others are supporting Pirie hoping to return more communication and cooperation to the board of supes. Call 728.5616 if you want to help elect Ellen.

PLAZA PROGRESS. Each city councilperson will appoint one member of a Downtown Plaza Task Force, and that group will meet and consult with city staff about the plaza. It would seem logical that one of the first tasks would be to determine the best possible uses of a plaza. Collecting input from groups and individuals like the farmers market, Cabrillo Music Festival, artists and performers about how they could use a plaza would be essential. Then talking to experts about why some plazas work and some don't would be a good idea. Experts know how to position plazas and how to plan on their uses. We need to talk to them. Remember that the main question (and the one that has more agreement on the answer) is, How to keep our downtown alive and vital and would a plaza at the Pacific and Church location add more to the life of our downtown than a five-story building? The Downtown Plaza Committee believes it would.

WRAPPING UP L.A. After spending nearly three weeks down there, I am incredibly glad to be back home. Some news former Angelenos may care about: The farmers market at Fairfax and Third is not closing. It's just the "annex" to the north of the market where all the antique stores were is being razed and a shopping mall is going in. Hollywood and Vine--actually, all of Hollywood Boulevard--looks worse than I've seen it in decades, yet locals swear that new money has been infused, and it'll be brightened up very soon. Westwood Village, near UCLA, is very active and has "come back" after some bizarre accidents and store closings darkened it for a few years. UCLA is in hot water now because it is trying to build some new student housing units nearby, and the neighbors don't go for it. Santa Monica's much-hyped Third Street Promenade is getting seedy and is certainly nothing to use as an example if anyone is still in favor of closing Pacific Avenue and making it into a pedestrian mall.
---
Bruce critiques films every other Thursday at 12:50pm on KUSP (88.9FM). Reach Bruce at [email protected] or 457.9000, ext.400.
---
[ Santa Cruz | MetroActive Central | Archives ]