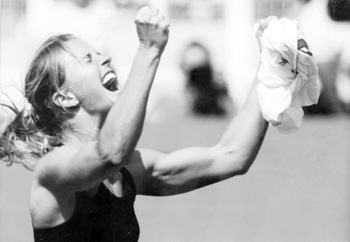 Goal Oriented: Soccer star Brandi Chastain will speak at Capitola Book Cafe Feb. 17 at 7:30pm.

Stripped

Soccer sensation Brandi Chastain gets underneath the underwear episode to the heart of her feelings about sportsmanship and role models

By Gary Singh

Everyone's seen the photo. The one where Brandi Chastain tore off her jersey after driving home the winning penalty kick in the 1999 Women's World Cup in front of 90,000 screaming fans at the Rose Bowl. That now famous snapshot of her in a sports bra graced the covers of Time, Newsweek, Sports Illustrated and who knows how many other magazines.

The San Jose native's recent book, It's Not About the Bra, spills her thoughts on sportsmanship, competition, youth sports, leadership, coaching and smiling. It combines inspiring essays from fellow players and friends as well as anecdotes from her long career with the women's national team. She writes about teamwork, finding role models and using sports--especially soccer--as a metaphor for dealing with the ups and downs of life.

A main impetus behind the project was to tackle the ever-growing violence in youth sports--you know, those belligerent parents who push their kids too far, scream at them, threaten them, or instruct the kids to beat up someone on the opposing squad. Along with co-author Gloria Averbuch, Brandi took the idea and turned it into a declaration to parents and children about the game of life.

"There's a lot of pressure on kids to excel and do the best, and when we ask that of our kids, and we're unrealistic for them, I think we put them in a very uncomfortable, very negative environment," Chastain said over the phone. "And I just wanted to make parents responsible for their actions like we ask our kids to be responsible for their actions."

Chastain writes that her passion for the sport solidified as she grew up attending the old North American Soccer League's San Jose Earthquakes and watching the legendary George Best. In 1981, he scored a near-impossible, bordering-on-frightening goal that people are still talking about. Angry at the ref for calling a foul and booking him, the Northern Irishman took a pass and went through six defenders in 25 yards all by himself and scored. Brandi was on one of the youth teams that played during halftime at that match, and to the crowd's roar, she also scored a goal. George Best became her inspiration and at that moment she realized she was meant for soccer.

"When I started playing soccer, I had no role models to inspire me on the field," she wrote in the book. "No one in my neighborhood, or in my family, played the game. But the very first time I saw the professional team that would become my guiding light, the San Jose Earthquakes, I found my role model. He was George Best, and in my mind, the name fit. Watching him corkscrew bewildered defenders into the ground with his amazing moves and a smile on his face, I said to myself, That's what I want to do."

Twenty-four years, a few Olympic medals and two World Cup Championships later, Chastain, now 36, says she's not hanging up the cleats yet. The other legends of her generation--Mia Hamm, Julie Foudy and Joy Fawcett--did indeed retire, but she says she wants to reach the milestone of 200 appearances for the women's national team.

In the book, she writes: "Of course, after the [Athens] Games, people wondered if, like my friends, I was ready for the lawn chair. Well, a while back, I set myself a goal of two hundred caps (international games) to join the exalted company of my friends who have reached that landmark: Mia, Lil, Julie, and Joy. That means I'd have to keep at it at least into 2005. I won't stake the success of my career on whether I hit that number. But if I do, it will be a symbol of the perseverance and dedication that have carried me through my career and my life."
---
Brandi Chastain will speak on Thursday, Feb. 17, at 7:30pm at Capitola Book Cafe, 1475 41st Ave.
---
[ Santa Cruz | Metroactive Central | Archives ]