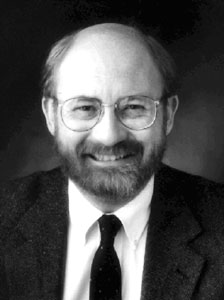 I Dos and Don'ts: Assemblymember John Laird has been a champion of gay and lesbian rights, but he's not sure how the issue of same-sex marriages will play in the November election.

Nüz

Queer Eye for the Straight Bush

News that thousands of gay and lesbian couples flocked from as far afield as Africa, New York and Seattle to wait outside San Francisco's City Hall for hours so they could get married over Valentine's Day weekend should be giving Bush et al. pause.

Do the neocons really believe they can turn back the clock and deflect this stream of Cupid-inspired couples--many of whom have already registered as domestic partners and have had commitment ceremonies in front of the kids they've raised together--simply by filing a couple of mean-spirited paper tigers in court?

Nüz supposes that the more likely explanation is that the Bush election machine sees gay marriage as a convenient election year wedge issue that they can milk for votes outside liberal oases like S.F.

Otherwise, why, in a nation already pissed off about the civil-liberty- robbing Patriot Act, would Bush go and propose a constitutional amendment to ban gay marriage in the immediate wake of the Massachusetts Supreme Court decision that same-sex couples can get married, a decision that Bush had the nerve to call "deeply troubling"?

Indeed, sounding distinctly more like a pope/mullah than an American president, Bush took it upon himself to pronounce that "marriage is a sacred institution between a man and a woman"--a declaration that led one reader to email Nüz a list of biblical references that prove that marriage, far from being between one man and one woman, can be between one man and two or more women, not to mention assorted concubines, and with nonvirginal brides destined for execution.

Wedge Hedge

Asked how he thought the issue will play out politically, local Assemblymember John Laird, who was the first openly gay man to be elected to the State Assembly, notes that at present all the presidential candidates, with the exception of Dennis Kucinich, are against gay marriage.

"It's that tension between being aware of civil rights, yet being careful of it becoming a wedge issue, which makes it a tough call for some, but overall, with the nation having 3 million less jobs than this time three years ago and 500 U.S. soldiers having died in Iraq, we shouldn't let a wedge issue be the deciding factor in the presidential election," said Laird, noting that 30 years ago it was illegal just to be gay in 30 states, and even 20 years ago gays didn't have a single domestic partner benefit.

"So, there's been a lot of progress," says Laird, pointing out that last year California passed AB 205, the most comprehensive domestic partner law in history, but then gave it a year to become law, "because it represents such a monumental shift, redefines gay relationships, and so we needed a year to truly educate communities."

A co-sponsor of the Marriage License NonDiscrimination Act, which was introduced by Assemblymember Mark Leno this Valentine's Day past in an effort to prohibit the denial of marriage licenses by the state, Laird notes, "everyone agrees we want to get to the promised land of gay marriage, but the question remains, when?"

As for Bush's plan to ban such marriages with a constitutional amendment, that, in Laird's humble opinion, "is another reason to limit Bush to just one term," an opinion he says is shared by a growing majority of voters, as evidenced by what he sees as "a palpable shift" against Bush in the last month on the part of the nation's media.

"The matter of Bush's 1972 National Guard record may seem trivial compared to other issues he could be taken to task over, but the obsession with this episode strikes me as being more a statement about the mind-set of the media and the country at large--namely that Bush is no longer invincible," says Laird.

Meanwhile Club Dakota bartender Steven Ongman, who is in what he describes as "a long-term stable relationship," says he doesn't really care about gay marriage, but knows a lot of gay people who do, adding that he finds Bush's proposed constitutional amendment "mean-spirited and politically calculated," since it wouldn't have a chance to become law until well after the election.

"And doesn't marriage mean a union? And doesn't the constitution refer to 'We the people,' and not 'Us the straight people?" He for one doesn't want to have to go to the Southern Baptist Church and say, "Hey, recognize me!"

"I'm part of 'we the people' and we should all have the right to make union with whomever we want," Ongman continues. "So, maybe marriage isn't a word any of us should be using any more. But either way, isn't there supposed to be a division between state and church?"

At which point Ongman's fab drag queen alter ego Shanda Leer flutters her mascara-laden eyelashes and interjects, "The only Bush I want to see in office is my own."

What a Doll!

Which reminds Nüz that Barbie, has just separated from Ken, whom she first met in 1961. With rumors circulating that the split was caused by Ken's growing reluctance to get married, in the face of Barbie's increasing obsession with bridal attire, Nüz wonders if Barbie has her eye on Australian boogie boarder fashion doll Blaine. Or will Ken beat her to it, by marrying Blaine himself? Either way, wedding dress consultants, ring makers, divorce lawyers and, yes, even doll designers are going to have a fabulous time with gay marriage no matter what Pope Bush and the Bible say.

Glamorous Leap

And while you await your first invite to a gay marriage, why not soak up some preparatory glam this Leap Year at the Santa Cruz Aids Project sixth annual Academy Awards Gala at the Cocoanut Grove. This Feb. 29 benefit for SCAP features a raffle for a Puerto Vallarta timeshare, a six-month Nickelodeon movie pass, and a party for 40 on the O'Neill Yacht. Call 831.427.3900 or check http://aagala.scapsite.org for ticket information.
---
Nüz just loves juicy tips: Drop a line to 115 Cooper St, Santa Cruz, 95060, email us at , or call our hotline at 457.9000, ext 214.
---
[ Santa Cruz | Metroactive Central | Archives ]