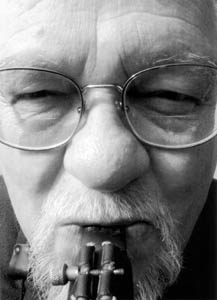 He Really Blows: Bill Trimble, the 'Pavarotti of the sax,' will shoot from the lip at the Santa Cruz Symphony concerts this weekend.

Squeeze Play

The Santa Cruz Symphony clears space for sax--and even an accordion--at this weekend's performances

By Scott MacClelland

Bet you can't identify the American opera staged every summer since its premiere in 1978. Time's up. It's Henry Mollicone's The Face on the Barroom Floor. Commissioned by the Central City Opera in the Colorado Rockies, it has been revived annually ever since, and produced by opera companies throughout the land.

Mollicone, who lives in Saratoga, has heard many of his commissions premiered much closer to home, not least his Dansa Trimbula, first played by Barbara Day Turner and her San Jose Chamber Orchestra. This coming weekend, you can hear it at the Santa Cruz Symphony in Santa Cruz and Watsonville, with the great Trimbula himself, "Pavarotti of the saxophone" William Trimble, in the lead.

Mollicone recalls asking Trimble about any technical restrictions while he was writing the piece: "'I can play anything you write,' he said. My response was equally pointed: 'I can write anything you can play.' The air was thick with tension, and I went to work."

But it didn't end there.

As he wrote, Mollicone says, he got the idea to add something unusual to the mix--an accordion.

"Whenever I see one of these, I get very nostalgic for the old days--when being Italian was "ethnic"--and I'm reminded of the accordion's frequent inclusion in dance bands of the '50s and '60s, conjuring up fine memories of good chianti--house reserve!--pizza, the Italian folk songs my grandma used to sing and dance to, and beautiful Italian ladies dressed up at wedding receptions," he says. "Nowadays, the accordion has become as rare as the Edsel or Studebaker, and is the butt of many a musical joke. Fortunately, my friend Anthony Quartuccio, a very talented young conductor, is also a hot accordion player."

Turns out the San Jose-based Quartuccio--who Mollicone calls "the Domingo of the squeezebox"--plays a special model of accordion, of which only four instruments were manufactured. Apparently, Mollicone is not above an accordion joke himself.

"Perhaps," he says, "the other three have already been confiscated by the police."

Asked if he would describe Dansa Trimbula as a concerto, Mollicone says smoothly, "I think of it as a tango." But it is concertolike, since the solos often stand apart. One technique in particular, the bellow shake, is bound to attract attention. Used to create tremolo, it is hard to watch. Mollicone says Quartuccio told him, "I never thought I'd see the day I'd be doing a bellow shake in front of a symphony orchestra."

Dances as concert music didn't begin with Mollicone. The entire French instrumental contribution to the Baroque was nothing other than dances without dancers. And you don't even have to look under cabbage leaves to find a virtual glut, from Berlioz to Johann Strauss, from Brahms to Dvorak and Tchaikovsky to Rachmaninoff--and, of more recent vintage, John Adams' The Chairman Dances (foxtrot for orchestra) from Nixon in China.

Larry Granger's program also contains one of the greatest examples, Beethoven's Symphony no. 7 in A, "the apotheosis of the dance," according to Richard Wagner. Among the nine Beethoven symphonies, the Seventh is the ultimate toe-tapper.

Meanwhile, Mollicone wrote another opera for Central City, Gabriel's Daughter, which premiered to rave notices last summer. His other operas include Emperor Norton for the San Francisco Opera, and Hotel Eden for Opera San Jose. No stranger locally, his Rat's Tale for narrator and children's chorus was premiered by the Santa Cruz Symphony.

In addition to the Mollicone, Trimble also solos in Jacques Ibert's Concertino da Camera. "Ibert wrote it in 1935 for my friend and inspiration Sigurd Rascher," says Trimble. "He premiered the first movement in 1935. Marcel Mule, the great French virtuoso and professor of saxophone at the Paris Conservatoire, premiered the entire work later in the same year. Considered by many to be an archetypal example of the genre, its jazz elements--a bluesy slow second movement and ragtime rhythms throughout--make it a most appealing but demanding work."
---
The Santa Cruz Symphony performs Saturday at 8pm at the Civic Auditorium in Santa Cruz, and Sunday at 2pm at the Mello Center, 231 Union St., Watsonville. For ticket information, call 462.0553 x10.
---
[ Santa Cruz | Metroactive Central | Archives ]