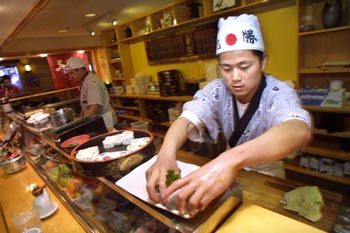 Photograph by George Sakkestad

On a Roll: Sushi chef Jackson Liang keeps the California rolls coming at Takara.

Tackling Takara

The new house of sushi on Capitola Road has local soy and wasabi fans gathering in droves for their sticky rice fix

By Christina Waters

MOLLY LOVES sushi. She'd already checked out the new Takara even before we went to dinner last week. Equally adept at discussing surfing and foreign films, Molly's a virtuoso with chopsticks--I can take her anywhere. So in we went, to the enormous arena of Japanese cookery that used to be a Red Lobster. Hostesses clad in bright red mini-kimonos bustled to and fro throughout the labyrinthian tatami chambers, bamboo-appointed booths and archipelago of tables. Takara is not, shall we say, intimate. By the time Molly and I hit the long sushi bar, Takara was packed to the max.

A little rock & roll music would be a nice addition, I thought, noticing the somber faces of the six sushi chefs in front of me. They formed an assembly line of human hands amid what looked like acres of translucent raw tuna, salmon, scallops, prawns and plenty of green and orange veggies. There was, however, edible rock & roll waiting for us at our places, along with individual cruets of soy sauce and curved, fish-shaped plates. Bowls filled with three sorts of pickled vegetables provided fireworks for our tastebuds. Spun daikon on the bottom was topped with sesame and vinegar-infused cucumber, and another helping of deep green, crunchy Persian cucumber filled out the rest of the bowl. The green pickles were unbelievably pungent and addictive--like burdock gobo only more pleasant to the teeth.

A very hard-working (make that over-worked) waiter soon came to take our drink orders (a small sake and a Sprite) and sushi selections. Like all California girls, Molly loves California rolls, so we had to have one. A tekka maki, $4.25 (Takara doesn't have shiso leaf so I couldn't request the addition of my favorite Asian herb); a tropi-maki with barbequed unagi, avocado and macadamia nuts ($5.75) and a kani-ebi ($5.45), which turned out to be redundantly like the Cali roll, joined a combo order of classic tempura ($8.75). That sounded like more than enough--and of course it was.

"I think the ginger is one of the best parts," said Molly prophetically, as we received our ceramic rectangle of sliced sushi from one of the chefs. Indeed, she was expert at plucking a slice of highly pungent pickled ginger and laying it atop her California roll with chopsticks. Then she inhaled it in a single bite. Filled with nice, rather mild ingredients, the California roll was, alas, smothered by a thick band of sticky rice. Same with the tekka maki and the kani roll--all were inundated by rice, so much so that the meek interiors barely had a chance to cry out for attention. The raw ingredients here appear to be flavor-challenged. In the end, these rolls became delivery systems for hot wasabi and soy sauce--not exactly a bad idea, mind you. We both loved the thinner, more intensely flavored tropi-maki, and admired the texture--though not the charcoal flavor--of a last-minute order of crispy salmon skin roll ($5.45).

Our tempura, however, was delicious. Hot, light and crisp, it was a textbook order of this specialty appetizer--and the prawns especially were wonderful. Ditto our bowls of ultra-creamy, barely sweet green tea ice cream.

Takara may not be for sushi purists--our sushi chefs didn't bother to acknowledge our farewell "Domo arigato" (some didn't even speak Japanese)--but it has definitely expanded the reach of Japan's best-known culinary import. Here the nonconnoisseur can feel safe to order some fresh stuff and have a good, nonthreatening time. Only a snob would quibble with that. But there's probably some poetic justice in Takara's choice of location. You do the math.
---
Takara Sushi Bar & Grill
Address: 3775 Capitola Road., Capitola
Phone: 831.464.1818
Service: * 1/2 Very hard-working, rushed and often distracted
Ambiance: ** 1/2 Lots of decor detail, very attractive and well-organized space
Cuisine: ** Fresh ingredients and fresh preparation--your basic California sushi bar with all the usual suspects
Overall: Takara will please the patron who likes her sushi big and bold, and her restaurant experience equally big and bold. Perfect for large groups who like to get loud.
---
[ Santa Cruz | MetroActive Central | Archives ]