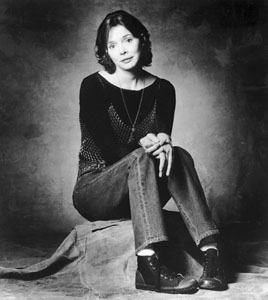 Sweetheart of Nashville: Behind that angelic countenance is a formidable songwriting talent.

Photograph by Jim McGuire





Folkabilly Queen

Nanci Griffith brings dignity and grace to the country music genre

By Valerie Ross

SHE'S BEAUTIFUL, has a voice like an angel and her singing and songwriting have won her five Grammy nominations and three awards, but those aren't the reasons Nanci Griffith is the darling of the country music community. It's also not because she's intelligent, funny, humble and participates in many charitable music events--though these are all true. It is because she brings dignity and grace to a genre that has been dismissed by music connoisseurs for far too long for being whiny, twangy and trashy. Nanci Griffith is none of these things.

Griffith is one of the new generation of folk/country/pop artists who are breaking down time-honored boundaries between musical genres and making music that is original, innovative and reaches audiences far beyond Nashville. Her newest CD, Dust Bowl Symphony, recorded with the London Symphony Orchestra, is an ample demonstration of Griffith's commitment to musical excellence and individual style. The CD is a retrospective of Griffith's 20-year career, with new arrangements of eight of her own landmark compositions, one new song and two cover tunes. One of the covers is a Buddy Holly classic that was originally intended for orchestral performance but has never been recorded with a full symphony until now.

The range of Griffith's music is wide and varied. She moves smoothly between forlorn ballads and foot-stomping rockabilly dance numbers, with eloquent confessional folk-rock compositions and crooning anthems filling in the rest. Whether or not you like country music, when you listen to Nanci Griffith, you're in the hands of a virtuoso and she'll get inside your heart one way or another.

Backed up by her band, the Blue Moon Orchestra, Griffith is currently on tour promoting not only Dust Bowl Symphony but a new Millennium Collection CD that will be released the very date she is playing in Santa Cruz.

In a recent interview, Griffith said, "I decided it was time to pay tribute to my own songs, to give them the opportunity to mature and be adult." But when a recent symphony performance was interrupted by union officials on the grounds that the stage temperature had gone below 63 degrees, Griffith and her band bid farewell to the orchestra and just busted loose, playing rock & roll for the next hour to the audience's and their own delight.

Covering the Classics

ORIGINALLY FROM Austin, Tex., Griffith began her career at age 14, when her "West Texas liberal" parents chaperoned her on the Austin club circuit. In the late '70s and early '80s she brought her self-described "folkabilly" music to Nashville. Since then she's played everywhere from country music bars to Carnegie Hall. In Ireland and the U.K., Griffith is somewhat of a superstar, and her love of Irish culture is evident in its influence on her own music. On Dust Bowl Symphony, the haunting sound of Uillean pipes provides a poignant backdrop to several of her most moving ballads.

But Griffith's roots are firmly based in rock & roll and folk music. When she decided to record Buddy Holly's "Tell Me How" on the new album, she called Sonny Curtis, from Holly's legendary band The Crickets. Curtis flew back from a project he was working on in Romania to play his Stratocaster and sing harmonies with Griffith on her hit song, "This Heart," from her Flyer album, as well as on the Holly cover from the new album which is performed as a duet between them.

Along with her own 14 critically acclaimed albums, countless guest appearances with other artists and her contributions to film scores, Griffith has two albums of cover songs, the Grammy award-winning Other Voices, Other Rooms, and its follow-up, Other Voices, Too: A Trip Back to Bountiful.

Griffith finds that recording covers of other great rock, folk and country singers is her way of passing on the tradition of the musicians who have been influential in her own musical development, as well as preserving their music as a vital force today. The success of her efforts can be seen by tributes to her own songwriting by such artists as Willie Nelson and Emmylou Harris, not to mention the fact that Bob Dylan specifically requested that Griffith perform at his 30th anniversary concert in 1992.

Griffith recently told the press that she has just recovered from a battle with cancer for the past few years and that her current tour is a reflection of how strong, healthy and inspired she is feeling about her life and her music. Griffith loves touring, and couldn't wait to get back out on the road, so this tour marks a triumph of the spirit as well as the music it creates.
---
Nanci Griffith and the Blue Moon Orchestra perform Tuesday (Feb. 27), 8pm, at the Civic Auditorium, 307 Church St., Santa Cruz. $26/general; $22/students and seniors; $15/UCSC students. 831.420.5260.
---
[ Santa Cruz | MetroActive Central | Archives ]