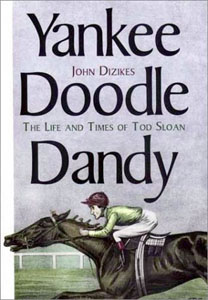 ---
Yankee Doodle Dandy: The Life and Times of Tod Sloan
By John Dizikes
Yale University Press; 225 pages; $22.50; cloth
---
Horse Attitudes
The most famous unknown sports figure in history was jockey Tod Sloan
By Andrea Perkins
IN THE LATE 1800s, jockey Tod Sloan broke with centuries of horse racing tradition and rose up in his stirrups and crouched low over the neck of his horse. "Monkey seat," declared the racing pundits, ridiculing the new style that would soon revolutionize the world of horse racing. A hundred years later, jockeys everywhere have assumed the forward position popularized by Sloan.
In his new book, Yankee Doodle Dandy, UCSC professor of American studies and social historian John Dizikes (Opera in America) brings his readers into the life of this upstart jockey, who just may be the most famous "featherweight" jockey ever.
Based on the remnants of myth and even fewer remnants of fact that remain, Dizikes paints a fascinating portrait of a tiny man who stood no taller then 5 feet, wore size 3 shoes and weighed in at 90 pounds. As a stable boy, Sloan overcame his innate fear of horses, grew fabulously wealthy riding them, cultivated a love of fancy clothes, constantly smoked enormous cigars and was a notorious gambler and womanizer.
With Sloan's rags to riches and back again story, Dizikes explores the state of horse racing at the turn of the century; and through the story of racing (which he claims was the first national sport), he illuminates a moment in American culture.
Dizikes doesn't try to hide the squirrelly nature of his subject. The most complete record of Sloan's life is his own autobiography, Tod Sloan by Himself, which, according to Dizikes, isn't always as revealing as a biographer might wish. A great many things in Sloan's life, Dizikes explains, are preserved in two contradictory versions. Yet Dizikes uses this to his advantage, showing how both versions, whether backed up by evidence or not, tell us something important about Tod Sloan.
Dizikes creates a sense of intimacy with his subject that most writers only achieve with fiction. Often critical of the man he chronicles, he portrays Sloan as the first sports superstar, the forerunner of Babe Ruth and Michael Jordan. In an era when winning 20 percent of the time was an estimable average any self-respecting jockey could be proud of, Sloan's highest average, 46 percent (which he attained in 1898), seemed almost supernatural to racing aficionados. Dizikes comprehensively describes the seedier aspects of racetrack life, refusing to linger too long on its nobler aspects. Gambling (to which Sloan was addicted) permeated the race track in a manner that is difficult for us moderns to fathom.
Another thing Dizikes does very nicely is write about the abilities of the horses themselves--horses like First Fruit, Haphazard, Oracle, Belmar, Holocaust, Salvado, Previous and especially Salazar, the horse that ran for Sloan "like a seared God."
"The darkest place of all," writes Dizikes in one of the book's most poetic passages, "is during a race, is what is in the jockey's mind and how this is unmistakably communicated to the horse."
But the best part of the book is its final chapter, "Stories." Here, the author tells the story of George M. Cohan, a mediocre playwright who in 1903 revived his own career by adapting Sloan's story. Little Johnny Jones wasn't a huge Broadway success, but it did contain two memorable songs that are familiar to us even today: "Yankee Doodle Dandy" and "Give My Regards to Broadway."
Dizikes is at his best when telling the sad tale of Sloan's slow decline. After losing most of his fortune, Sloan convinced Oscar Hammerstein to give him a one-man Broadway show in which the jockey mostly poked fun at himself. This led to degrading roles in early Hollywood films that exploited Sloan's fading notoriety and his diminutive size. Just before dying of cirrhosis in 1933, Sloan worked as a ticket taker at a race track in Tijuana.
Yankee Doodle Dandy is an entertaining, well-researched, well-written foray into a meteoric life. But Dizikes does more than record the life story of Tod Sloan--he reanimates a bygone era.
[ Santa Cruz | MetroActive Central | Archives ]