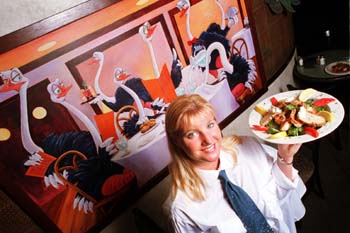 Photograph by George Sakkestad

Heads Up: Jennifer Alexander, a server and manager at the Ostrich Grill, shows off some of the restaurant's specials.

Giving Great Grill

Fueled by oak and handsome decor, Ostrich Grill dishes out hearty New American cooking to an eclectic Capitola clientele

By Christina Waters

ROBUST DINNERS served in a setting reminiscent of San Francisco's great old grills--Sam's, Tadich's--are given a lot of respect at Capitola's popular Ostrich Grill. Spacious booths and witty faux ostrich-egg table lamps subtly repeat the offbeat theme. The menu is seriously constructed around a devotion to freshly grilled and sautéed meats. This is a world of fine steaks, grilled while you watch and served up with hearty side orders. Given the listings of roasted garlic, grilled veggies and big salads, I suppose it's possible for a vegetarian to construct a fine meal here. But frankly that's not the name of the game.

And Ostrich Grill does live up to its name. Both of them.

My glass of Cinnabar Mercury 1996 ($7), a well-structured meritage blend, and Rosemary's fruit-forward Tobin James Zinfandel 1997 ($6.75) both arrived in generously proportioned goblets. The carefully selected wine listing stresses superior California cabs (though not enough zinfandel). The bread provided was soft and fresh, but fairly boring compared to the terrific bakery options within spitting distance of our table. A toothsome sourdough would be more in keeping with the theme and grill variations. As we sipped, we took in the scene--a mixed crowd of families, twosomes, single diners reading the paper, couples kissing over cocktails. The ambient conviviality all bubbles up amid a really good-looking dining room showcasing basics: hardwood floors, tapestry banquettes and lustrous white linen.

Our service was informed and helpful, and we were soon started off with Caesar salad ($3 extra with entree orders) and an appetizer of oak-grilled ostrich, arranged attractively on a mound of garlic mashed potatoes ($9.95). Served on the pink side of medium rare, the lean meat was excellent. Easily able to stand on its own as an entree. Rosemary remarked on its resemblance to mild beef. No wonder it's turning up on menus all over the state.

My huge salad of crisp romaine was punctuated with anchovy, which I loved, but instead of an olive oil and garlicky dressing it was slathered with something white and sticky that resembled mayonnaise. If restaurants are shy of one-minute eggs in the dressing, how about working with good olive oil and vinegar instead?

The Wednesday dinner special ($12.95) probably had something to do with it, but Ostrich Grill was packed by the time our gorgeous entrees arrived.

Unable to resist--as is her custom--Rosemary had ordered a satiny, perfectly grilled filet mignon ($22.25), which arrived topped with cloves of roasted garlic and crumbled blue cheese. A classic port reduction sauce swirled around the gorgeous steak and down onto mashed potatoes Emulating the latest decorating fad, these had been pierced by whole baby carrots and fresh asparagus spears, like colorful spokes in a wheel of creamy spuds. I, meanwhile, had gone over the top in terms of sheer grill cuisine indulgence and ordered the gala mixed grill ($24.95). It was a carnivorgy on a plate. A very big plate. And fabuloso. Two filet medallions--sliced horizontally like bistro entrecôte--were done rare, as requested. Ultra juicy and tasty as hell, they had been lightly glazed with a garlic-infused sauce. If you don't love garlic when you arrive at the Ostrich, you will by the time you leave.

On another side of my garlic mashed potatoes was a large expanse of pork tenderloin marinated in jalapeño-spiked lime. A jalapeño apricot glaze had been applied while the pork was grilling, and yes, it was that good. A moist filet of salmon, itself expertly sauced with a grapefruit-scented beurre blanc, was equally fresh and sassy. By any standards, this was a comprehensive mixed grill.

For dessert, Rosemary enjoyed a textbook crème brûlée ($4.75), while I opted for the house specialty--bread pudding ($4.50). Understand please that at Ostrich Grill bread pudding is a specialty for a reason. This quivering, moist square of pecan-studded, cinnamon-laced and caramel-topped bread pudding was absolutely dreamy, accented with a rosette of perfect, thick, unsweetened whipped cream. A grill with great desserts. What a concept.
---
Ostrich Grill
Address: 820 Bay Ave., Capitola
Phone: 831.477.9181
Hours: Lunch Mon.-Fri. 11am-2pm; dinner nightly.
Service: *** Swift, skilled and hard-working--and with a sense of humor.
Ambiance: *** Attractively understated grill atmosphere, with cozy cocktail area.
Cuisine: *** Freshly grilled-to-order foods stress quality, fine sauces and generous portions.
Overall: Ostrich Grill has memorized the formula for success.
---
[ Santa Cruz | MetroActive Central | Archives ]