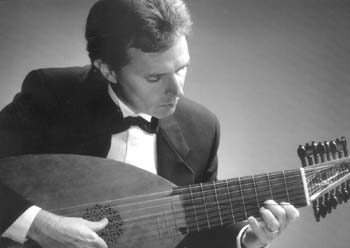 Have Lute, Will Play Opera: Performer and teacher Gene Lewis founded some of the area's finest classical music groups.

Requiem for a Classic

A founder and mainstay of the county's classical music scene, Gene Lewis in death leaves a long musical legacy

By Miriam Ellis

IT'S RARE to meet a person whose light illuminates and brings joy to the spirit. Such a rare man was Gene Lewis. Forever young, optimistic and amiable, this generous-hearted maker of music inspired hundreds of people with his wit, his talent and his dedication to the arts, particularly music. And how he made music--composing, teaching, inspiring, singing, leading and establishing groups of those with similar interests, in all genres of the art, from early music to Renaissance, from folk to opera to jazz.

Gene began giving concerts in the Santa Cruz Central Branch Library back in the '70s, bringing together local musicians to offer free programs to anyone who wanted to attend. Soon he had a large regular audience, and from this group was born the Santa Cruz Chamber Players, which has become one of Santa Cruz's leading musical institutions.

Early in the '80s, he became the mainstay of the Santa Cruz Opera Society's outreach program. Over the course of 20 years, he was an integral member of the team that performed at elementary schools throughout the county, in senior centers and, most of all, in nursing homes where his sweet tenor voice, guitar, lute, flute and piano playing brought residents the pleasure that only music can bring, oftentimes breaking through the barriers of lethargy and withdrawal that build walls around the sick, the aged, the lonely and the abandoned. In these venues, he performed light classical favorites and golden oldies that often rekindled fond memories and a light of recognition in many members of his audience as they made spontaneous connections to other, happier days.

Very few people know of his devotion and dedication to this kind of performance--one dimension of his busy and demanding schedule whose value to many forgotten individuals cannot be readily measured. Soprano Kathleen Nitz recalls an unforgettable episode:

"Gene was one of the first musicians in Santa Cruz that I knew, and I performed with him a great deal of music, from Beethoven to jazz standards," she says. "But it was an outing with the Santa Cruz Opera Society that gave me my sweetest memory. We were performing in a nursing home, the room of a bed-ridden old Italian lady--an opera lover. Gene grabbed his guitar and gamely improvised an accompaniment from my piano score of "Quando m'en vo" ("Musetta's Waltz" from La Bohème), which I sang to this lovely lady as she lay in her bed. She was so appreciative, and so much effusive Italian poured over us."

No other individual has left such an indelible mark on the area's music community in every genre of expression. He was actively involved with many groups, from the Chamber Players to New Music Works, the Santa Cruz Chorale, the Renaissance Singers, the Opera Society, the Dickens Players and Shakespeare Santa Cruz. He contributed to untold numbers of performances within and outside of these groups as composer, producer, director, conductor, musician or singer, sometimes acting in several capacities at once. Despite his wide-ranging talents, Gene was modest and unassuming, a very other-oriented man. His warm personality, unfailing optimism and generous character contributed in large measure to his immediate rapport and success as a teacher of both children and adults. His departure has left an incomparable legacy in the hearts and minds of hundreds of students, performers, colleagues and audience members who were touched by his special magic. Adieu, Gene, beloved friend.
---
A Memorial for Gene Lewis is set for Saturday (Feb. 26) at 2pm at Calvary Episcopal church, 532 Center St., Santa Cruz. (Another is in the works for April.) Friends of Gene Lewis have established in his name a fund for music education for children. Donations may be sent to the Community Foundation of Santa Cruz County, 2425 Porter St., Suite 16, Soquel, 95073.
---
[ Santa Cruz | MetroActive Central | Archives ]