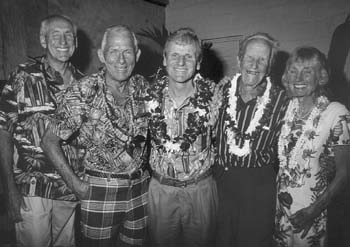 Photograph courtesy of David L. Brown Productions

Forever Waving: Longtime surfers (from left) Peter Cole, John Kelly, Fred Van Dyke, Woody Brown and Eve Fletcher keep on riding.

Century Of Stoke

New surf film looks at surfing pioneers who watched the sport grow from fringe culture to enduring phenomenon

By Dan Young

WHEN A SURF FLICK pulls into town, the boards-and-wetsuit set gets jacked up expecting a boys night out of hardcore surf vids showcasing the world's hottest teen or early 20s testosteroni surf talent, backed by a thumping soundtrack of two-chord power punk from San Diego's band du jour. If that's your cup of chai, then Surfing for Life will definitely throw you for a loop.

Focusing on some of the men and women pioneers of modern surfing, Surfing for Life is more a look at how to age gracefully using surfing as a metaphor for life. It explores aging and what it takes to live a fully content and happy life through the lens of surfing culture, a prime bastion of our youth-oriented society. The filmmakers look to smash stereotypes and, in the process, redefine what it means to grow old.

San Francisco filmmaker David L. Brown and co-producer Pacifica surfer and gerontological social worker Roy Earnest have produced a documentary that looks at 10 of surfing's elder statespersons who were among the first to create their own society on the fringe of what was considered normal. The portraits of these inspirational
elders challenge the images of aging presented in the media and commonly held among American youth. An avid surfer since the age of 8 and one of the founding members of Pacifica's Pedro Point Surf Club, Earnest got the idea for this documentary after overhearing a couple of kids ridiculing a middle-aged surfer one day.

"They said something like, 'He's an old guy. I'm amazed that he can even remember how to surf. Don't people forget stuff at that age?' " Earnest recounts.

Through his work as the director of the Francis Assisi Community, a residence for the elderly in San Francisco, he had gained an intimate knowledge of the trials and tribulations of growing old. But he saw a difference between his clients and the buddies that he had surfed with all his life. While most elderly faded and grew withdrawn, Earnest witnessed older surfers retaining their vitality and an inner glow that radiated from their being. Surfers call this glow "stoke," and these senior surfers defined the term "stoke."

Earnest took his idea to filmmaker Brown, who had won awards with PBS documentaries covering nuclear issues, and the two set out to find the world's most stoked seniors. With day-in-the-life footage (both landward and in the surf) and considerable archival material, including images of some fine early surf photographers and filmmakers, they interweave the life stories of a handful of vital and healthy elders, some who have paddled into waves for 60 or more years. It's a cast of truly memorable characters that couldn't be invented by Hollywood's greatest writers.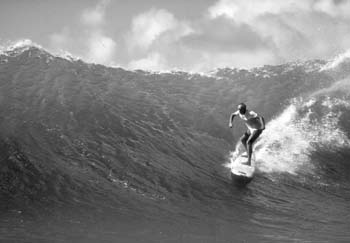 Photograph courtesy of David L. Brown Productions
Senior Shredder: Sixty-nine-year-old Peter Cole charges a wave at Hawaii's famed Sunset Beach.
AT 93 YEARS OLD, John H. "Doc" Ball is the oldest living American surfer--he still skateboards and surfs without a wetsuit in Shelter Cove in Northern California. He has been surfing since 1929 and wrote the classic book about early California surfing, California Surfriders, in 1946. A dentist and a professional photographer, he captured more classic surf images from the 1930s through the '50s than any other photographer, he co-founded the state's first surf club in Palos Verdes, and he's a great storyteller, a legend among surfers and a warm and generous spirit still stoked about life. His fearless skateboarding sequence is the unforgettable ending to Surfing for Life.
LeRoy "Granny" Grannis, 81 and a surfer for 63 years, is Doc Ball's best friend of nearly 70 years. He has excelled at several professions--military-pilot, phone company executive, photographer--and has raised four children. Like his old friend Doc, Granny has shot countless classic surfing photos from the '50s to the present. The founding photographer of Surfer magazine, he began hang-gliding in his 50s and sailboarding in his 60s. Photos by Ball and Grannis (and the work of many other surf photographers) illustrate the life histories of the film's subjects and pioneering surfing communities.
Woody Brown is 88 and lives in Maui, Hawaii, where he surfs every chance he gets. He became a national flying hero in the 1930s, a Hawaiian big-wave surf hero in the 1940s and--after inventing the modern catamaran--a yachting celebrity in the 1950s. Woody's great stories are illustrated by several of the classic photos and film footage of him surfing huge Hawaiian waves in the '40s and '50s.
Several women are prominently featured in Surfing for Life. Eve Fletcher took up surfing when she was 30 years old and an animator for Walt Disney Studios. She is still a regular at San Onofre in Southern California, and included is classic 1958 footage of Eve and her friend "on surfin' surfari" in Hawaii, where she bought a panel truck for $75 from a local surfer. Eve and her friend lived in the panel truck, surfing around the islands for a month, then resold the truck to the original owner when they left.
Also featured is legendary Hawaiian beach boy Rabbit Kekai, 79, a waterman and world-class big-wave surfer. He began surfing at age 5 in 1925. He, too, is a gifted storyteller and another gracious embodiment of the aloha spirit.
Fred Van Dyke, 70, is a legendary pioneer of big-wave surfing. He moved from California to Hawaii in the '50s to surf the big waves, taught with his friend Peter Cole at Punahou School and wrote several classic surf books, including Thirty Years of Surfing the World's Biggest Waves. A physical-fitness enthusiast, Van Dyke still surfs regularly and gives multimedia presentations on healthy aging and surfing throughout the country. The emotional center of Surfing for Life is his recent painful decision to confront fear and give up surfing the huge waves with which he had become so identified.
Everyone has heard of the aloha spirit, the friendly kindness that Hawaiians extend to friends and total strangers alike. Surfing for Life is as close as any film has come to capturing that take on life while underlining the critical importance of staying active and involved even after retirement. It's also a story about the value of friendship, family and love, memories, service, spirituality, activism for social justice, closeness to nature, playfulness, humor and healthy acceptance of the changes brought about by aging. These select older surfers in Surfing for Life overturn the common perception of surfing as an activity only for young people and, in the process, make an important statement about the human potential of later life.
---
Surfing for Life plays at the Capitola Theater, 120 Monterey Ave, on Friday and Saturday (Feb. 25 and 26) at 7 and 9:30pm. Tickets are $10, available in advance at Freeline, O'Neill, Arrow and Paradise surf shops. (475-9094)
---
[ Santa Cruz | MetroActive Central | Archives ]