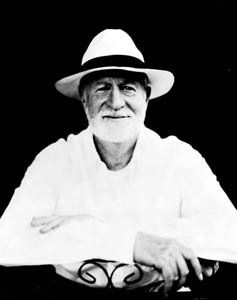 Write No Lines Before Their Time: Mose Allison has been far ahead of the curve musically and lyrically for decades. That hasn't always made it easy for him, but at least the world is finally catching up.

The Vindication Blues

Fifty years into his career, he's a musical legend, but it took decades for audiences to catch up with Mose Allison

By Mike Connor

I've been doing some thinking about the nature of the universe," sings jazz pianist Mose Allison, setting up the first half of what is possibly the most profound couplet ever written. Sufficiently equipped with a B.A. in English and Philosophy, Allison follows through with the revelatory conclusion: "Found out things are getting better, it's just people that are getting worse."

"When I first started," says Allison from his home in Long Island, "for 10 or 15 years just about everybody said I was cynical. They weren't knowledgeable about the idiom I was using. To me, I was always writing things with a sense of humor, but people didn't get it. It took a while."

Over the course of his 50-year-plus career, people have gradually come around to Allison's Southern brand of philosophizing.

"Everybody became more appreciative of that kind of humor--now I'm considered a comedian," he says, chuckling. "Maybe I just got better at it, I don't know. But I always say that I write for a certain temperament, and I think there's just more of us now than there used to be."

Here, decide for yourself if Allison is writing for your temperament:

Ever since the world ended,
I don't go out as much.
People that I once befriended
Just don't bother to stay in touch.
Things that used to seem so splendid,
Don't really matter today.
It's just as well the world ended.
It wasn't really working anyway.

Funny, no? Moving right along then.

Jazz vs. Blues

The 76-year-old Mississippian's choice not to choose between jazz and blues has cost him countless gigs and, consequently, fans--though even a casual listener can hear that his blend of the genres makes perfect sense musically.

"When I first started out playing in the '30s and '40s," says Allison, "a lot of the people I listened to--Louis Armstrong for one--did blues and did jazz as well."

But, well, some people don't like their grits to mix with their greens no matter how well they go together. Certainly Allison's lack of mainstream success, even as he became somewhat of a music legend over the years, wasn't for lack of talent--he's got a breezy vocal style influenced by legends like Percy Mayfield and Nat King Cole, while his piano chops typically blend influences ranging from jazz masters like Bud Powell and Thelonius Monk to delta blues and even classical virtuosos. His delivery is as light and flawless as it is humorous.

But strangely enough, Allison's real breakthrough only came when he was saluted by those about to rock--namely Van Morrison, the Clash, Georgie Fame, the Yardbirds, Elvis Costello and Pete Townshend, all of whom covered Allison's songs and made him into the man Time Out London called "British rock's most popular jazz musician."

Londoners began booking him two times a year, for three straight weeks each time, in a small jazz club called the Pizza Express. That kind of residency is all but unheard of in the music business anymore, and Allison says it's his dream gig, So how does he draw so many people for so many consecutive dates?

"Well," says Allison, "that's a good question, because we've always been amazed by it. But we'll keep it like this as long as it's working--last time I was there had an almost full house every night."

It's a deserved respite for a guy who's spent a large part of his adult life on tour, yet still owes the record company money. Happily, he doesn't plan on paying it off.

"That'll never happen," Allison jokes, "unless something takes off when I'm dead."
---
Mose Allison performs at the Kuumbwa on Monday, March 1, at 7 and 9pm. Tickets are $20-$23; dinner begins at 6pm; 831.427.2227.
---
[ Santa Cruz | Metroactive Central | Archives ]