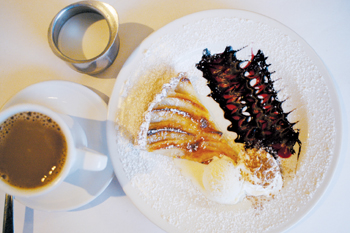 Sea of Lunch: Cafe Mare has put a touch of France into its Italian menu.

A Europe United

Italian and French cuisine live together in harmony at Cafe Mare

By Jessica Neuman Beck

ODuring the Italian Renaissance, Charles VIII of France invaded Italy and seized Naples. Thus began the Italian Wars, which lasted from 1494 to 1559. The rivalry between France and Italy has persevered through to present times, but here in Santa Cruz, Cyrille "Ciro" Gatel, a Frenchman, and Gianpiero Iuliano, an Italian, found themselves faced with an inarguable impetus for cultural reconciliation: food.

Gianpiero and Ciro met at Star Bene, the warm, convivial Italian restaurant of local culinary legend in the Live Oak area. "He was the co-owner of Star Bene, and I used to work for him," says Ciro. "Gianpiero and I got together and wanted to start a restaurant in downtown Santa Cruz."

When they opened Cafe Mare, Gianpiero and Ciro tried to move away from the strictly traditional Italian dishes they knew from Star Bene. "The menu's Italian, with a French influence," says Ciro. "Today we have escargot as an appetizer."

Their goal was to provide casual fine dining with a European ambience, melding their French and Italian backgrounds to give diners a culinary experience they can't find in the average Italian restaurant. They acquired the space that used to be Hobee's, redid the dining area and added a bar, and Cafe Mare was born.

Cafe Mare's diners can choose from such dishes as Vongole in Cassuruola, a French recipe of sautéed fresh clams in a light shallot, white wine and butter sauce, as well as Crespolini di Zucca, crepes with a butternut squash filling.

"The crepes you could argue are French or Italian," laughs Ciro.

Of course, a few old-fashioned Italian dishes can be found, such as the Polpette di Salmone, freshly made salmon balls in a basil, garlic and marinara sauce from Gianpiero's mother's own recipe.

Also on the menu is the eponymic Petto alla Ciro, breast of chicken stuffed with gorgonzola, wrapped with pancetta, sautéed and baked in an apple and white wine sauce. Gianpiero named the entree after Ciro when he saw how much his friend loved it. "He cooked it for me once, and after that I would always cook it," says Ciro. "He'd ask me what I had for dinner the night before and I'd say, oh, you know, the usual, chicken with apple and gorgonzola. I cook it once a week for myself."

The waitstaff seems to be comprised primarily of Italians and French. Ciro says it's just a coincidence--"but it helps with communication when they're in the kitchen." The sound of Gianpiero's voice, saying something in Italian, comes from the back of the restaurant. Ciro responds with something in French. And they both laugh.
---
Cafe Mare. 740 Front St., Suite 100, Santa Cruz; 831.458.1212.
---
[ Santa Cruz | Metroactive Central | Archives ]