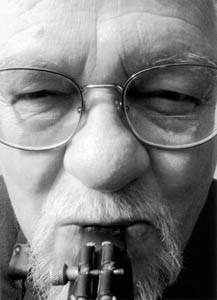 Lips That Trimble: Bill Trimble played on a Henry Mollicone piece written with him in mind at the Santa Cruz Symphony's knockout shows last weekend.

To the Devil His Due

The SC Symphony proves Mollicone's music owes a debt to something otherwordly

By Scott MacClelland

In spite of initial hints, Henry Mollicone's Dansa Trimbula is no Argentine tango. This concert work for saxophone (alternating alto and soprano), accordion, piano, percussion and strings lets you know there's a debt to be paid. If may be owed to the devil, as ancient legends often retell through music. Or to a Mafioso don, as implied by Sicilian turns of phrase and menacing chromatic intimations. Even the tango rhythm gets surreal, not unlike Ravel's La valse. But as wild and original as Astor Piazzolla--Mollicone's putative inspiration for this piece--gets, Trimbula blazes a new and even more disturbing trail.

The 12-minute piece, commissioned and premiered in 1995 by the San Jose Chamber Orchestra, was heard last weekend in Santa Cruz and Watsonville, courtesy of the Santa Cruz Symphony. While it would be easy to excuse the work's eccentricities due to Mollicone's local history (he lives in Saratoga and has had works premiered throughout the San Francisco Bay Area, not least by the Santa Cruz Symphony itself) and its dedicatee, Santa Cruz's resident saxophone guru Bill Trimble, the piece itself deserves universal attention. We live in a brave world of new music, and Mollicone now finds himself--especially in this piece--a legitimate and important pioneer.

In this reading, master accordionist Anthony Quartuccio--whom Mollicone also had in mind when writing the piece--spoke Argentine tango with a Neapolitan accent (adding unsightly and amusing bellow-shake tremolos during the saxophone/accordion cadenza). Pianist Stephen Tosh took delight in the many musical quotes and allusions to pre-existing works, and Larry Granger had his hands full with tricky rhythms and mood changes.

The Sunday afternoon audience had the advantage of a better room for music and the added polish afforded by a previous performance the night before. At least the overall result corroborated the highest standards of this orchestra, as Granger led a well-balanced program that began with the overture to Mozart's Abduction From the Seraglio, included Ibert's Concertino da Camera for saxophone, and closed with Beethoven's Symphony no. 7 in A. Granger, who prefers to conduct from memory, plainly had an interpretation in mind for the Beethoven (a quality that oddly eludes many conductors). In this case, the first movement was shaped according to its long phrases rather than its strong contrasts as some 18th-century "specialists" have gained fame doing. The second movement, allegretto, was well paced and skillfully detailed in its textures and dialogues between the strings and winds; here the attentive listener was rewarded handsomely. The energy level picked up startlingly in the quick-stepping presto and caught fire fully in the vividly bursting finale. This was a performance conceived across the entire span of the piece and built to excellent effect.
---
The Watsonville concert will be broadcast on KUSP-FM (88.9) on March 7 at 10am.
---
[ Santa Cruz | Metroactive Central | Archives ]