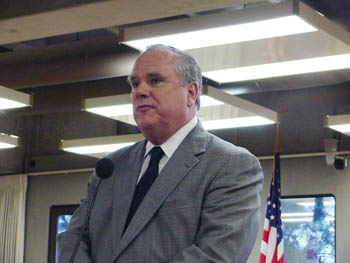 Photograph by Sarah Phelan

Lockyer and Load: Attorney General Bill Lockyer says Gov. Schwarzenegger 'plays Conan the Barbarian for the right wing' on the issue of gay marriages.

Nüz

The Umpire Strikes Back

Attorney General Bill Lockyer was in the headlines a lot last week, beginning with a trip to the Cocoanut Grove to give a lifetime achievement award to retired Santa Cruz Police Chief Steve Belcher and valor awards to Capitola cops Jason Smith, Leo Moreno and James Murphy--and ending with remarks that he resents it when "Arnold plays Conan the Barbarian for the right wing and directs me to do something that he doesn't have the authority to do."

Lockey was referring to Gov. Schwarzenegger's demand that he take "immediate steps" to halt the flood of gay marriages in San Francisco, a flood that Arnie claimed could lead to "serious civil unrest"--a pose Nüz couldn't help noting that Arnie struck, in classic bodybuilding style, while loudly announcing his support for a proposed constitutional amendment that would allow foreign-borns like himself to become president--not that being anti-gay marriage is a necessary prerequisite for becoming prez or anything.

Reached by phone on the weekend, Lockyer said of his rebuff to the governor, "I'm like an umpire. I don't care who the pitcher is. I'm just calling the strikes."

As state AG, Lockyer will of course have to defend California in the gay-marriage suit that San Francisco has brought against state laws that prohibit same-sex marriage, though he is quick to point out that as a lifelong defender of civil liberties, due process and equal protection for all, he does not personally support policies that give lesser legal rights and responsibilities to committed same-sex couples than those provided to heterosexual couples, which is why he has supported extending benefits through domestic partnerships and civil union statutes.

"But the people of California have spoken. State law prohibits the recognition of same-sex marriages," said Lockyer, who predicts the courts will rule that the San Francisco marriages are not valid.

"There are clear state statutes, which collide with equal protection theory--and there's no precedent for that intersection," Lockyer said.

God Bless You, Please, Mrs. Robinson

Court cases not withstanding, former Metro Santa Cruz staffer Linda Robinson, who now works at UCSC, figured that she and her partner of 12 1/2 years were up for being part of history when they hotfooted it to San Francisco on Feb. 16 to finally tie the knot.

Robinson says their decision was inspired by a fellow nightshift co-worker, who, along with his wife of 35 years, had just been witnesses for another gay couple who married Friday the 13th.

"He told me that it was so great to see so many happy people!" recalls Robinson, who traveled to the city with her partner and another lesbian couple, who wanted to be their witnesses--and get hitched themselves.

"And so began a seven-hour pilgrimage just to get into the doors of City Hall, where we joined a long line that wound around up the stairs, down the hallway to the second floor of city hall and passed by the mayor's office," says Robinson of freezing her ass off in driving rain, only to have her heart warmed by the sight of people laying flowers and messages of appreciation at the mayor's door.

"We also have a photo of the statue of Lincoln with the rainbow flag that one person placed it perfectly, right in the crook of his arm," says Robinson, who was married by the husband of San Francisco Assessor/Controller Mabel Teng, who helped Mayor Gavin Newsom make all this possible in the first place.

Since getting hitched, Robinson reports having received emails from her friends back East who are "so enthusiastic and hoping that San Francisco is a catalyst for the rest of the country. I've encountered very supportive conservative people who are all about people's rights and believe gay marriage should happen. It was an incredible experience, and my hope is that it would encourage all people to wake up and smell the coffee or to take a stand and action."

Thoth Unplugged

Fans of the weirder, wiser and more wonderful side of life will be delighted to know that genius performance artist Thoth, whose life and work are captured in the Oscar-winning documentary Thoth, will be back in the Cruz for a March 13 benefit for the upcoming third annual Santa Cruz Film Festival.

When we saw Thoth last in 2002, he had unplugged the then-empty Cooper House tunnel, which has since become home to Image Snap, Shoe Fetish, Gelato Mania and Rouge. Thoth, meanwhile, has added new facets to his already mind-blowing repertoire, including a foot drum, a raw-foods diet and ambidextrous violin playing--an accomplishment that Thoth admit "took discipline and pushing, pushing, pushing myself."

Asked why the push to eat raw foods and play left-handed, Thoth said it was to increase his balance and energy level, a comment that made Nüz spontaneously erupt in disbelief, since lack of energy is definitely not Thoth's problem.

Indeed, last time we hung out with this frenetic artiste, he was gobbling down a cheese quesadilla at the now defunct Hobee's on Front Street in an effort to restore the energy he'd just burned off in a fabulous walkabout on Pacific Avenue. Told of the demise of Hobee's, Thoth asked if we could solicit recommendations for good quesadillas in town, since he's not fully converted to the raw-food trip.

In town for just one quickie weekend as part of a West Coast tour, Thoth will be "prayforming" at 8pm on March 13 at the Cayuga Vault, 1100 Soquel Ave. Tickets are $10 and are available at the door.

Meanwhile, Santa Cruz Film Festival director Jane Sullivan is also looking for "dependable volunteers with a great personality, sense of humor a plus!"--to staff various film venues during the May 13-21 festival, a job that is also a great opportunity for film buffs to view excellent independent films, while supporting a great community event. Call 831.459.7676 for more details.

Senior Crime Alert

More than 225,000 elder and dependent adults were the victims of abuse in California last year--that's one in 20 elders. To find out how--and how to avoid it--check out a free Senior Crime Alert Community Forum at Louden Nelson, 301 Center St., Feb. 26, 9am-1pm. Call 916.418.1500 for details of the event, which is part of the statewide FACE IT. IT'S A CRIME public-awareness campaign.
---
Nüz just loves juicy tips: Drop a line to 115 Cooper St, Santa Cruz, 95060, email us at , or call our hotline at 457.9000, ext 214.
---
[ Santa Cruz | Metroactive Central | Archives ]