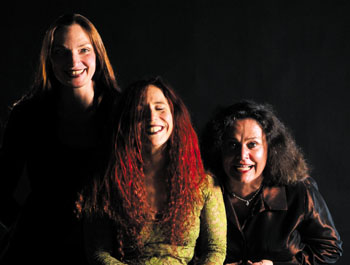 Photograph by Darryl Ferrucci

Rock 'n' Royalty: Pop princesses Aimee Page, Nancy LeVan and Pipa Piñon lift the veils of life's musical mysteries Friday night at the Rio Theatre.

Three Faces of Diva

Aimee Page, Nancy LeVan and Pipa Piñon, a.k.a. 3 Divas, bring the Rio into vocal harmony

By Buz Bezore

Hey, bright eyes, wake up. Now, let's see if we've got this straight. The titans of arms and the snakes of oil are leading a punch-drunk public in a military-industrial war dance. The broke and broken economy can't quite walk a steady line up the slippery Dow. Deranged zealots from the East (Washington, D.C., to be precise) have us cowering in plastic like bubble boys and girls or all lathered up in our bunkers shadowboxing Islam. Then there are enemy states, rogue nations, sleeper cells, bug-eyed shoe bombers, that wild-and-crazy Korean, every last French person on earth and Michael Jackson to worry about, too. There ain't a lot to get all happy-face over.

We could sit around tweaking about catching Osama, erasing Saddam or bitch-slapping John Ashcroft with the Constitution. Long naps sometimes work. Same with crying. But so does a party. Well, this is America, damn it, and here's one vote for the party option.

So drop your rocks and grab your roll because three Santa Cruz women and their backing bands of boys will come together Friday night to light the flame of fun at the Rio Theatre. And by the way, you can dance to it, too.

These songbirds of a feather--Aimee Page, Nancy LeVan and Pipa Piñon--will channel the soaring spirits of Billie Holiday, Edith Piaf and Enya, plus a few other chanteuses from the 20th-century continuum. Let's take a closer look at our high-flying party girls, our warbling damsels against distress, and give them a listen to at their respective practice studios.

Page Turner

As the Loony Toon colors of the computer screen shine faintly on her closed eyelids and the primordial thumps of memory-bank percussion reach through flesh to yank one's spine to attention, Aimee Page stands as still as a pillar of salt, tilting her face upward, an ovulating mullah about to call the devoted to prayer. Page's henna-flavored head slowly begins to see-saw back and forth. And out of her lips--out of some place much deeper and secret, in fact--comes an aural dervishing dance of the minarets, a shy ballet in the pyramid's hidden chambers, a world cultural smorgasbord of sound, the whole musical enchilada. If the listener's open jaws would move, he'd speak in tongues.

The cloister walls of the recording studio are felled with Page's first note, transporting the mind's eye and inner ear to a sublime landscape unsullied by reality. Hinting at Dead Can Dance meditations, the Macedonian magic realism of the group's "Dawn" takes a Balkan dirge and weds it to Appalachian Spring. It's exhilarating.

"Traffic" melds a Celtic raga to a Bulgarian choir, conjuring shiny creatures from music's bathetic boundaries, spotlighting images only grasped at Icarus heights. Page's Technicolor journey and Trey Donovan's wah-wah wranglings on the NS stick take the listener on a bouncy trek down a tar-rippled Route 66 in "Patience," an Exorcist acid trip soundtrack with a pretty face and sunny step.

Mike Oldfield's chiming "Tubular Bells" also insinuates itself into "Sand," and "Anger" opens the map further, as Page's twisted guts/spitting soul vocals slouch toward Bethlehem guided by bouzouki player Jeffrey Andrews's lyrical dance above the dust.

But the reality transporter in the band's set--"Damascus"--reveals the trio's versatility and reach. The NS and Chapman stick work by Donovan (formerly with Sermons of Strangers) and the slick percussion, string and songwriting trifecta of Andrews (Sick Shaman) provides a life-support system for the transcendent stylings of vocalist Page (Vishnu's Secrets) on almost every tune, but here the three reach their zeniths together. Heady with the scents of the Middle East, Donovan's blanket bomb bottom and Andrews's fine filigree fretwork whoosh the song through a casbah subway while Page's vocals claw and tiptoe on a cliff's edge of anguish and joy. The piece is a stunner and should provide a highlight Friday night.

Woman With Pen

Everyone at one time has sneered at the mock poets scribbling away in their notebooks spread across coffeehouse tables. How much sophomoric drivel peppers those sheets, we chuckled. One lady around town pops that simple thought balloon. While others were rubbing their brainpans raw and still not getting any hard results, songwriter/singer Nancy LeVan shyly churned out java-fueled compositions for her exotic performances with one of this region's best acts, the lamentably lost Dresden.

Still the real thing, LeVan sips ginger ale and apologizes for her coughing jags (she's just over the flu) before walking down the hall to join accompanist Bill Walker (Tao Chemical, Worlds Collide) in the tiny room outfitted with all sorts of looping gizmos and amplification doodads.

LeVan's career has sashayed from the experimental to the cabaret, with stops along the way at the enclaves of dance and performance art, but she glows most luminously as a straight-ahead singer of jazz-tinged musings. "The River" shifts its underpinnings from the Ballet Russe to the Top of the Mark, from a French tango to an Istanbul bossa nova. LeVan's smoky voice offers a husky silken hush-a-bye lullaby while Walker's guitar and looping showcases him as a watercolor impressionist working in sound.

LeVan straps on an acoustic guitar and teleports the room to folky New York, circa 1964. "Egress" hints at Sarah McLachlan, but the ballad really conjures the spirits of Bleeker Street luminaries Fred Neil, Tim Hardin and Tim Buckley. Still, it's quintessential LeVan, a singular talent in a homogenized world.

A reworking of Dresden fave "O'Kenya" features a helium-fueled calliope opening by Walker on hardware looper and guitar, LeVan's pan pipe vocals echoing and uniting two realms, the dream and real. Walker is a harmonic alchemist, turning knobs and handles on his guitar as his feet punch looping peddles that turn him into a one-man Wall of Sound.

A couple of untitled ditties exhibit a look towards Kitaro's Passage to the East, richly textural caravan experiences, LeVan's gossamer vocals gliding over Walker imagining Phil Spector at play in Carlsbad Caverns. That's a lot of globetrotting, but come Friday LeVan, Walker and percussionist Jim Norris will bring the whole planet home to the Rio.

Double Vision

For 17 years, Pipa Piñon has provided Santa Cruz audiences with plenty to think about via her one-woman musical plays and dance performance art. Theatrical aspirations are a good thing, but Piñon's singing is a great thing. Demonstrating the most graceful sound to ever ignite the rough-and-tumble Vets Hall practice studio, Piñon lilts up the room like the priestess of running water. Serving as a high-density diamond, the refractions of a better world can be glimpsed through her elevating voice, especially when it's tethered to earth by bassist Daniel Lewis (World Entertainment War, Special Fun).

"Emptiness" opens with a Patti Smith-bussed spoken tone poem skipping over Lewis' wind-chiming string work. Hand cupped to her ear, moving as if being kissed by a warming wind, Piñon waits for the muse to take hold and join her to Lewis' thumb-piano tonal hieroglyphics. When it comes, a shock is in store for those gathered. Such an innocent, vibrant voice emitted by such a savvy stage veteran causes a visual dissonance, but the soundscape is anything but confusing.

"Human Kind" introduces a Pink Panther-theme playfulness that stays true to its cartwheeling character (think Anna Paquin in The Piano) throughout its delightful optimism as pirouetting vocal calisthenics meet soothing rhythms in a forever young package. One favorite from the twosome's past gigs on tap Friday night will be "We Survive." Which seems apt since Piñon and Lewis have done just that in tough musical climes from here to Europe.

With a slight peek back at Kate Bush, this singer's music is focused upward, sharing and not just receiving divine guidance from some special celestial fount. The woman knows how to work a tune and, it must be admitted, this audience of one. I'll convert.

With a concert featuring not one, not two, but three freakin' divas, one would except a few bumps along the mellow road leading to showtime. Sure, there was a hissy fit or two (or 20) here, but there were no pill-popping rages or sex scandals to complicate the picture. Everything was pretty groovy. (Still, Snoop Dogg's video When Divas Go Wild will be available in the lobby between sets.)

With our disappearing free time and shrinking personal freedoms, its wise to recall the wording of the Bill of Rights' oft-neglected 11th Article: "Congress shall make no law to restrict, curtail or prevent the people's right to have a party." Some long forgotten patriot once claimed, "You've got to fight for your right to party." Friday night could just be our finest hour.
---
3 Divas perform Friday, Feb. 28, at 8pm at the Rio Theatre, 1205 Soquel Ave., Santa Cruz. Tickets for the So Say We Production cost $15/advance (available at Chocolate and the Book Loft) or $20/door. For more info, call 454.9547 or email [email protected].
---
[ Santa Cruz | Metroactive Central | Archives ]