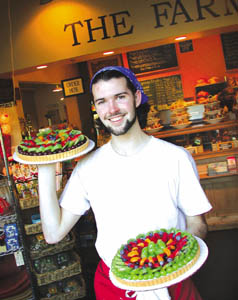 Photograph by Stephen Laufer

Farm Livin': Around here, everything's fresh, and Paul Wheeler appears to have a delicious fruit tart for a hand.

Down on The Farm

Part country bakery, part crafts bazaar, The Farm is all heaven for followers of the very freshest flavors

By Christina Waters

Bursting with colorful arts and crafts from around the world, from bohemian crystal to Oaxacan tote bags, The Farm continues to splash the senses with heady ambience while serving up freshly created soups, student-size sandwiches, fragrant pastries and even full-on dinners.

An armada of tables fills the sunny main room, while merchandise and patrons vie for space in the highly accessorized entry to midcounty's lunch landmark. Old-timers (like me) remember the original Farm, a huge white ranch sprawling over acres of gardens, terraces and potting sheds about a mile from its present location across from Cabrillo College. Now tucked into cafe-size quarters, The Farm continues to romance its patrons. Myriad quiches and the famous jewel-like fruit tarts still fill the tempting display cases, next to a wall of dazzling Day of the Dead retablos, pottery and artisanal everything. The Farm blooms year-round with harvests for the eyes and mouth.

Sandwiches the size of footballs were produced (premade and too chilled) after we ordered mesquite-smoked pork loin on sundried tomato roll, and grilled chicken on Mediterranean roll (both $5.50). One-half to eat now, one-half to eat tomorrow--this is a deal-and-a-half.

My woman-about-town lunch date, Barbara, spent most of our absorbing conversation--from politics to women's intuition to saving the environment--daintily devouring her beautiful green salad strewn with crumbled blue cheese ($4.50). It was a glorious thing, "so fresh, so tasty," she noted. Indeed, I sampled various of the heirloom lettuces in their sensuous vinaigrette and they were definitely a cut above even the designer organic mixes at our best natural foods stores. Ditto the red and yellow bell pepper strips, the fat fingerling carrots and the crisp, spicy radishes. The Farm's salads are both beautiful and delicious--joined with a cup of soup, like last week's aromatic and full-bodied vegetable ($1.50), this is the lunch of the goddesses.

My side dish of a half artichoke--which had been heated up for me to allow the full wattage of chopped garlic and herbs to develop--was a cut above the usual sandwich accompaniments. It made a fine partner for my excellent sandwich of lean mesquite-perfumed chicken breast, layered gently with romaine and tomatoes on an enormous garlicky roll. Lots of garlic infusions occur at The Farm.

Barbara's pork loin sandwich was intensely flavorful, all the more so given its sassy barbecue sauce slathered on addictive sundried tomato roll. My cappuccino was perfect. Bracing, profoundly caffeinated yet not bitter, it arrived with a float of creamy foam worthy of the Renaissance. I was impressed.

Wrapping up the second halves of each sandwich, we had successfully saved room to split a killer dessert of tangy lemon tart. Crusted with shaved almonds, filled with a layer of decadent cheesecake and a thin, seductive foundation of semisweet chocolate, it was barely legal ($2.95). Barbara and I tried not to act like women who don't get out of the house and eat serious pastries very often. The Farm continues to take tarts seriously, I am happy to reveal.

But then the cookies. Ah the cookies. Later that night, in the privacy of my own home I fell for The Farm's chewy ginger molasses beauty, and a two-fisted oatmeal and raisin creation that could make a satisfying meal all by itself. The snickerdoodles were straight out of Betty Crocker's heartland kitchen.

And The Farm does amazing breads as well. Don't miss the enchanting polenta bread--we tried a miniloaf, toasted for breakfast the next day ($1.50). Loaded with that crumbly texture polenta yields, it provided the satisfaction of corn bread, yet with more elegance. Polenta bread, mesquite-grilled chicken, sparkling salads, bewitching desserts--that's how you're gonna keep 'em down on The Farm.
---
The Farm Bakery & Cafe
Address: 6790 Soquel Drive, Aptos
Phone: 831.684.0266
Hours: 6:30am-7:30pm Mon-Fri; 7am-7:30pm Sat; 7am-6pm Sun
Ambience: **1/2 Bohemian cafe, with a country spin
Cuisine: **1/2 High quality ingredients and plenty of zesty flavors combine with generous portions--no wonder this place is packed.
Overall: Heartfelt, freshly made foods make The Farm the sort of fixture we need on every street corner.
---
[ Santa Cruz | Metroactive Central | Archives ]