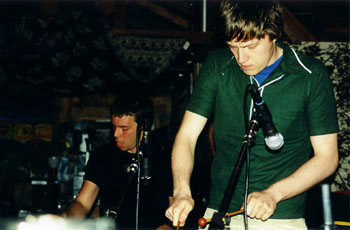 Da Duo Run Run: The experimental sound of run_return has caught the attention of Tortoise.

The Tortoise and the Heir

Local ambient duo run_return won't let a simple case of poison oak stop them from opening for their musical heroes

By Mike Connor

Kevin Dineen won't shake my hand, but not because he isn't polite. He just doesn't want to give me poison oak--he's got a face full of it, thanks to a recent trip to Big Sur. The skin around his eyes is red and puffy; I fight the urge to scratch around my eyes in sympathy. Ouch.

Despite his condition, Dineen is all boyish smiles. On March 1, he and his partner in the Santa Cruz- based run_return, Tommy Fugelsang, will be opening for the Chicago post-rock electronica wizards Tortoise, along with Seattle math rockers (and highly refined pirates) Minus the Bear. Dineen isn't shy about his admiration for Tortoise, who have been credited by the All Music Guide with "revolutionizing American indie rock in the mid-'90s"--a bold claim, but not without merit for run_return.

"Tortoise totally made me change the direction I was going in, musically," says Dineen. "They were coming from a punk rock and hardcore background, but they were playing stuff that wasn't really rock-oriented. I never heard a rock band use vibraphones. It was instrumental, but not in a jazz or classical context."

Tortoise are renowned for their improvisational performances and the wide range of influences they work into their music--everything from dub reggae to avant-garde jazz, British electronica and sci-fi film music, with a peculiar emphasis on vibraphones all around. Though neither knew the first thing about a vibraphone (both play drums and guitar), Dineen and Fugelsang picked up the concept and ran with it anyway.

The results are so good, it's spooky. The vibes add a cozy warmth to their music, which, even without the vibes, occupies a space in the Nirvana-for-the-post-rock set. Sometimes snowy and desolate, sometimes brooding and mysterious--but always playfully curious--run_return is one of those bands that pick at the heart strings and make memory into a glorious thing. Like, when you're on a really long road trip and in the middle of the night, a feeling washes over you that everything is fine and as it should be in the universe, especially the cool night air rushing in through your open window ... they're a lot like that. But without all the junk food wrappers on the ground.

Boombox Production

Dineen and Fugelsang have known each other since their college days in upstate New York, where they played together in an improv dub band in '98. Dineen and his wife Danielle moved out to Santa Cruz in '99,with Fugelsang close behind.

"We came here with no jobs and no place to live," Dineen recalls. "We found a place to live in like three days, and we both got great jobs. We've done really well here."

Geez, rub it in, why don't you? But Dineen's luck really was extraordinary, landing as he did in what is now known as The Cube, arguably the grande dame of private house venues in Santa Cruz. This stroke of luck planted him firmly in the SC indie rock scene, known for its house shows and DIY sensibilities.

"On our first tape demo, it said, 'Recorded by Boombox,' because it was recorded on a shitty little tape deck," Dineen says. "Tommy and I built our own electronic music studio, so we can record, mix and master music now."

Fugelsang is now living up in Oakland, making composition a bit more difficult, though not necessarily for better or worse. They've put their chemistry to work for them and enlisted like-minded musicians from around the Bay Area to be a part of their pet project and record label, Boombox Productions. They're currently putting together a compilation of Boombox bands that they'll be releasing the night of the Tortoise show.

"We're really excited about that; it's our first statement as a music label and as a collective of creative people," Dineen enthuses. "We're getting stuff rolling this year, and getting it to people who wouldn't otherwise hear it."

Dineen is beaming as he says all this; his smile seems somehow even more infectious than the nasty poison oak around his eyes.

"I feel like I'm a part of something that's good."
---
run_return opens for Tortoise Saturday, March 1, at the Rio Theatre, 1205 Soquel Ave., Santa Cruz. Tickets are $15/$17, available at Streetlight Records or ticketweb.com.
---
[ Santa Cruz | Metroactive Central | Archives ]