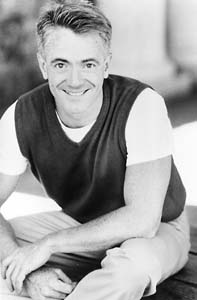 Danny Boy: Scheie energizes a strong cast and punches up Paul Rudnick's play with wry multimedia flourishes.





Scheie La Vie

Genesis gets a makeover and God gets a grilling in UCSC's 'The Most Fabulous Story Ever Told'

By Rob Pratt

AS IN A TV MOVIE, this article opens with a disclaimer: The review you are about to read has been written by a critic recently captivated with a newly released set of DVDs containing the entire first season of Showtime's sensational original series, Queer As Folk. This declaration is necessary to disclose one possible reason the reviewer, a gay man halfway through his 30s, could leave the theater after a UCSC production of Paul Rudnick's off-Broadway hit The Most Fabulous Story Ever Told feeling that, for the second time in as many months, he had just been hit squarely in the demographic--er, the solar plexus--and convinced that he had seen one of the finest student productions ever presented in Santa Cruz County.

Like Queer As Folk, Fabulous is an epic with gay and lesbian characters as leading men and ladies, with straight people as bit players, comic relief and buffoons, and with graphic frankness about gay and lesbian sex. Theater has long dealt with gay characters and issues, but with Fabulous Rudnick puts gay and lesbian sex, love and marriage literally at center stage.

So reader discretion is advised when considering the reviewer's enthusiasm for the material former Shakespeare Santa Cruz artistic director Danny Scheie chose to direct for this student production. In all other matters--Scheie's wry multimedia flourishes, the show's impeccable staging and the brilliant ensemble cast, for instance--the reviewer's judgments may be understood to contain a minimum of hyperbole.

Fabulous opens with the Garden of Eden. In this beginning, however, it isn't God who creates the heavens and the earth. Instead, a stage manager (Erik Pearson) cues the sun, the oceans, the mountains and Adam (Dan Kent). Wearing only a jock strap, Adam cavorts around the garden questioning his existence, concluding, "This garden is fabulous!"

Then, from across Eden, Adam spies Steve. They meet. They date. They do it. They fall in love. They fall from grace. They run into a pair of lesbians. They find a Bible, and they grapple with the concept of God.

With granola lesbian Mabel (Maren Jacobsen) and bull dyke Jane (Julia Landau), Adam and Steve invent penis envy (Adam's idea), endure a Biblical flood (Steve's fault), meet straight people (eww, gross!), escape from a lisping Pharoah to make an exodus from Egypt, and argue over frankincense and myrrh while shepherds, cows and Jane adore Mabel's "miracle baby."

Then, "Cue intermission," says the stage manger.

Set during a Christmas Eve party at the modern-day Manhattan apartment of Adam and Steve, the second act seems completely unrelated to the first act's Genesis farce until the show builds to a wallop of an ending. At the final curtain, Rudnick leaves the audience with a host of questions about the existence of God, the nature of the human condition and the place of gay and lesbian people in the cosmos--and with one ringing admonishment to realize that the Garden of Eden exists in the love people have for each other, whatever their sexual orientation.

Scheie's staging looks great thanks to a minimalist set designed by Miles Henriksen and a stream of ironic video clips fed into a dozen TV monitors above the stage. The overall effect of the set, with Genie Lifts and a truss for a proscenium, lighting trees for natural trees and a hanging garden of video monitors, is of a sound stage, where real life is stage-managed before being mediated to the masses.

What really makes this production a sensation, though, is the skilled cast of young actors. Scheie obviously had much raw talent to work with when rehearsals began, and his direction earns credit for energizing all of the players. Particularly good are Kent, who plays Adam with endearing earnestness and an unflagging sense of wonderment, and Jacobsen, whose dippy Mabel is riotously funny as both a spiritual zealot and a pistol-packing apostate.
---
The Most Fabulous Story Ever Told plays at the Performing Arts Mainstage, UCSC, Friday and Saturday at 8pm and Sunday at 3pm. Tickets are $10 general, $6 seniors and students. 459.2159.
---
[ Santa Cruz | Metroactive Central | Archives ]