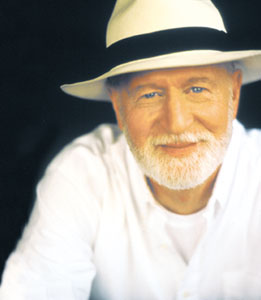 Mose Knows: Southern irony is a staple of pianist Mose Allison's songs.

Photograph by George Post





Sly Sage

Jazz great Mose Allison still holds the title 'King of Cool'

By Greg Cahill

'I USED TO joke in interviews, whenever a reporter would ask me how long I'm going to keep playing music, that I'm going to get myself a Gray Panthers punk-rock band and retire in Arizona. So I wrote that into a song lyric once," says 73-year-old jazz great Mose Allison, in a rich Southern drawl, during a phone call from his Long Island home. "Then I found out that there already is a Gray Panthers punk-rock band in Arizona. It's called One Foot in the Grave.

"That's the trouble when you write songs and hold them--the weird stuff comes true."

And "the weird stuff" has come steadily over the years. Allison, an unflappable Mississippi native, is known for a laconic wit that fans revere for its hipster philosophy but that some critics confuse with cynicism. "It's erroneous," he says of that perception. "They don't get it. My songs usually have a joke in them. To me, it's a form of humor. A lot of them are ironic--the ironic couplet, that's my staple weapon. But cynical is the last thing that I am."

You need only listen to the newly released The Mose Chronicles: Live in London, Vol. 1 (Blue Note), his latest--recorded last year with bassist Roy Babbington and drummer Mark Taylor--to grasp his point. It's an energetic showcase for Allison's trademark laid-back phrasing and sly wit.

His patented lyrical twists have earned Allison--who last year marked his 50th anniversary as a performer--a loyal cadre of fans, including some of the music industry's biggest names. Indeed, the list of those who have tapped the Mose Allison songbook is impressive: the Who ("Young Man's Blues"); Bonnie Raitt ("Everybody's Cryin' Mercy"); John Mayall ("Parchman Farm"); Van Morrison ("If You Only Knew"); and the Clash ("Look Here"), among others.

As the son of a stride jazz pianist, Allison took up piano lessons at age 6. In the backwater town of Tippo, Miss., he was immersed in jazz and country blues. Although he has lived on Long Island for nearly 40 years, he has retained a Southern state of mind--a condition that is evident in his breezy musical style.

"Oh, some of the things that come with [being raised in the South] are the ironic comment, the exaggeration, the understatement," he says. "That's just part of the way people think and speak down there, particularly in the rural areas. So I catch myself thinking in the idiom of my ancestors."

He still credits the black country blues singers heard blaring on the jukebox at the small gas station near his home as among his major influences. His first gig was playing six nights a week at a club in Lake Charles, Louisiana, in 1950. Allison soon found himself playing with some of the fastest rising stars in the jazz world. In 1956, he moved to New York City and began playing piano with some of the emerging "cool" jazzmen, including sax players Al Cohn, Zoot Sims and Stan Getz.

The following year, Allison began singing and started his own combo. He quickly became known for his understated, idiosyncratic style.

"The media likes to make a big deal about me being there at the birth of the cool, but just about every good jazz player blows hot at one time and cool at another," he laughs. "But I came up through the bebop era and trying to be as hip as possible and all of that. That was just part of the process of growing up as a jazz musician in America. The thing about me is that I really wanted to use the music I had heard while growing up in the South and mix it in with modern jazz. If I had any individuality, that's what it was based on."

And he has refined that blend in a manner that has earned him the title the King of Cool. "I tell everybody that if I was in this for the money, I'd be in trouble," says Allison, who still tours extensively and remains a legend in jazz circles. "I still get gratification out of a good performance. That's one of my rules: a good performance is its own reward."
---
The Mose Allison Trio plays Monday (March 5) at 7 and 9pm at Kuumbwa Jazz Center, 320 Cedar St., Santa Cruz. $16/advance; $19/door. (831.427.2227)
---
[ Santa Cruz | MetroActive Central | Archives ]