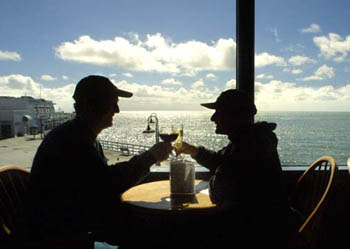 Photograph by George Sakkestad

Beachfront Vista: Sea Cloud takes advantage of its marvelous view of the bay.

Sea Cloud Rising

A sharpened culinary focus extends the range of this rustic room on the Santa Cruz Wharf

By Christina Waters

DESSERTS TO die for, contemporary Asian influences and smart culinary presentation--all these surprises raise the level of expectation for patrons of Sea Cloud, the Wharf's lively landmark of food and libation. Graced with a matchless view of the waves and crisp nautical décor, Sea Cloud has resisted updating. The flickering gas lamps, generic "shore art" and curved booths provide unmistakable seafood house ambience. Between the dim lighting and floor-to-ceiling woodwork, however, it's difficult to see or hear your dinner experience.

Our appetites dialed for seafood, Jack and I noted an increase of Asian offerings on the menu. Ranging from potato pancakes to lobster spring rolls, the menu literally covers the waterfront. There were a few initial glitches--the house was "out of" Ahlgren Semillon, and our subsequent order, a bottle of Frog's Leap Sauvignon Blanc ($22), turned out to be a 1999, not the 1997 we had ordered. Our waiter, whose extremely casual and under-trained manner grated throughout the meal, seemed surprised that the difference in vintages would actually matter to us. He was also surprised that we did not want our undersized wine glasses filled up to the top.

The basket of excellent francese felt a bit out of place with our Asian-influenced appetizers, both looking terrific on large, square white plates (a beautiful change from the black platters of yore). Jack's blackened ahi ($12.95)--seared squares of impeccable ahi tuna, lightly crusted with pepper--lived up to its starring role on the Sea Cloud menu. Wasabi and sesame oil vinaigrette bathed a crunchy and delicious slaw artfully arranged next to the crimson ahi. My arrangement of shrimp potstickers ($9.95) was equally attractive. A central salad of tender greens, bathed in the same deliciously nutty dressing, was sided by three, huge, shrimp-packed potstickers drizzled smartly with shrimp and soy reduction. Intense and exciting flavors made both dishes complete winners, with the ahi taking top marks.

Chagrined that we didn't require fresh-ground pepper the first time around, our server offered to perform a grinding ceremony over entrees of Petrale sole ($21.95) and Korean-style mussels ($13.95). We recused ourselves and began feasting. Though the low lighting hampered our visual enjoyment of this generous dish, the tasty mussels delivered shellfish energy amid a robust sauce of ginger, garlic and fiery peppers. In the center of the large bowl sat an inky cilantro-chile pesto that went brilliantly with the garlic sauce. My paupiettes of Petrale sole dish was in another flavor world, involving turbans of moist sole filled with tarragon-infused salmon mousse, a la Parisienne. Wonderful flavors with the citrusy tones of the wine.

Tiny potatoes were a bit overcooked, but long spears of fresh asparagus were perfect, enjoying two sauces--a rich lobster reduction and a well-made beurre blanc. Granted there was a lot going on here, and the entree managed to maintain flavor balance. From a well-stocked dessert tray we selected an elegant wedge of apple/cinnamon clafouti adorned with unsweetened whipped cream, and a memorable slab of ultra-creamy lemon cheesecake, studded with raspberries and showcasing a splendid macadamia crust ($4.95 each). Fine cheesecake. We'd come back just for these sensuous desserts.

The fresh flavors and interesting seasoning spins of this recent meal would have been even more appealing if not for a badgering waiter who kept asking us how we were enjoying everything while simultaneously insisting that everything was great. The food at Sea Cloud has improved more than a few notches over the past several years, and the atmosphere remains gratifyingly beachfront Santa Cruz.
---
Sea Cloud
Address: Municipal Wharf, #49B, Santa Cruz
Phone: 831.458.9393
Hours: Lunch and dinner daily
Entrees: Moderate
Ambience: ** Always welcoming--especially the never-better lounge area--but lighting and noise level can present challenges
Service: ** Amiable, but needs an overhaul in terms of menu knowledge and serving boundaries--no, it's not okay to pour the remainder of one patron's bottled water into her companion's glass without asking
Cuisine: **1/2 Attractive presentation and some exciting flavor combos segue to tasty desserts. (Hey Lou, get some new stemware and shake down the wine list.)
Overall: Retaining its position on the wharf, Sea Cloud's refreshed menu makes it a worthwhile dining destination
---
[ Santa Cruz | MetroActive Central | Archives ]