Dark and Stormy

Spaceboy and Lost Cause take Moe's, and a band of Communist dictators unleashes a totalitarian sound

By Matt Koumaras

SPACEBOY UNLEASHED A THUNDER so dark and intense that toe tags were morphing and chasing everyone around the stage Feb. 27 at Moe's Alley. The bulk of the set consisted of newer material, and nobody left disappointed.

Clifford ruled the metal roundtable on "The Outpost" with sacrifice-inducing screams--although his agro vocals and animated stage presence totally copy Blast's old lead singer. John and Bill's tight and shiny guitars produced insane, fast, time-changing rays that veered toward the unexpected while Adam's perverse bass-work should be illegal. The spellbinding, tribal drum constructs that Jade rubbed out on "Stoner Fort" proved he was worthy of being the first ever musician to be included as a prize in a Cracker Jack box (which will fit in very nicely on my mantle beside those anatomically correct Naked Ape Happy Meal action figures). And before you ask, this weed-metal band was light-years-away better than the recently reunited Cult that had David Koresh on lead vocals.

Lost Cause continues to impress by doing punk rock right. On "21," the band got the Black Flag influence working on all cylinders. Many "punk" bands have the tablature to Pennywise songs tattooed on their guitar frets and vocal cords surgically augmented to sound like Fat Mike. Lost Cause has a vision and kicks its ass all the way home. After the show, a group of UCSC professors graded the band's performance by spray painting A-pluses in the shape of anarchy signs on the band's van.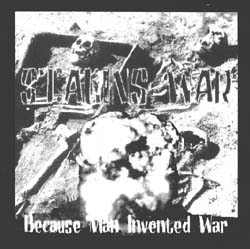 Say Uncle: Stalins' War sends lifeless rock to the gulag with an explosive, anarchic set on 'Because Man Invented War.'
CD Review: Stalins' War, Because Man Invented War
Moana's vocals ring loud and true like an anarchy bell of primal urgency and mostly hit a fine mark. Her vocals have a bite that sounds like the two-headed second coming of Becki Bondage on "Don't Ever." Booming double-bass-drum explosions and fills emit from Robbie on "Face Off." "Un-Fuck Yourself" (which, even after staring at this friggin' Karma Sutra book all day long, I still can't figure out how to do) boasts a sassy style akin to the P.A.W.N.S. doing a burlesque routine. "Kosovo" burns with snappy guitar progressions and ultra-smooth backing vocals. Matt's titan-strength guitar and Misfits-esque "whoa-whoa" backup screams seize the day and make it a punk rock week. Julia's subtle bass shuffle breakdown is the epitome of slick on "Soldier's Last Stand." "Revolt" is the standout and could make lifeless eyelids open from the grave. My only complaint is that the apostrophe on the band name should be Stalin's War not Stalins' War. I hate to be nit-picky, but it's the literary nerd in me. Who knows? There just might be some evil dictator out there named Stalins--I think there's a strong chance he works for the state Department of Alcoholic Beverage Control, too. Contact Stalins' War at Sad Jane Records, 901 Pellegrini, Santa Cruz, 95062, or visit http://www.angelfire.com/pq/stalinswar.
[ Santa Cruz | MetroActive Central | Archives ]