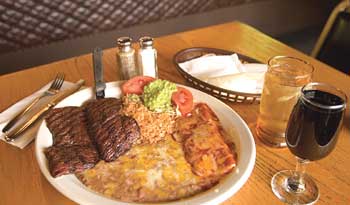 Photograph by Stephen Laufer

Smoky and Flavorful: Steak and enchiladas share the spotlight at El Chino.

And Then There Were Six

Food writer tricks dinner club into providing uncompensated help with her research

By Selene Latigo

The Friday night dinner club predates me by several years. I'd heard stories and witnessed planning but not until recently had I been honored with the personal invitation which now includes Dave as well. We are reveling in the Friday possibilities to come, but I'm also realizing how excruciating a decision it is picking a restaurant to suit everyone. Last Friday, we found ourselves at El Chino, ending our long workday at a place that satisfied all.

Five cars guiltily brought the six of us from all points north, south, east and west to meet in El Chino's elongated, boothed dining room. Piñatas, glowing chandeliers and tiled pseudorooftops put together this cantina-style Mexican restaurant. A full bar is tucked into a side room, delivering our Cazadores margaritas ($6.95) and icy cold Negro Modelo beers. We plowed through at least three bowls of thick white corn chips and salsa while chatting and letting go of the day, hardly glancing at the six-page menu until reminded by the appearance of our patient server. All of the classic Mexican-American items are featured a la carte and in combination plates. There are also several specialty dishes such as the El Chino quesadilla with chiles, spinach and guacamole, or salads with avocado and chicken or shrimp. We even recognized some concepts from our recent visit to Oaxaca, like the double-sauced huevos divorciados or the tlayuda, otherwise known as "Mexican pizza."

We started by sharing a bowl of the caldo de res ($4.75, medium), a thin, somewhat bland brothy soup with huge pieces of zucchini, carrot, cabbage, brisket and corn on the cob, with a small side of rice to add as desired. We also ordered one of the nightly specials, the tostada de ceviche ($3.50), which was a poor choice, mushy and tired, with a perfect half of fanned-out avocado being the only benefit.

The main reason we chose this restaurant was that Don claimed the carne asada was some of the best he's ever had. His carne asada plate ($11.40) featured a large portion of thick juicy skirt seak, smoky and flavorful, with one cheese enchilada in a creamy ranchero sauce, chunky fresh guacamole and basic rice, refried beans and corn tortillas. Everyone vowed to return again for this cut of meat.

Maria chose a classic dish. Her huevos rancheros ($6.90) were "just right" with fluffy egg whites and easy yolks, all smothered in a light, blended fresh salsa along with rice and beans. Her perfect comfort food, she proclaimed.

A sizzling cast iron skillet arrived loaded with Ben's steak fajitas ($11.25). Crisp slivered peppers and onions with tender steak strips were cooked in an all-tomato-based sauce. This dish also came with rice, beans, tortillas and the simply great guacamole.

I chose a combination plate with one enchilada verde and one chile relleno ($8.55). Unlike most, the relleno was not at all heavy or deep-fried, instead covered in a thin egg blanket, chunky red sauce full of onion and oregano, and lots and lots of gooey cheese. The enchilada was spicy and tender, with no sign of congealing anytime soon. I borrowed bits of tortilla from everyone to make saucy bean, cheese and chile minitacos.

Dave, a.k.a. Mr. Pork, decided to indulge in the carnitas plate ($9.45). Similar to all the rest, a huge portion of skillfully fried shredded pork was plated with rice, beans and tortillas. The meat was not too soft and not too crisp, a difficult balance to achieve with carnitas.

After this wide array of menu selections, we all agreed that El Chino excels when it comes to sauces. Everyone enjoyed the colorfully topped dishes, especially the meat items cooked with a learned hand. The slice of "homemade" flan, on the other hand, was a rubbery and curdled disappointment.

Two hours later we dragged ourselves out of the warm and crowded dining room to our respective vehicles, retreating for the weekend until our next Friday night date. El Chino made the list, quite an accomplishment considering the opinionated variety of taste buds the six of us represent.
---
El Chino
Address: 2525 Soquel Dr., Santa Cruz
Phone: 831.476.7175
Hours: 11:30am-9:00pm Mon-Thu, 8am-10pm Fri-Sun
Price: $3-$13
---
[ Santa Cruz | Metroactive Central | Archives ]