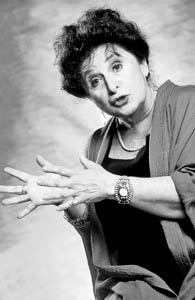 Women's Herstory: Erica Lann-Clark gives the goddess a piece of her mind.

Power Surge

Erica Lann-Clark goes shopping for God and--oops--finds the goddess, instead

By Sarah Phelan

"Who is Chthonic Baubo? And why don't we know anything about her? Could it be because she's a goddess? Could it be because she has nipple eyes? Could it be because Puritans took over America?"

These are just a few of the questions that Erica Lann-Clark explores in Shopping for God, a one-woman act of comic reconciliation that will trigger the kind of belly laughs that actually start in your vulva, or what began as a vulva in the event that you're a guy.

Positing herself as a middle-aged Everywoman, Lann-Clark is the hero of a journey that begins with the premise that right here, right now, the world is having a collective nervous breakdown--a premise that's pretty darn easy to buy, given that Bush has claimed a mandate, evolution is now just a theory and what once was delusional has now gone mainstream.

"Only one thing can save us: shopping!" declares Lann-Clark, as she retraces her own personal hunt for God, shopping bag in hand.

It's a journey that begins in a family of Jewish atheists, takes side trips with the Methodists ("They did the best hay rides"), flirts with Quakers and Catholics and involves a brief stint with Orthodox Judaism--a belief system Lann-Clark ultimately puts back on the rack, after discovering that it has "very tight attitudes towards girls and women."

"So, what if you went shopping for God and instead you found the goddess?" asks Lann-Clark, as she explores whether the goddess has permanently quit the job, or is planning a comeback. And then there's the question of whether theater can heal the wounds of history, a question that looms like a whale beneath the surface of Lann-Clark's tales.

"God is the word for ultimate power," says Lann-Clark, who criticizes men for being clueless at the top, and women for betraying each other more often than we ought to. Reminding us all that it's been a very long time since women had the last laugh, Lann-Clark, who's more than a little fascinated with the German-Jewish dynamic, tries out the role of Immaculate Victim. But in the end she doesn't blow her audience away with sticks of victim power, but with magical storytelling and outrageous acts of comic clairvoyance.

Lann-Clark is one of those rare storytellers who can tell the truth about egg and sperm, penis and clitoris, not to mention mitochondrial DNA, while making you laugh until you rumble. And while this isn't the funniest of her shows--and really, how could it be, given the subject matter?--by the end of the night, every man, woman--and child over 14--gets to feel their goddess power coming on, which, let's face it, doesn't happen enough in this Bushwhacked world.
---
Shopping For God plays Thursdays, Fridays and Saturdays at 8pm and Sundays at 3pm through March 6 at Actors' Theatre, 1001 Center St., Santa Cruz. Tickets $15/general, $12/students and seniors. (831.425.7529)
---
[ Santa Cruz | Metroactive Central | Archives ]