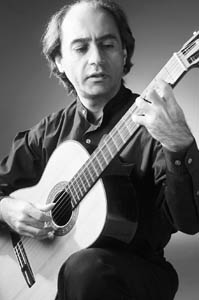 Honorable Dimension: Mesut Özgen's New Dimensions in Classical Guitar is a multimedia revolution for the genre.

The Wizardry of Oz

Mello Center artist-in-residence Mesut Özgen showcases his revolutionary vision for classical guitar

By Adam Cotton

In these odd times of short attention spans and freely copulating art forms, new music often gets only one chance to impress itself upon on a given set of ears. That makes it tough for truly groundbreaking pieces that might sound strange to the uninitiated. But in one more example of Darwinism at work, it's also inspired a new mutant breed of multimedia classical concert presentation that's rising out of the slime and taking form.

At the forefront of this vibrant and pulsating primordial goop is New Dimensions in Classical Guitar, the collaborative effort of a multidisciplinary team featuring Mesut Özgen on guitar which will be presented March 5-6 at the UCSC Recital Hall. A union of classical music and the visual arts, New Dimensions offers audiences an exciting and groundbreaking peek into the future of concert music presentation.

Frequently collaborating with accomplished, innovative composers, award-winning guitarist Özgen, who is an artist in residence at the Mello Center in Watsonville and will also perform with New Dimensions there on March 13, champions new music for guitar. With eclectic tastes rooted predominantly in traditional and folk musics of the world, he has worked with many composers to combine avant-garde compositional techniques with traditional tunes and rhythms.

The show will feature Özgen performing innovative, contemporary pieces in fluid worlds of light and subtly shifting imagery. All around him, his team will be crafting subdued optical worlds akin to watching a sunset's reflection on the surface of a placid lake, with watery images of clouds slowly and majestically transforming from fiery oranges through sweet pinks and soft violets and finally finding their way into lingering dream-laden shades of indigo and blues. Seeking to avoid the repetitiousness that plagues most modern-day concert imagery (a.k.a. "the screen-saver syndrome"), the crew has been working with the pieces as individual entities, visually bringing out musical contrasts through lighting shifts, stage manipulations and digital-optical effects.

This idea for a multimedia classical guitar presentation grew out of Özgen's experiences with audiences' reactions to classical guitar recitals--basically, that people like the concerts but tend to have difficulty holding their attention through the end of the show. For such audience members, who also attend more active or decorative theater performances, pop concerts, or even movies, the absence of anything else happening on the stage becomes monotonous. After a while, the music starts to sound the same to many in the audience, regardless of the quality of the performance.

Özgen and his team are working to remedy this mental shutdown by looking at the concert theatrically as a holistic, artistic audio-visual experience. At his upcoming performances, Özgen will be joined by guest instrumentalists in a few pieces. The performances are accompanied by the mystical images of filmmaker Gustavo Vasquez, Peter Elsea's intelligent artistic computer programs which respond to music and stage and lighting designs by entertainment and theme park maestro David Lee Cuthbert.

The program features several world premieres, all written for Mesut, including Be Kind All the Time by Benjamin Verdery and Surya by Deepak Ram.

Using a synergetic combination of ingredients, Özgen and his crew have engineered a colorful mutant unlike any classical guitar concert ever produced before. Feel the undulating ooze melt your brain as you merge with the great beyond ... the future is now.
---
New Dimensions in Classical Guitar will be presented Friday and Saturday, March 5 and 6, at 7:30pm at the UCSC Recital Hall, and Saturday, March 13, at the Mello Center in Watsonville. Tickets for the March 5-6 Arts & Lectures shows are $20-$23 general, $19 students & seniors with ID; $11 UCSC Students with ID, call 831.459.2159. Tickets for the Artists in Residence Performance Series concert at the Mello Center are $15 general, $12 seniors and students; call 831.763.4047.
---
[ Santa Cruz | Metroactive Central | Archives ]