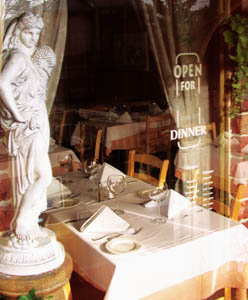 Photograph by Stephen Laufer

The Appian Way: Take Capitola Avenue straight to Italy at Bella Roma.

Roman Holiday

A tiny slice of Italy resides in the village of Capitola, bringing a bit of bella Roma to our grateful taste buds

By Christina Waters

In the realm of dining satisfaction, eye appeal offers more than mere window dressing. Not ashamed of looking good, Bella Roma Cafe pours on the charm with an Italian accent.

I mean who can resist? The minute you've entered this pretty room you're being romanced by Andrea Boccelli, whose luscious voice (no matter many times you've heard it) provides instant, even extreme, unction. Soft peach walls and luxurious details such as full-blown red roses, white linens and generous stemware make everyone feel personally invited to dine. These details, small touches really, make such a difference in the whole mood and flavor of a dining room. Wittily, Bella Roma has made sure there's plenty of faux Renaissance and ancient Greek statuary touches--the eye never falls on a blank zone. Casual yet romantic, the attitude here--amply expressed by an attractive waitstaff--makes you welcome without making a big fuss.

It's all very ciao bella, and that was fine with us last week. A big basket filled with delicious long fingers of focaccia and tender francese arrived to be dipped into a pool of excellent olive oil. Partially submerged ovals of garlic laced the oil--such opulent aromas made our noses and mouths happy with the very first taste. Along with one of those bubbly bottles of San Pellegrino, we began with glasses of spicy, blueberry-scented Mercury Rising (great name) from Cinnabar ($6.50).

Boccelli was promising each woman in the room some secret favor she would not soon forget, when our shared appetizer of carpaccio de tonno arrived ($10.50). Draped over every inch of a large white platter, the paper-thin ahi tuna was festooned with a confetti of Bermuda onion, capers and parsley. Dabs of hot mustard and hits of tart lemon infused each bite of this delicious starter. Here was a dish that not only appealed to the subconscious multicultural desire for Italianate sushi, but it was an appetizer that did what its name implied--it opened our appetites.

Main dishes were also beautiful, yet not in any obvious way. Jack's veal piccata was perfectly cooked, tender and adorned simply with capers, lemon and white wine ($16.95). The succulent veal was accompanied by a wedge of roasted potato, a sheaf of steamed squashes and carrots and a slice of succulent eggplant stuffed with rice. I love the Italian red sauce spiked with vodka and Bella Roma makes a remarkable and deeply sustaining version of this intense tomato recipe. Last week, I enjoyed the huge and beautifully structured tomato sauce as a vehicle for a dozen large prawns, perfectly sautéed to the al dente point ($17.95). My dinner was similarly joined by the excellent vegetables and roast potato, and while Jack managed to steal a few of the fat gamberoni, I finished every last trace.

Along with well-finessed decaf espressos, we split an appealing dessert of orange ricotta crostata, dense and velvety with the tangy, not-too-sweetness of ricotta cheese, and yet highly perfumed by orange zest as well as morsels of fresh orange fruit. It came with a graceful graffiti of raspberry purée and a healthy dose of whipped cream--bellissima indeed. Whatever the mysterious, or perhaps not so mysterious, appeal of Italian food--its soft sensuality, its tomato-intensity, its refusal to be haughty and uptight--it is undeniably one of those rare, repeatable sources of simple pleasure. Bella Roma does that Italian magic, whether you treat yourself simply to a pasta and dessert, or go further into the opulent territory of antipasti, primi and secondi. Life is short. Don't just sit there and wonder whether you can treat yourself to dinner once in a while. Given the existence of Bella Roma, you can't afford not to.
---
Bella Roma Cafe
Address: 316 Capitola Ave., Capitola
Phone: 831.464.2608
Hours: Dinner 5-9pm Tues-Sun, till 9:30pm weekends
Ambience: *** Cozy and charmingly over-the-top--in other words, authentically Italian
Service: *** Warm, skilled and responsive
Cuisine: **1/2 Some very delicious moves are made by this consistent Mediterranean kitchen.
Overall: Bella Roma makes an offer only a philistine would refuse.
---
[ Santa Cruz | Metroactive Central | Archives ]