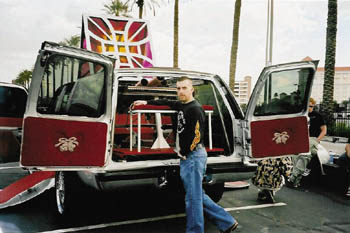 You Go in the Monster Garage: Steve Hosking's 'wedding chapel from hell.'

Nüz

Hell's Angel

Councilmember Tim Fitzmaurice has been called a name or two in his time, but never a Hell's Angel. At least not until last week's City Council meeting, at which Mike "King of the Trolls" Tomesi dubbed him thus, presumably on account of the hell that the Fitz gives Tomesi and other City Council groupies whenever they get out of control.

And while Fitzmaurice has never to our knowledge so much as even ridden a Harley to chambers, he did come roaring out of the hills, intellectual guns blazing, when asked to explain why the council opposes a pre-emptive strike on Iraq.

"I believe a pre-emptive strike is morally unjust," he said, adding the following footnote, about which Nüz thinks peaceniks (and others) could probably do worse than repeat 10 times at meals and at bedtime in the weeks--nay years--to come:

"We have to make sure that ... we make as good [an argument] as we can, and not thrust disdain on others for not understanding our position."

Which was classic, given that most of the activists at the poorly attended meeting were heaping dollop loads of disdain on the council's antiwar crusade.

Robert Norse wanted to declare Santa Cruz "a sanctuary for those who feel this is an illegal war," James Cosner criticized the resolution as "too symbolic" and Sheri Conable demanded the "impeachment of Bush and Dick Cheney."

The council, which sat stony-faced through these suggestions, responded by not discussing any of them and voting instead to unanimously support Rep. Sam Farr in his efforts to rescind the authorization for use of military force against Iraq--and to ask California legislators to sponsor a resolution against a U.S. war on Iraq (as Hawaii and Maine have already done).

Meanwhile, in Sacramento, Assemblymember John Laird says that though there was a push to get a resolution, "we decided to send a letter, instead"-- a decision he called "tactical."

"There's a sensitivity to the fact that we have a $20 billion deficit, and that it costs thousands of dollars to do a resolution, so we'd be perceived as spending money while not paying attention to the deficit, though personally, I'd have preferred to make a resolution," said Laird, even as an open letter admonishing the "silent" Democratic senators and representatives was doing the cyberspace rounds.

And here in the Cruz, Mayor Reilly recalled another avenue of protest, as mentioned by Farr at the Feb. 18 Town Hall meeting.

"Sam urged everybody to talk to people they know in other places and get them to tell their congressmembers how they feel," she said.

By the way, Reilly added an interesting footnote to a recent controversy when she said, "Locals took it as a personal attack when Sam said his actions weren't getting media coverage, but by 'media' he meant CNN and Fox News-- not local newspapers."

Presidents for Peace?

With all this talk of states and governors for peace, isn't it about time for, like, a President for Peace? Well, mark your calendars, as U.S. Rep. Dennis Kucinich (D-Ohio), the newly announced Democratic presidential candidate, is coming to town at the end of May.

Readers may recall that Kucinich joined Reps Jesse Jackson Jr., Jim McDermott, Jose Serrano, Sheila Jackson Lee, John Conyers and a group of US. soldiers and their parents in filing a federal lawsuit this Valentine's Day to prevent Bush and Defense Secretary Donald Rumsfeld from launching an invasion of Iraq, saying the resolution that Congress passed in October did not specifically declare war and unlawfully ceded the decision to Bush. Said Conyers, who launched the suit, as he cited an excerpt from Article 1, Section 8 of the U.S. Constitution, "Congress shall have power ... to declare war. Get it? Only Congress."

Though the lawsuit was denied, Kucinich hasn't relinquished the peace pipe.

"We have a responsibility to shake the U.S. out of its lethargy and reclaim its rightful role as the light of the world, as the peacekeeper of the world, without raining destruction on the world, " he said. "We have a responsibility to wake America up and say 'no' to war once and for all. War is not inevitable."

More Musings on Peace

With all that women and men are doing for peace these days, don't forget the 21st annual In Celebration of the Muse, featuring 20 local women writers, including Maude Meehan, Ellen Bass, Cathryn Alpert, and Claire Braz-Valentine, at Cabrillo College Theater on International Women's Day, March 8.

Tickets for the 8pm event are available at Bookshop Santa Cruz, Herland Bookstore and the Cabrillo ticket office, and will benefit the Fast Track To Work program. Call 479.6147, email [email protected], and, as Ellen Bass wrote in her recent Pray for Peace, "Pray to whoever you kneel down to."

It's Official. It's a Monster.

"The wedding chapel from hell."

That's how local resident and gearhead Steve Hosking describes the rolling suburban pipe organ/wedding chapel he helped design and build for Discovery Channel's Monster Garage show.

Hosking, whose fire-breathing Satan's Calliope brought him to the attention of the Monster Garage crew at last year's Burning Man, auditioned by playing "a white trash demo organ pipe."

Apparently, his demo got the sound man yelling, "Oh my ears! That's career ending!" but still landed Hosking the gig, which involved building a monstrous 26-note pipe organ/wedding chapel in five days flat with four other crew members--a recipe for disaster that led one team member to weld a filigree "Fuck You" Rat Fink figurine midway.

But things could have been a lot worse.

"Monster Garage host Jesse James wanted a steam calliope. We had to talk him out of it, because the organ is mostly inside the vehicle, which means we couldn't be belching anything noxious, otherwise we'd gas the wedding participants. And we couldn't use propane, otherwise we'd have barbecued them. An air compressor was too noisy, so we settled on nitrogen," Hosking explains.

To find out what did happen to the "lucky couple" who get married in this monster (in Vegas on Valentine's Day), check out the Discovery Channel, March 10 at 8pm & 11pm, and March 15, 7pm.

The Show Goes On

Jana Marcus confirms that Cabrillo Stage is doing "a blow-out show this summer as always," even though the thirtysomething musical production company has been identified by Cabrillo College's ominously named Program Deletion Task Force as one of seven programs to be axed in 2004.

Given that Cabrillo Stage routinely plays for bigger audiences than attend the Cabrillo Music festival and is one of the bigger summer festivals in the region, don't expect them to stop breaking their legs, or whatever it is that theatrical types do in times like this, without a fight. And hopefully, our theater-loving community will rally round ...
---
Nüz just loves juicy tips: Drop a line to 115 Cooper St, Santa Cruz, 95060, email us at , or call our hotline at 457.9000, ext 214.
---
[ Santa Cruz | Metroactive Central | Archives ]